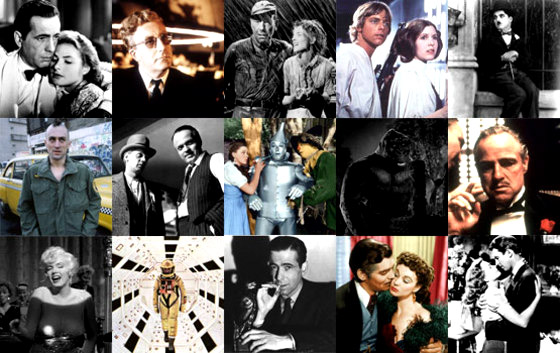 In May of 1996, filmsite.org was registered as a domain, and created as a small non-profit website by one film enthusiast, Tim Dirks. I remember that it was a bygone time 20 years ago when almost every conceivable domain name was still readily available for a small registration fee. I had been an amateur film buff for many years, stretching back many decades, when I decided to create an educational, inspiring resource that capitalized on my movie knowledge.
The site was launched as an offshoot of my own personal hobby of watching and collecting classic films on high-priced or Blockbuster-rented VHS tapes, and on higher-quality laser discs - formats that have long since disappeared. It was always fun visiting Tower Records and discovering new classic film releases of masterpieces that had not been readily available before.
Already working a full-time job as a technology educator at San Jose, California's Tech Museum where I managed public programs, I was conducting computer classes and teaching myself (and others) how to program in .html, the mark-up language for Web pages. The site was created as a way to practice this new skill while honoring and reviewing many of the greatest films of all-time.
The Tech Environment When Filmsite Launched in 1996
At the time of its creation, Filmsite's sole author/manager lived and worked in the heart of Silicon Valley, in downtown Palo Alto. In a time when very few personally-created websites existed, I decided to avoid the easy route that many web authors took - posting a free site in a GeoCities neighborhood. Almost everyone used Netscape as their Web browser, since Microsoft's Internet Explorer didn't even exist until it was bundled free with the Windows operating system in late 1996. My email client was the easy-to-use, web-based Hotmail, and my most-preferred search engines were Alta Vista, Excite, and HotBot. I frequently visited Yahoo - the most-accessed portal site at the time, to see where Filmsite was being catalogued along with a burgeoning number of other websites.
It was like a technology candystore visiting the expanding Fry's Electronics in Sunnyvale for computer electronics and hi-tech gear. To put the era in its proper context, Netflix, Wikipedia, YouTube, Twitter, Facebook, Firefox and even Google didn't exist, and 'blogs' hadn't appeared. Amazon, E-Bay, and the IMDb were still in their early development stages, and only 34 million households owned a computer in the US in 1996.
Challenges of Maintaining and Hosting Filmsite
I faced many challenges in building, maintaining, and hosting the website in the mid-1990s. To compose web pages, I first used a simple program called BBEdit (on the Mac platform), which was basically a source code view with a helpful toolbar for formatting. None of the advanced WYSIWYG web-page making HTML programs had been released yet, such as Microsoft's FrontPage, Macromedia's Dreamweaver, and Adobe's PageMill. I paid a monthly fee of about $30 to a local ISP service (Best Internet Communications, a storefront on Castro Street in Mountain View) that was accessed using a noisy dial-up modem device. [Note: Best merged with HiWay Technologies and was later bought by Verio, which coincidentally ended up being Filmsite's hosting service for much of the next decade.] It also provided complex FTP access and a location to house Filmsite's files.
I soon noticed that the site was being overwhelmed by web-user demand, and access was being denied. After a few minutes at the start of each hour, Filmsite would be blocked from view, because it had become overloaded and exceeded its proportional bandwidth for the hour. That was the first sign that the site was becoming hugely popular, and more expensive choices would have to be made to keep it active. At first, there were no advertisements, banners, or affiliate arrangements to help provide revenue for the growing site until after a few years when it became absolutely necessary to offset the expenses of running the site with additional bandwidth. I chose to run ads instead of resorting to charging a fee for each visit, selecting San Francisco-based startup Flycast Communications for awhile as Filmsite's ad partner network. A secondary domain name was registered at Greatestfilms.org.
Major Themes of the Earliest Versions of Filmsite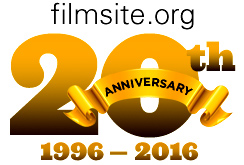 Some of the views of Filmsite's earliest 'home-page' were first captured by the Internet Archive in December of 1996, showing a very Simple Design. The site started out as a compendium of descriptions of some of the "Greatest Moments and Scenes" from classic films. As that evolved, it soon became clear that each of the scenes needed to be placed in context, so that's when the idea to select 100 Greatest Films and review them in more depth occurred. Even within its first six months, Filmsite.org was prominently displaying its major content themes: 100 Selected Greatest Films, Greatest Film Genres, Greatest Film Quotes, Greatest Film Moments & Scenes, and more. Filmsite proudly designated 100 Greatest Films a few years before the American Film Institute (AFI) created their own similar series about the 100 Best American Films in mid-1998.
Recognition and Accolades for Filmsite
One of the phenomena of the early Web was the ubiquitous practice of awarding new or innovative sites with a 'button' award. At first, I kept track of the awards, prominently displaying them on the home page, until they became overwhelming. (See an Archive of Filmsite's Early Awards and its Early Reviews). Filmsite was one of the earliest examples in which classic film information, previously found in printed books and magazines, was now readily accessible online. My original intent of the site had been fulfilled - to provide a depth of informational content in a subject area that was often presented elsewhere on the Web with a splashy, graphics-rich style. Nowadays as then, my main goal and highest priority remains to provide original content about film.
It was a great thrill when TV film critic Roger Ebert selected Filmsite as one of the Top 20 Movie Sites for 1997, in the January 1998 issue of Yahoo! Internet Life Magazine (yes, a print magazine!), and when Ebert also made references to some of Filmsite's reviews for his web column and future book on The Great Movies. He also selected Filmsite as one of his favorite sites (which he called "a labor of love") in the June 1999 issue of Yahoo!'s magazine (See All Ebert References). When I had the opportunity to hear Ebert speak at a gathering of film enthusiasts in San Francisco in April of 2002, I jumped at the chance. During a book signing event after the formal discussion, I introduced myself and he suggested that I remain so that he could speak to me after the line dwindled down. We had an exhilarating one-on-one conversation for about 20 minutes, when he supportively and personally encouraged me.
Filmsite's Impact
Dedication and hard work, long hours at the computer and movie screen, and attention to detail has made the site one of the top-level web destinations for film. I am exceedingly grateful for many helpful and productive comments of web visitors. In the first few years of the site, I offered a guestbook for visitor's comments, but spam and abuse finally forced me to discontinue it.
I am proud that Filmsite continues to be widely considered as one of the best sites for film history information, serving as an "introduction to cinema literacy" according to Wikipedia, with its reviews, timelines, lists, filmographies, quotes, comprehensive histories of motion pictures in general, and the Academy Awards, in particular. Through the years, it has been visited by millions and millions of students, film studies classes, casual enthusiasts, web surfers, and beginners to film as well as film buffs.
Tim Dirks
Author/Manager
Senior Editor & Film Historian
Filmsite.org