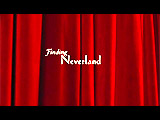 Finding Neverland (2004)
In director Marc Forster's semi-fictionalized fantasy tale (David Magee's adaptation of Allan Knee's play The Man Who Was Peter Pan) about the creative inspiration for Barrie's "genius" masterpiece Peter Pan:
the playful scenes in which Scottish playwright Sir James Matthew Barrie (Johnny Depp) found inspiration by befriending the Llewelyn Davies family, consisting of four high-spirited boys (George, Jack, Peter and Michael) and their lovely recently-widowed mother Sylvia Llewelyn Davies (Kate Winslet), when he became a surrogate father figure for the boys
the fanciful ways in which Barrie's play-world interactions with the Davies' family of boys were transformed into dream-like reality (the boys jumping on beds flew out the window)
the character of objectionable Mrs. Emma du Maurier (Julie Christie), Sylvia's mother - the future inspiration for Barrie's hook-handed Captain Hook figure
'Play-Acting" on a Pirate-Ship: Walking the Plank
the scene of James Barrie play-acting the part of Captain Hook with the four children - and their simultaneous appearance on the deck of an imaginary pirate-ship, when he demanded to know young Peter's 'pirate' name ("That's not a pirate name!") and forced him to walk the plank
the scene of the opening night premiere performance of Barrie's new children's fantasy play Peter Pan and his invitation to 25 children from a local orphanage to take seats scattered throughout the audience - and their infectious laughter
James' estranged, unhappy conventional wife Mary's (Radha Mitchell) final goodbye when she congratulated him on his successful play: "Without that family, you could never have written anything like this. You need them. Goodbye" - in an earlier scene when the two entered separate bedrooms in their home, James' door opened to an imaginative sunlit field
the tearjerking scene of Sylvia discussing with James how she was "pretending" not to be sick with her four boys and her reluctance to accept her illness and coming death: "You brought pretending into this family, James. You showed us we can change things by simply believing them to be different... We've pretended for some time now that you're a part of this family, haven't we? You've come to mean so much to us all that now it doesn't matter if it's true. And even if it isn't true, even if that can never be... I need to go on pretending. Until the end. With you"
the wonderful scene in which the cast of Peter Pan privately performed the play (about boys who didn't want to grow up) in the parlor of the Davies' house for the ailing Sylvia - and she slowly walked off and 'entered' into Neverland
Private Performance of Peter Pan for Sylvia
the concluding poignant scene on a park bench in which James comforted and encouraged young lad Peter Llewelyn Davies (Freddie Highmore) to remember his dead mother Sylvia with the transformative power of imagination: "...she's on every page of your imagination. You'll always have here there, always...When I think of your mother, I will always remember how happy she looked sitting there in the parlor watching a play about her family. About her boys that never grew up. She went to Neverland. And you can visit her any time you like if you just go there yourself" with Peter's hopeful, whispered response that he believed: "I can see her"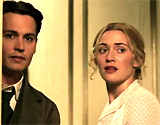 Barrie (Johnny Depp) with Sylvia (Kate Winslet)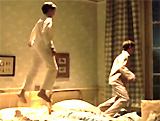 Boys Jumping on Beds and Fancifully Flying Out Window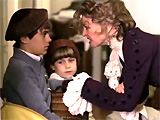 Mrs. Emma du Maurier's Hook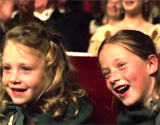 Infectious Laughter of Orphan Children During the Opening Night Peter Pan Performance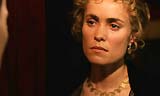 Estranged Wife Mary's Final Goodbye to Husband James Barrie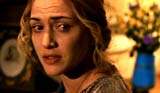 Sylvia "Pretending" Not to be Sick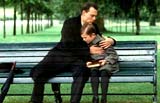 Park Bench: Grief of Young Peter