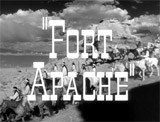 Fort Apache (1948)
In the first part of director John Ford's three-part "cavalry trilogy": followed by She Wore a Yellow Ribbon (1949) and Rio Grande (1950); RKO's picture was hurriedly completed in 3 weeks and $700K under budget - and was considered a reworking of the Custer myth about the flawed military character since scriptwriter Frank Nugent's screenplay was based upon James Warner Bellah's short story Massacre (1947):
the main setting was the post-Civil War period at Fort Apache, an isolated cavalry post within Apache lands in the territory of Arizona
in the plot, arrogant, stuffy, Eastern-bred lieutenant Lt. Col. Owen Thursday (Henry Fonda), a widower and West Point graduate, was introduced; the ex-Civil War general had been ordered to relieve Civil War veteran Captain Kirby York (John Wayne) and Capt. Sam Collingwood (George O'Brien) of their commanding duties at desolate Fort Apache, although they both remained as officers at the fort
in a dusty stagecoach, Col. Thursday was accompanied by his teenaged daughter Philadelphia or "Phil" (Shirley Temple in one of her first adult roles); at a way station 35 miles from Fort Apache, she met and was immediately romantically attracted to 2nd Lt. Michael "Mickey" O'Rourke (John Agar), the son of Fort Apache non-commissioned veteran Sgt. Major Michael O'Rourke (Ward Bond) and his mother Mary (Irene Rich), and the god-son of Irish Sgt. Festus Mulcahy (Victor McLaglen)
| | | |
| --- | --- | --- |
| (l to r): Teenaged Philadelphia Thursday and Her Father - Lt. Col Owen Thursday - En Route to Ft. Apache | 2nd Lt. Michael "Mickey" O'Rourke (John Agar) | (l and r): Sgt. Festus Mulcahy (Victor McLaglen) with His God-son Michael |
a minor but ever-present distracting sublot concerned the growing but awkward (and forbidden) romance between Philadelphia and Michael O'Rourke; her elitist father considered him neither an "officer and a gentleman" as the son of an Irish immigrant, and ultimately disallowed their association
the stubborn and by-the-book Lt. Thursday had been sent by the War Department as the new cavalry commanding officer at the post; he resented being demoted after the Civil War and transferred to the West and the "tenpenny post"; he took out his frustrations on his regiment, with increased training reforms, and emphasis on military discipline and protocol due to the troops' "carelessness and inefficiency, and laxity in dress and deportment"
the disgruntled, Indian-hating, prejudiced and racist Thursday was ignorant about the local Native-Americans, and was reluctant to be in Arizona dealing with the Apaches ("a few cowardly Digger Indians"); he expressed his preference to be on the Northern plains to seek glory fighting the great Indian nations of the Lakota Sioux or Cheyenne

(l to r): Thursday, Collingwood, and York - During Thursday's Arrival at Ft. Apache


Lt. Owen Thursday Speaking with Captain Kirby York

Captain Kirby York (John Wayne) Often at Odds with Fort Apache's New Commanding Officer Lt. Thursday (Henry Fonda)
while riding with Philadelphia, Lt. O'Rourke discovered a telegraph repair wagon where two troopers had been tortured to death: ("Spread-eagle on the wheels, roasted") by about 30 Mescalero Apache led by Diablo; O'Rourke returned to the fort and reported his disturbing findings to a worried Lt. Thursday, who forbid O'Rourke from ever seeing his daughter again: ("You will avoid her company in the future") - he also told his officers: "You will all the more readily bow to my wishes"
Captain York soon found himself at odds with Thursday due to his stubbornness, disrespect and lack of knowledge about Indian ways; O'Rourke was ordered to return with a small armed detail to retrieve the corpses, while Thursday also strategically ordered a larger platoon of troops led by York to trail them "at a striking distance"; O'Rourke's detail was attacked and pursued by the Apache, although they were saved by the larger platoon of troops sent from the fort
trouble began to brew due to the dealings of dishonest and contemptible Indian agent Silas Meacham (Grant Withers), who was cheating the Apaches by giving them low-quality food and cheap "rotgut" alcohol, and selling Winchester 7-shot repeater guns to them to instigate hostilities; during a visit to Meacham's trading post at Claw Springs, however, Thursday regarded Meacham as a representative of the US government, and made efforts to defend and support him and treat him with respect, to York's disgust
York explained why the Indians, under the leadership of elusive Apache chief Cochise (Miguel Inclan), rebelled and left the reservation after a few years - to avoid the destruction of his "nation"; they had fled across the Rio Grande to Mexico after the arrival of the politically-corrupt Meacham, who cheated them: "Whiskey, but no beef. Trinkets instead of blankets. The women degraded, the children sickly, and the men turning into drunken animals"; in a storehouse, wooden casks of "flammable" undrinkable whiskey were found in crates marked Bibles, in addition to Winchester guns; although Thursday chastised Meacham as "a blackguard, a liar, a hypocrite, and a stench in the nostrils of honest men," he also affirmed: "I pledge you the protection and cooperation of my command"
although expressly forbidden to speak to Philadelphia, O'Rourke asked her father for her hand in marriage: "I love your daughter. And I ask her now, in your presence, to be my wife"; although Philadelphia accepted the proposal and begged for her father's approval, he rejected the request: "As a noncommissioned officer, you are aware of the barrier between your class and mine," and reminded Philadelphia that she was two years underage and needed his consent; he threatened to return her to the East to forget him
York Negotiating with Apache Cochise (Miguel Inclan) to Return to the Reservation Peacefully
Captain York negotiated in good faith and trust with Cochise to cross back over the border from Mexico to "American soil" and peacefully return to the reservation; however, York was immediately double-crossed when he reported back to the glory-seeking Thursday who ordered the regiment to prepare at dawn for a major battle; Thursday also demeaned Cochise as "a breechclouted savage... an illiterate, uncivilized murderer and treaty-breaker"; York disobediently objected to Thursday's disastrous strategy
the troopers were assembled and then marched to battle; Thursday was completely unaware of the whereabouts of Cochise and the overwhelming, superior force of the Apaches (after Collingwood rode off, his wife received a letter announcing his long-awaited transfer to a teaching commission)
during an open-desert consultation with Cochise, the Indian chief demanded that Meacham be removed permanently before the natives would agree to return in peace to the reservation: ("He is worse than war. He not only killed the men but the women and the children and the old ones. We looked to the great white father for protection. He gave us slow death. We will not return to your reservation while that man is there or anyone like him. Send him away and we will speak of peace. If you do not send him away, there will be war"); the recalcitrant and angered Thursday would not agree to Cochise's demands, and threatened war by dawn if they didn't obey his orders to return
the next morning, Thursday proposed conducting a foolhardy and suicidal Army attack (symbolic of blundering "Custer's Last Stand") against the Apaches, by marching ahead in a column of fours ("Thursday's Charge"); when York refused to participate, he was labeled "cowardly," relieved of formal command duties (and threatened with a court-martial), and replaced by Captain Collingwood who led the offensive; York (with O'Rourke) watched from a ridge with a small number of cavalrymen attending the supply wagon-train as the fighting commenced
| | | |
| --- | --- | --- |
| Meeting With Cochise - Thursday Refused Cochise's Terms to Return to the Reservation | York's Refusal to Participate in Thursday's Suicidal Charge | York Attending to Wounded Thursday |
the Apaches ambushed the regiment with Lt. Thursday riding with his entrapped men (at first, he fell from his horse wounded, and was briefly revived by York, but then heroically returned to the skirmish to die: "I must rejoin my command"), while Cochise allowed York (with his small contingent separated from the troops) to survive due to his honorable and upright character
afterwards a year or two later, York had assumed command of Fort Apache; "Thursday's Charge" was being fictionally trumped up as heroic, legendary and courageous by reporters from the Eastern press; York loyally assented to the glorified account of the battle and defended Thursday ("No man died more gallantly, nor won more honor for his regiment"), even though he knew that Thursday's praised actions and character were overblown; he had more admiration for the hard-bitten life and dedication of the cavalrymen in the regiment; Lt. O'Rourke - who was married to Philadelphia Thursday (with a son), was serving as York's adjutant
| | | |
| --- | --- | --- |
| York Reminiscing About "Thursday's Charge" to Eastern Reporters | York's Praise for the Cavalrymen | Mr. and Mrs. Michael O'Rourke |

Monument Valley Landmarks Throughout the Film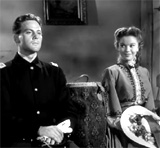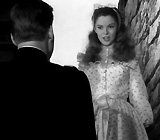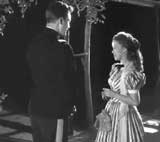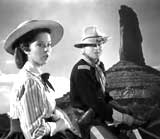 The Start of Romantic Attraction Between Philadelphia Thursday and Lt. O'Rourke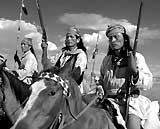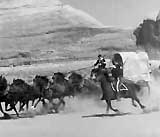 O'Rourke's Small Detail To Retrieve Bodies Attacked and Pursued by Apache Indians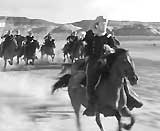 Fort's Platoon Rescued O'Rourke's Small Detail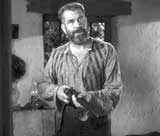 Corrupt Indian Trader Silas Meacham (Grant Withers)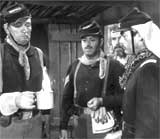 Reacting to Meacham's "Flammable" Whiskey in Bible Crates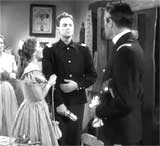 O'Rourke's Failed Proposal to Marry Philadelphia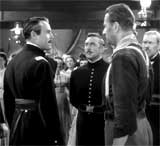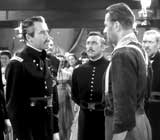 Thursday's Determination to Double-Cross Both York and Cochise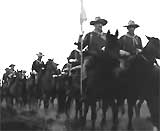 Troopers Assembled and Marching to Battle to Confront Cochise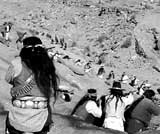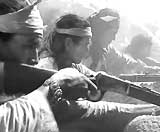 Indian Ambush on Disastrous "Thursday's Charge"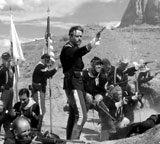 Thursday's Heroic Last Stand