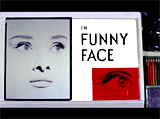 Funny Face (1957)
In Stanley Donen's romantic musical comedy, a filmed version of the 1927 George Gershwin Broadway musical:
the opening energetic production number "Think Pink," performed in the offices of Quality Magazine by fashion editor Maggie Prescott (Kay Thompson) (representing Harper's Bazaar editor Diana Vreeland), her office staff, and many fashion models - and the lyrics: "To the women everywhere. Banish the black, burn the blue, and bury the beige. From now on, girls, Think pink!...Red is dead, blue is through, green's obscene, brown's taboo. And there is not the slightest excuse for plum, or puce or chartreuse -- Think pink!"
| | |
| --- | --- |
| | |
| "Think Pink" | Fashion Editor Maggie Prescott |
the character of fashion photographer Dick Avery (Fred Astaire, 58 years old) (reportedly representing Richard Avedon) and his discovery of shy and withdrawn bookshop clerk-assistant Jo Stockton (Audrey Hepburn, 28 years old) in Greenwich Village - a used book-shop known as Embryo Concepts; Avery mistakenly pushed a book-shelf ladder holding Jo when the Quality Magazine crew arrived to use the bookshop as a backdrop for a fashion shoot; she vehemently objected to their unauthorized intrusive presence
Avery's promotion of Jo to his magazine associates, Maggie and Dovitch (Alex Gerry), that Jo was the new "Quality Woman", although Maggie was very reluctant - and held her magnifying glass up to an enlarged picture of Jo: ("Look at her. I think her face is perfectly funny. The 'Quality Woman' must have grace, elegance and pizzazz"); Avery responded: ("This is the first time I've ever seen you lack imagination. Every girl on every page in 'Quality' has grace, elegance and pizzazz. Now, what's wrong with bringing out a girl who has character, spirit and intelligence?")
the musical sequence in Avery's reddish-tinted dark-room (illuminated by a single red lightbulb) where Jo found herself hiding; he photographed and printed her picture and sang "Funny Face" to her to assure her: "Frankly dear, your modesty reveals to me, Self-appraisal often makes us saddened, and if I add your Funny Face appeals to me, please don't think I've suddenly gone mad. You have all the qualities of Peter Pan, I'd go far before I'd find a sweeter Pan. I love your Funny Face, your sunny Funny Face. Though you're a cutie with more than beauty, you've got alot of pers-o-nal-i-ty for me..."
the scene in which Jo first appeared on a runway - with widespread acclaim: ("Beautiful. I don't believe it"), but Jo admitted: "It feels wonderful, but it's not me"
the split-screen scene of the trio of Maggie, Dick, and Jo touring Paris (a parody of Cinerama travelogues), and the taking of pictures all over "The City of Lights" at famous landmarks while they were singing "Bonjour Paris" - culminating with a visit to the Eiffel Tower
Jo's unforgettable grand entrance - photographed in a bright red Givenchy gown (with a red chiffon scarf) as she descended a long set of stairs in the Louvre, in front of the statue of Winged Victory of Samothrace
Musical Tour of Parisian Landmarks

"Bonjour Paris"

Split-Screen

Ascending Eiffel Tower Elevator
the pairing of Avery and Jo in one of the loveliest song-and-dance numbers ever performed in film - "He Loves and She Loves" - filmed in soft-focus and danced in the green countryside at the Chantilly churchyard near Paris (with Hepburn in a white wedding dress).
the scene of the disastrous gala, when Jo and Dick were arguing backstage - and the curtain was opened after Maggie's introduction: ("I'm certain you'll not be disappointed. She is a rare creature chosen from hundreds for her appearance, her grace, her poise, and her ineffable charm...May I present the Quality Woman!"), revealing disaster - an overturned fountain and flooding water leak
Avery's apologetic heartfelt performance when he sang "Let's Kiss and Make Up" to Jo, and then danced with his umbrella
Two Similar Settings

"He Loves and She Loves"

"S'Wonderful"
the soft-focus fairy-tale romantic scene of Dick and Jo (again in a white wedding dress fashion gown), in the film's final scene, singing and dancing to Gershwin's "S'Wonderful" in the country chapel garden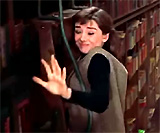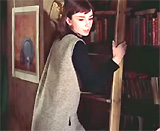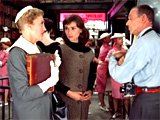 Bookshop Clerk Jo Stockton (Audrey Hepburn)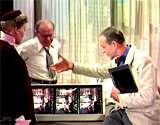 Avery's Promotion of Jo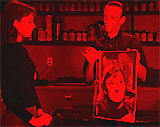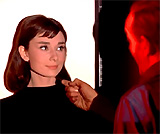 Dark Room Song and Dance: "Funny Face"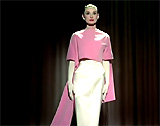 Jo's First Runway Appearance: "It's not me"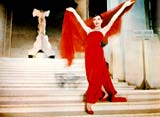 Louvre Grand Entrance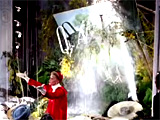 The Disastrous Gala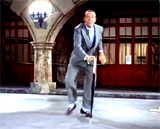 "Let's Kiss and Make Up" - With Umbrella