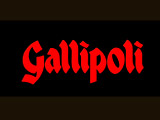 Gallipoli (1981, Australia)
In director Peter Weir's anti-war and coming-of-age film set in May of 1915, with realistic World War I desert battle scenes during the Gallipoli Campaign in the Ottoman Empire (Turkey):
the characters of two young Australians who were both sprinters -- 18-year-old rural rancher and sprinter Archy Hamilton (Mark Lee) who was being trained by his uncle/coach Jack (Bill Kerr) - to run "as fast as a leopard", and unemployed, Irish ex-RR worker Frank Dunne (Mel Gibson)
Frank and Archy, after becoming acquainted when they competed in a running race at a local athletics carnival, prepared to enlist in the Australian Imperial Force (AIF), but after hopping a train and being left at an isolated train station, they had to trek across the wide expanse of desert to Perth on the West Coast (to enlist where the minimum age requirement of 21 wouldn't be enforced)
during their separate deployments, Archy (in the Light Horse) and Frank (in the infantry) - a few months later - coincidentally met during training exercises in the desert near the Pyramids outside Cairo, Egypt; one day, they engaged in a playful and friendly sprint toward the Great Pyramid of Giza - then climbed to its peak, and then as the sun set, they etched their names next to "Armee de Napoleon 1798" in the rock: "FRANK + ARCHY A.I.F. 1915"
toward the end of the film, the scene in which message running courier-soldier Frank was told by Division Commander General Gardner (Graham Dow) to report to Major Barton (Bill Hunter) on the trench lines and hold off on any further trench attacks: ("Tell Major Barton the attack is - no, just tell him that I'm reconsidering the whole situation")
the call of insane and arrogant Colonel Robinson (John Morris) to Major Barton to continue with the attack: "Your orders are to attack and you'll do so immediately. The British at Suvla must be allowed to get ashore. Is that clear? You are to push on"; although Barton complained: "It's cold-blooded murder," Robinson repeated: "I said push on"
as a result of the suicidal order, Major Barton decided to join his men in the attack: "Can't ask the men to do what I wouldn't do myself. All right, men, we're going. I want you all to remember who you are. You're the 10th Light Horse! Men from Western Australia. Don't forget it. Good luck"
there were a few moments of praying ("Though I walk through the valley of the shadow of death, I shall fear no evil, For Thou art with me, Thy rod and thy staff, they comfort me, My cup runneth over), writing goodbye letters, and leaving possessions behind (rings, watches, and Archy's sprinting medal, for example) to be sent to families after the suicidal attack
the preface to the ill-fated bayonet charge scene when Archy was chanting the mantra that his track coach and uncle Jack used while training him - to the tune of Tomaso Albinoni's mournful Adagio in G Minor for Strings and Organ: ("What are your legs? Springs, steel springs. What are they gonna do? They're gonna hurl me down the track. How fast can you run? As fast as a leopard. How fast are you gonna run? As fast as a leopard. Then let's see you do it...")
the scene of Frank's frantic and desperate rush back to bring news back to the front lines on the ANZAC (Australian/New Zealand forces) battlefield at Gallipoli - during the Battle of the Nek in August 1915, to cancel any more futile attacks; however, as Frank arrived and was crying out: "Gangway! Gangway! Urgent message! Gangway!" (the film's final lines), he was just a few moments too late before the third wave led by Major Barton from the trenches commenced, signaled by the sound of a whistle
Frank erupted with a scream of despairing anguish, knowing friend Archy and about 150 other companions were being senselessly killed by an impenetrable enemy position because of miscommunications and bad timing
Archy's Fateful Suicidal Charge

Before Attack, Archy in Trenches: "What are your legs? Springs..."

Frank's Anguish

Archy's Freeze-Frame Death
As He Ran Across No-Man's Land
and then the actual scene of Archy's death as he was shot by Turkish machine guns -- captured in freeze-frame death at film's end - against impenetrable Turkish trenches on the Anzac battlefield, after which the film faded to black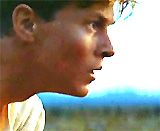 Sprinter Archy Hamilton (Mark Lee) - "As fast as a leopard"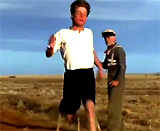 Archy Coached by Uncle Jack (Bill Kerr)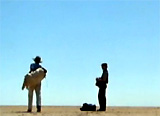 Archy and Frank (Mel Gibson) Trekking Across Desert to Perth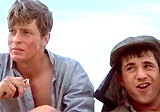 Archy with Frank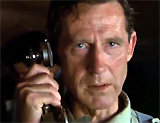 Colonel Robinson (John Morris) Ordering Major Barton (Bill Hunter) to "Push On" and Attack in a Third Wave From the Trenches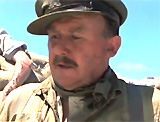 Major Barton - Resigned to the Attack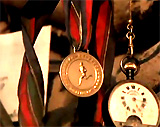 Archie's Sprinting Medal Left Behind