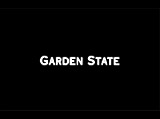 Garden State (2004)
In writer/star/director Zach Braff's twenty-something, Generation X, introspective debut film - a romantic comedy:
the character of mid-20s would-be LA actor/waiter, an estranged and lithium-fogged Andrew Largeman (Zach Braff), who returned to his high school and NJ home for his mother's funeral
Andrew's encounters with old school buddies - including stoned gravedigger Mark (Peter Sarsgaard), Kenny the Cop (Michael Weston), a millionaire classmate Jesse (Armando Riesco) who became rich after the invention of silent velcro, "fast food knight" Tim (Jim Parsons) who worked at Medieval Times, and local girl compulsive liar and epileptic Sam ("Samantha") (Natalie Portman) whom he met at a doctor's office waiting room
the creatively-filmed scene of Andrew's emotionally-numb and warped sense of participation with sexy Dana (Amy Ferguson) and others during a drug-induced spin-the-bottle party: ("This is gonna be a good night!")
the growing relationship between "Samantha" and Andrew when she embarrassed herself by telling him in her bedroom: "We're not gonna make out or anything"; then she backpedaled, apologized ("I just like totally ruined that moment, didn't I?...I am so lame... I'm sorry. Forget I just said that, that was dumb"), and then explained what she had to do to be original and restore herself: ("You know what I do when I feel completely unoriginal?... I make a noise or I do something that no one has ever done before. And then I can feel unique again even if it's only for like a second...You just witnessed a completely original moment in human history. It's refreshing. You should try it")
the scene of Andrew's confession that he was unable to cry: "I haven't cried since I was a little kid. I didn't cry at my mother's funeral. I tried, you know? I thought of all the saddest things I could think of. Like, things in movies, this, there's this image from Life Magazine that's always haunted me. I just focused in on it, you know? But nothing came. That actually made me sadder than anything... the fact that I just felt so numb"
the film's scenes of a visit to three unusual places: a Handi-World housewares store, an underground sex club in the basement of a hotel, and to a family led by Albert (Denis O'Hare) who lived in an abandoned, rickety boat perched on the edge of a stone quarry in Newark during a rainstorm - where the threesome (wearing garbage bags as raincoats and atop a derelict crane) screamed down into the "infinite abyss" of the quarry pit - as the camera zoomed backwards
Goodbye Scene at Airport
the final scene of 'goodbye' at the airport between Sam and Andrew (after only four days), when he spoke about putting an "ellipsis" on their relationship so he could figure out his own life; he left and boarded his plane, but then reconsidered and returned to her (finding her crying in a phone booth), explaining that he wanted to live his life from now on with her: ("Do you remember that idea I had about working stuff out on my own, and then finding you once I figured stuff out?...The ellipsis. It's dumb. It's dumb. It's an awful idea. And I'm not gonna do it, okay? 'Cause like you said, this is it. This is life and I'm in love with you, Samantha. I think that's the only thing I've ever been really sure of in my entire life. I'm really messed up right now, and I got a whole lotta stuff I gotta work out. But I don't want to waste any more of my life without you in it, okay?...And I think I can do this! I mean, I want to, I mean, we have to, right?") - the film ended with his uncertain words: "So what do we do? What do we do?"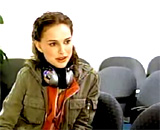 Andrew Meeting with Sam ("Samantha") in Doctor's Office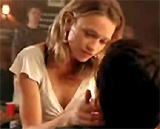 Spin-the-Bottle Party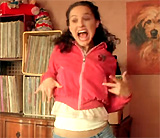 Being "Original"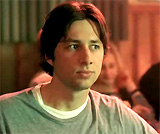 Andrew's Confession of Inability to Cry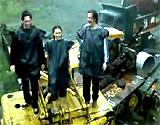 Visit to Stone Quarry