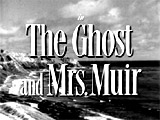 The Ghost and Mrs. Muir (1947)
In the classic fantasy romance weepie, set at the turn of the century, from director Joseph L. Mankiewicz, with exceptional Academy Award-nominated cinematography by Charles Lang Jr.:
the beautiful seaside locale - the picturesque English coastal village of Whitecliff-by-the-Sea, where young, strong-willed, and widowed Lucy Muir (Gene Tierney) moved with her 9 year-old daughter Anna (Natalie Wood), into a residence known as Gull Cottage
the sequence of Lucy's first sighting of a spiritual presence in the house, who was attempting to scare her with lightning strikes, gusts of wind and rain; she challenged the ghost to speak: ("Are you afraid to speak up? Is that all you're good for, to frighten women? Well, I'm not afraid of you. Whoever heard of a cowardly ghost?"); the cantankerous sea captain Daniel Gregg (Rex Harrison), Gull Cottage's ghostly former owner who, four years earlier, had allegedly committed suicide (it was actually an accidental gas asphyxiation), finally responded: "Light the candle. Go ahead, light it"; he revealed that he had scared off other renters or buyers, because he wanted to turn the house into "a home for retired seamen"
the bargain negotiated between the Captain and Lucy - he said she could stay in his home ("You may stay, on trial") but she had to keep his presence a secret from Anna ("She's much too young to see ghosts"), and to only stay in his/her bedroom: "Leave me bedroom as it is and I'll promise not to go into any other room in the house. And your brat need never know anything about me"; however, the Captain also made it clear they would have to sleep in the same bedroom - his bedroom; he told her: "All you see is an illusion. It's like a blasted lantern slide", and insisted that his painted self-portrait had to be hung in the bedroom
the scenes of their growing bonding and loving relationship, as Captain Gregg continually haunted Lucy's bedroom and thoughts in his non-flesh-and-blood form
the farewell scene when the Captain bid Lucy good-bye while she slept, telling her that she must find her own way in life - and that she was only dreaming of a sea-captain haunting the house; his decision to leave her life came after she declared her intention to marry childrens' book author Miles Fairley (George Sanders) (pen-name "Uncle Neddy"), a smooth-talking, slimy cad: (Daniel: "You've made your choice, the only choice you could make. You've chosen life and that's as it should be. And that's why I'm going away, my dear. I can't help you now...You must make your own life amongst the living, and whether you meet fair winds or foul, find your own way to harbor in the end...It's been a dream, Lucia")
the revelation that the womanizing, deceitful Miles Fairley was already married with a family of two children
the transcendent, sappy ending in which white-haired, elderly widow Lucy died in her British seaside cottage's chair; immediately, captain Daniel Gregg appeared and beckoned to her; he greeted her with outstretched hands to help her from the chair: "And now, you'll never be tired again, come Lucia, come my dear"
Reunited in Death in the Transcendent Ending
and then in the conclusion, rejuvenated and young again, Lucy walked off, hand-in-hand with him downstairs and through the front door into the afterlife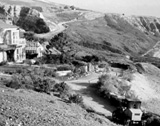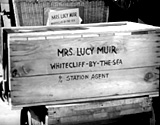 Arrival at Whitecliff


Appearance of Captain Gregg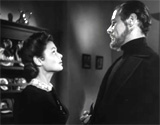 Bargain Between Lucy and the Captain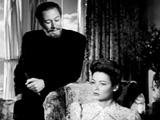 Always in Her Thoughts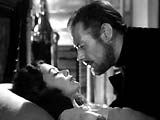 Daniel: "I'm going away, my dear"