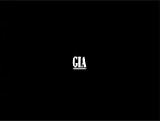 Gia (1998) (TV)
Director Michael Cristofer's provocative HBO made-for-cable TV to video film, his directorial debut film, was a dramatic and haunting biopic about one of the first US supermodels whose tragic career rose and swiftly fell with her 1986 death at the age of 26 due to AIDS (from a contaminated needle). Gia Marie Carangi (Golden Globe award-winning Angelina Jolie) was a doomed, wild, self-destructive, sexually-aggressive, bi-sexual cover girl. The film's tagline was: "Too Beautiful to Die. Too Wild to Live." The film was released in various versions, including an unrated one (with an additional six minutes of sexually explict footage).
During the opening title credits (with close-up images of make-up being applied to a face), the script was based upon those who knew Gia and made comments - with recreated, faux-archival interview footage - about her past life, plus quotes from Gia's own journal. The statements made conveyed a sense of Gia's uniqueness, abrasiveness, and bold sexuality:
At that time, everybody was tall, thin and blond. Everybody posed, everybody gave you a look. But Gia was different. She was the first one who, who moved. They all try to do it now... give you an attitude, but she invented it. She always followed her instincts, no matter where they took her. It was probably the best and the worst thing about her. With Gia, it was always about the sex - every look, every move, every minute. Every day. Sex. They were jealous of her. They still are. That's why they say those things. She would come on to everybody, but it was really innocent. I mean, nobody was ever really offended by it. I don't think it had anything to do with sex. Even when she was sleeping around, sex was not the goal. Sex wasn't really an issue...
Born in 1960s Philadelphia and before being discovered, Gia grew up in a working class family, with her restaurant owner father Joe ((Louis Giambalvo)) and her mother Kathleen Carangi (Mercedes Ruehl), who called her daughter's life "a fairy tale come true." However, her parents had a contentious relationship and they separated when Gia was 11 years old. By the age of 17, Gia was working in her father's diner, sporting a rebellious hair-style - punk-styled pink. Her mother's departure was a turning point for Gia - causing her continuing future fears of abandonment. She admitted that she was full of fear: "You scare the s--t out of people and then they don't see how scared you are."
One day, she impulsively took off for the day with a young, handsome gay male from the neighborhood named Tom Junior or "T.J." (Eric Michael Cole). She enjoyed being the subject of a photoshoot with a bi-sexual couple - a photographer and his blonde model girlfriend (Scott Genkinger and Vylette Fagerholm). According to one interviewee, the Philadelphia fashion world was not ready for Gia, but New York was.
TJ accompanied her as her confidante, companion and friend, to explore becoming a model in a NYC agency known as Wilhemina's, run by powerful matriarchal agent Wilhemina Cooper (Faye Dunaway). Gia stunned the front desk receptionist (Audrey Wasilewski) by using a knife to carve her name into her desk mat. With Wilhemina in person, Gia was forthright: "If I knew you were looking for Marcia-f--king-Brady, I would've stayed home." Wilhemina knew Gia had potential but cautioned the wild child Gia to say less and let her images speak for themselves: ("What comes out of your mouth is totally irrelevant"). Wilhemina mentored Gia as a mother surrogate: "This is a life if you want it" - and was encouraged to interview and become a top model as a career, while becoming roommates with TJ.
| | |
| --- | --- |
| Early Photoshoot in Philadelphia | Wilhemina Cooper (Faye Dunaway) Head of NYC Fashion Agency |
In her first sexual experience with gay friend TJ, she allowed him to kiss her and tempted him to have sex, but then provocatively proposed being 'turned on' by stripping him of his underwear and putting them on over her own panties. She admitted that the one time she had sex with a man, she "could've done that with a German shepherd."
Before her first major photoshoot in NY, she met bisexual photographer's assistant make-up artist Linda (Elizabeth Mitchell). Gia posed behind a chain-link fence, but then after the official shoot, the long-haired photographer Chris von Wagenheim (Alexander Enberg) suggested that further photos could be taken in the nude: ("Who wants to stay and make some art?...Keep the fence, lose the clothes.") Gia opted in - with one condition, sensing an immediate attraction to Linda: "I'll stay if Linda stays."
Daring Naked Fashion-Shoot Behind a Chain-Link Fence
In a series of scenes, beginning with this one, Gia began to play passionate love games with make-up artist Linda. Their love affair began when both became involved in the daring fashion-shoot behind a chain-link fence. At first, Linda watched as Gia was photographed stark-naked, but then joined in, stripped down - and the two kissed each other across the links. In the next extended sequence, once the photoshoot was over, the two engaged in full-body kissing in Gia's apartment.
A Night of Naked Full-Body Kissing Following the Chain-Link Fence Photoshoot
After being together with Linda for the night, a fully nude Gia attempted to stop the conflicted Linda from leaving and pursued her into the hallway naked. She asked: "What happened? What's the matter?" Linda only remarked: "You don't have any clothes on." Gia quickly replied: "Don't change the subject." Linda confessed: "I have a boyfriend...so, I have to go." In her inimitable manner, Gia quipped: "Where the f--k does everybody go when they have to go, huh?" Linda then admitted: "I'm really very square." Gia promised to make breakfast for Linda if she didn't go. The elevator door behind Linda opened, and a startled gentleman in the lift asked: "Going down?"
Gia was in for a meteoric rise in the fashion world, as Wilhelmina cautioned her about what would happen next: "You are in for the ride of your life." With other models, she frequented late-night clubs, witnessing S&M gay sex, sexual couplings, cocaine use on a female's naked front, and kissing with strangers. She began to use drugs herself - snorting cocaine.

The New Fashion Star: Gia

Gia - The Stunning New Face for Vogue Editor
During an executive meeting held by an Anna Wintour-styled Vogue Editor (Tricia O'Neil), she dismissed many other face shots of models for the next Vogue Magazine winter cover, complaining that she needed a new model or type: "Boring. Played out. Fat. Boring. Too dumb. For winter, we need meat. We need someone with blood in her veins. Not just suntan oil and mineral water. Oh, God, I am so sick of her face." But then she paused on the slide of Gia's face - Wilhelmina's new girl:
"This is meat. This is sirloin. It's lusty. Winter is carnivorous, rich browns, reds, big animal prints. This is it. Yes!"
In the next scene, Gia surprised Linda outside her apartment with her new red sports car, and pressured Linda into joining her for a ride to her home-town of Philadelphia. She drove to her mother's residence and introduced her mother to her "girlfriend" Linda, and proudly showed off her cover photo on the latest issue of Vogue. Later, she tried to interest Linda in furthering their lesbian relationship when she didn't respond to phone calls, by sending her bouquets of yellow roses, and by confronting Linda at her home with her drunk boyfriend Billy. Billy asked: "I'll bet you're a model," to which Gia quipped: "Why? Do I look stupid?" In an attempt to break up Linda's 'straight' relationship, she stunned Billy by boldly calling Linda "the most beautiful woman I have ever seen" before kissing her, and then abruptly left.
Even though she was at the height of fame and in high demand, further fears of abandonment by her mother caused the very emotionally-unhappy Gia to turn to more drug use. During a photoshoot with a very understanding photographer named Francesco (Edmond Genest), he advised Gia how to not be so unhappy:
Francesco: "I know, I know. Life is so disappointing. Here you are. You have arrived. You are here. This is your moment. What do you have? You have pain. You have everything. What do you have? You have nothing. Everything is right, or everything is wrong. It's disappointing, it's confusing. This is life. What can we do?"
Gia: "People keep going away from me, that hurts."
He told her that the secret was to "work. It's the only answer I know....Work now. You can live later." To escape and ease the pain, another model offered her a stronger drug to snort as: "the answer to all your prayers." The camera focus blurred, conveying the idea that drugs were a way to lessen the pain of her intense life. During one of her fashion trips, she remembered Wilhelmina's words to her: "You will always be somebody to me." But then Wilhelmina was hospitalized in New York with a sudden illness, and Gia was suddenly inundated with offers to join other agencies, including pressure from Mike Mansfield at the startup Largo Agency. From her sick bed, Wilhelmina encouraged Gia: "You have the whole world at your fingertips. You have to be strong. Seize the moment."
Soon after Wilhelmina succumbed to lung cancer, and the very volatile Gila went into a depression, and turned to further drug use - including heroin ("the dragon"). Following a photoshoot with Gia wearing Japanese-looking facial makeup and a bright red dress, she claimed she was sick and was driven on the back of a motorcycle to a junkie hangout in town, where she begged to meet up with Satellite, her fixer. He was unavailable, and everyone told her that they had nothing for her. When offered an injection by a junkie addict, she replied: "I don't shoot. Do you have anything else dry?" but then she resorted to unwisely being injected with his dirty needle ("I want it. You do me") - it was a deadly choice.
Afterwards, looking sickly and with a bruise on her forehead (from a beating at the junkie's place?), she visited Linda's apartment and learned that Linda's boyfriend had left her. They took a cleansing shower together to wash the blood from various bruises on Gia's body. They were determined this time to make their relationship work (Linda being interviewed later: "And I believed we could make things work"). In the year 1980, Gia disappeared from her agency and the fashion scene in NYC and fled to her hometown of Philadelphia.
Cleansing Shower with Linda After Shooting Heroin
While living with Linda, and with her encouragement, 20 year-old Gia went on 21-day rehabilitation Methadone drug program to end her heroin addiction. She informed her mother that she wasn't returning to work, but then she went into another decline and returned to her drug addiction. She stole money and jewelry (wedding ring) from her mother to buy more drugs before speeding back to NY and being arrested for resisting arrest and reckless driving. Gia realized she had to go back to work for financial reasons - to maintain her lifestyle and be independent of Linda's support.
She negotiated with Mike Mansfield of the Largo Agency, who feared that Gia was a liability - she had a confirmed and indiscreet drug problem and other agencies were afraid of signing her. When he asked to check her arms, she angrily refused: "It's not my arms you want. It's my face and my tits. And they're fine." When she claimed she was "clean," he took a risk and hired her for a "television piece on models." As the shoot was about to proceed, with Linda as her makeup artist, Gia was caught by Linda snorting in the bathroom. On camera, Gia lied about being free of her drug problem. Disgusted by Gia's lie, Linda left, and was upset to see Gia later that evening, especially since Gia had broken their pledge about ending her addiction: "We had a deal. We made a bargain." Gia tried to beg for Linda's love rather than condemnation: "You going to judge me? I did one f--king line," but Linda refused to believe her lies. Linda confronted Gia about her complete dependence on the drug: "This is what makes you do everything....It's not me. It's not you. It's this. This s--t holds you." And then she gave Gia an ultimatum: "You choose...This or me." Gia's choice left Linda crying in despair.
Gia's career as a fashion model on the runway was over when she became disoriented and collapsed backstage, with her drug paraphernalia in her lap. One of her favored photographers Francesco specifically asked for Gia to be a model for a photo-shoot, even though he knew she had become volatile and had track marks on her arms and an ugly infection on her hand. He noted how the industry quickly discarded its 'has-been' models: "We use them up, throw them away." She sincerely thanked him for giving her a second chance. He remarked as he began shooting: "Gia, this is life, not heaven. You don't have to be perfect."
Out of money and suffering from withdrawal, and with nowhere to go (even her mother turned her down about returning home), a degraded Gia was forced to declare herself "indigent" to receive drug-rehab treatment and group therapy. She attempted to seek some closure by phoning Linda to ask for forgiveness for hurting her during her drugging.
The film concluded with Gia's approaching death from AIDS-related complications ("Acquired Immune Deficiency Syndrome") due to her IV-drug use. She began to suffer serious symptoms, including skin lesions and hair loss, pneumonia, and a disintegrating body. She knew the end was near but remained quasi-optimistic: "I think that God has a big plan for me. Just not in this life. I'm on top of everything. I'm super cool." Those close to Gia in those "early days" were scared about having close contact with Gia, including her mother and T.J., so Gia was housed in a hotel room. She paid one final visit to Linda and gave her the reflective journal ("fairy tales" and "other crazy s--t") she had been writing. Gia explained that she had no definite plans for her future, although Linda suggested giving themselves "another chance" - possibly beginning with a summer beach house. As Gia left, she told Linda: "You were the one. You were the only one."
However, with the little remaining money she had, Gia visited a junkie hang-out to buy more drugs and was robbed, beaten up and raped. Her mother Kathleen visited her daughter and told her what she had always wanted to hear: "I'm gonna take you home, baby." Her father also recollected his brief visit in the hospital: "I couldn't help thinking to myself - 'My God, she's just a kid.'" TJ remembered: "She knew she was dying" - and how her wish to tape a video warning to kids about drugs never came to fruition. Gia's last question to her mother was: "Do you forgive me, Kathleen?" and added: "I forgive you, too." Her mother raised the bed's cover sheet and saw that Gia was soaked in blood. She died soon after, and her mother mentioned how it was difficult to find a mortician in the AIDS-era to apply makeup to her ravaged face (the images under the opening title credits), to remember her as "beautiful."
Gia's voice-over narration (with words from her own journal) was heard as she made her last curtain call - she rose from her death bed aided by white-garbed angels, seemingly purified by her suffering, and walked toward the camera surrounded by heavenly white light - ending with a freeze-frame:
"Life and death, energy and peace. If I stop today, it was still worth it. Even the terrible mistakes that I have made and would have unmade if I could. The pains that have burned me and scarred my soul. It was worth it, for having been allowed to walk where I've walked, which was to Hell on Earth, Heaven on Earth, back again, into, under, far in between, through it, in it, and above."
The film's closing credits ("This film is a dramatization based on certain facts. Some of the names have been changed and some of the events and characters have been fictionalized for dramatic purposes") seemed to contradict the opening title card.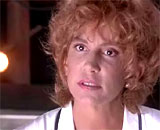 Gia's Mother Kathleen Carangi (Mercedes Ruehl)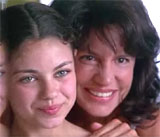 As a Young Girl (Mila Kunis as Age 11), Gia With Her Younger Mother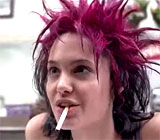 Gia Working In Her Father's Diner at Age 17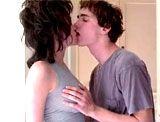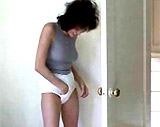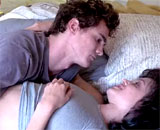 Gia Wearing Her Boyfriend's Underwear Briefs - Tempting Him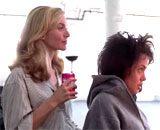 First Meeting With Make Up Artist Linda (Elizabeth Mitchell)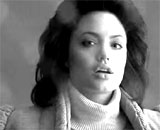 At Gia's First Major Fashion Photoshoot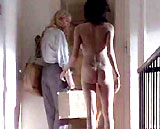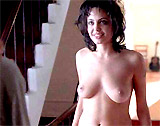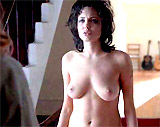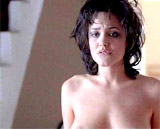 The Scene of Linda's Threat to Leave Gia After Their Sexual Night Together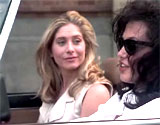 Gia's Car Ride with Linda to Philadelphia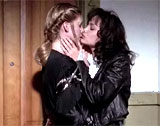 Boldly Kissing Linda in View of Her Drunk Boyfriend Billy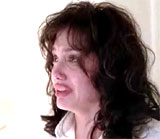 The Unhappy Gia With Continuing Fears of Abandonment By Her Mother ("I need you now!")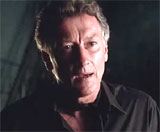 Photographer Francesco Offering Gia Advice on How to Be Happy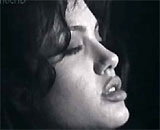 Stronger Drugs to Ease the Pain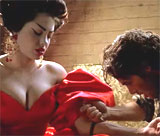 Sick After a Film Shoot - Injected With Heroin by a Dirty Junkie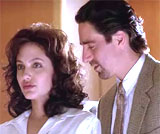 Hired by Mike Mansfield at the Largo Agency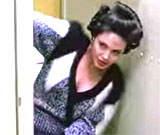 Gia Caught by Linda Snorting Before Her New Job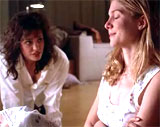 Linda's Disgust At Gia's Lies About Being Clean



Gia Disoriented and Collapsing During Runway Show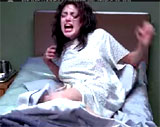 Suffering Withdrawal During Drug-Rehab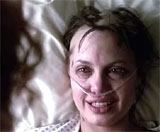 Her Last Few Days Dying in a Hospital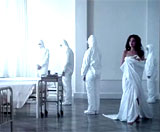 Gia's Ascent to Heaven?