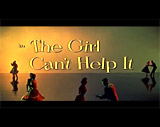 The Girl Can't Help It (1956)
In writer/director Frank Tashlin's and Fox's satirical, cartoon-like comedy musical:
in the introduction, one of the film's stars, a bow-tied Tom Ewell (playing "a small-time theatrical agent" Tom Miller) opened the film by walking out onto a open stage to speak to the camera (and break the fourth wall) and to introduce the feature; and then, annoyed with the small sized B/W picture, astonished audiences by literally stretching the black edges of the boxy black and white picture - opening the viewable picture up into the wider, rectangular Cinemascope aspect ratio - and then he commanded that the picture change from B/W to Technicolor - "gorgeous life-like color by DeLuxe"; he then stated the purpose of the picture: "Our story is about music, not the music of long ago but the music that expresses the culture, the refinement and the polite grace of the present day" -- rock 'n' roll; next to him, a juke-box played the title song: "The Girl Can't Help It" - drowning out his further words
the sequence of washed-up, and impoverished alcoholic press agent Tom Miller (Tom Ewell) meeting in the Park Avenue apartment of retired ex-slot machine gangster Marty "Fats" Murdock (Edmond O'Brien); he wanted his curvaceous blonde bimbo girlfriend/fiancee Jerri Jordan (Jayne Mansfield) - "a nice, sweet, innocent dame" - to become a rock 'n' roll star in six weeks, although she had little singing or acting talent besides her voluptuous figure, and he hired Tom to transform her into a singing star: "That's where you come in. You're gonna make her into a star...So you got nothin' to worry about except to concentrate on buildin' the dame into a big canary. Only remember, hands off, like you got the rep for...Tommy boy, I'm puttin' her in your hands, figuratively speaking. You got six weeks to have her a star"; when Tom responded that six weeks was too short a time: "Six weeks? Oh, easy, Fats. It takes time. Rome wasn't built in a day," Fats reassured him: "She ain't Rome. What we're talkin' about is already built! Right?"
Jerri Turning Heads By Her Appearance
the sequence of Jerri's spectacular hip-swinging walk down the street (wearing a tight-fitting dark blue dress and broad-rimmed hat) - and the racy reactions, causing ice in an iceman's (Henry Kulky) delivery truck to melt - and her swiveling moves up an apartment stoop's steps past a milk bottle delivery man (Richard Collier) - causing the milk in the bottle to overflow frothily from the top (an ejaculatory metaphor), and a downstairs apartment neighbor's eyeglasses shattering (accompanied by the film's title theme song sung by Little Richard)
the scene of Jerri's climbing to the second floor for her first meeting with recently-hired agent Tom Miller; after entering his bedroom, she held up two recently-delivered glass bottles with fresh milk to her gigantic, well-endowed chest - one in front of each breast - an obvious visual gag, and greeted him: "Good morning, Mr. Miller!" - he was aghast until she explained: "But Mr. Murdock sent me over....So you can start working on me"
the scene at breakfast when she was cooking, and she provocatively leaned forward while pouring his coffee and serving the meal to tell Tom about how she was ready for domesticity and motherhood with Murdock: "I'm domestic. I hope you like eggs souffle....It's not exactly a breakfast, but it's eggs. I figured you for strong coffee... It's one of my favorite pasttimes... cooking... keeping house, you know, keeping everything neat. How's your souffle?...I'm glad you like it, Mr. Miller... You know, sometimes I think I'm mixed up...You should see me in the morning without makeup. I'll show you sometime. 'Pretty' is just how good you apply your base...I just want to be a wife and have kids. But everyone figures me for a sexpot. No one thinks I'm equipped for motherhood!"
the scene of Jerri's attention-getting walk to a night club's powder room in a stunning red dress) during Little Richard's rendition of "She's Got It," when Tom instructed her about 'Operation Powder Room': "Take your stole off and go to the powder room...Just visit a while. But on the way there and back, walk by the reservation desk"; shortly later, he spoke about the successful strategy: "See how the strategy pans out? The first time out, and already four owners are drooling over you"
the sequence of the ethereal-ghostly appearance of torch singer Julie London (as Herself) to tipsy Tom Miller alone in his bachelor pad one evening - she was his former client and the object of his unrequited love; he placed the 33 rpm record "Julie Is Her Name" on his turntable, to play her signature tune "Cry Me a River"; as her song began to play, he poured himself a drink in the kitchen and imagined her slowly materializing before his eyes - haunting and tormenting him in various locations and in suggestive and provocative poses in various costumes throughout his two-story home - he was unable to escape from her; she was visible at his kitchen table, on his living room couch, again in the kitchen, lounging on his bed, standing by his fireplace mantle, and standing partway up his staircase; as she sang the last few lines at his front door hallway, she slowly vanished from sight; he sadly sank down onto his hands at the top of the stairs as the song ended
The Haunting Julie London: "Cry Me a River"
the musical performance of "Spread the Word" in front of a shimmering dark blue curtain in the Late Place Club by Abbey Lincoln (as Herself), and many other classic musical performances from rock icons, such as Gene Vincent and His Blue Caps' "Be Bop A Lula", Fats Domino's "Blue Monday", and Little Richard and His Band's "Ready Teddy" (standing at a piano)
in the finale, Jerri' sang (dubbed) the dreamy "Every Time It Happens" (during the Rock 'N' Roll Jubilee) when accompanied by Ray Anthony and his band
by the end of the film, basically a love story, she revealed that she really had singing talent and also that she truly loved Tom - whom she married in order to have children.
the film closed with a similar cartoonish bit by Fats Murdock, who like the cartoon Porky Pig ("That's all folks!") stepped through the enclosing frame of the final shot, walked forward through the black, now-empty space to directly address the audience: "Don't listen to him, folks. I'll see ya outside in the lobby when you leave. I'll sing anything you want. I'm a Jim-Dandy singer." Then, he grabbed a cigar from somewhere, as the title song began to play.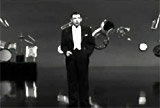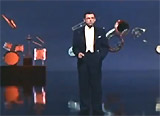 Opening: From B/W to Color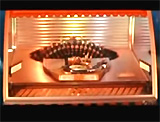 The Jukebox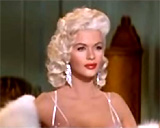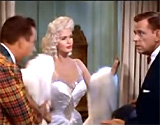 The Entrance of Jerri Jordan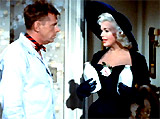 Milk Bottles: Lactating Joke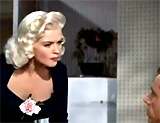 "No one thinks I'm equipped for motherhood"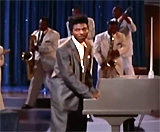 Little Richard: "Ready Teddy"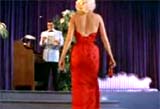 Jerri - "She's Got It"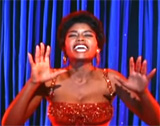 Abbey Lincoln: "Spread the Word"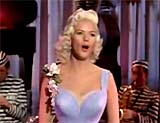 Jerri: "Every Time It Happens"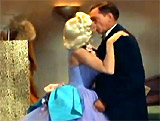 Jerri with Tom