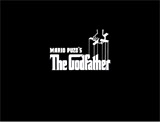 In Francis Ford Coppola's great Best Picture-winning gangster film - the first in a trilogy, with an ever-present Nino Rota score - a bravura, genre-defining, epic-length Mafia/gangster classic that evoked the mid and late 1940's period with powerful character development, lighting, costumes, and settings:
the portrayal of aging Mafia patriarch Don Vito Corleone (Marlon Brando) (stroking a cat in his arms), especially in his opening scenes in his dark indoors study 'holding court' during his only daughter Connie's (Talia Shire) outdoor wedding celebration
Don Vito Corleone
(Marlon Brando)

Bonasera: "I believe in America"
the scene of Bonasera (Salvatore Corsitti) consulting with Don Corleone, and his first line: ("I believe in America") with his request for just punishment for his daughter's brutal rape; the scene included Corleone's chilling response to the supplicant: ("...now you come to me and you say - 'Don Corleone, give me justice.' But you don't ask with respect. You don't offer friendship. You don't even think to call me Godfather. Instead, you come into my house on the day my daughter is to be married, and you, uh, ask me to do murder for money")
also, outsider son Michael's (Al Pacino) delivery of the famous line: "My father made him an offer he couldn't refuse," and soon after Don Corleone's similar line: "I'm gonna make him an offer he can't refuse"
the initial scene of Hollywood studio head/producer Jack Woltz's (John Marley) refusal to listen and grant a "small favor" to consiglieri lawyer Tom Hagen (Robert Duvall), who represented Don Corleone - the godfather of singer entertainer and godson Johnny Fontane (Al Martino), who had requested the godfather's assistance in acquiring a movie role that would revitalize his career, by giving him a part in a new war movie; Woltz kicked Hagen out: "Are you trying to muscle me?...Now you listen to me, you smooth-talking son-of-a-bitch! Let me lay it on the line for you and your boss, whoever he is. Johnny Fontane will never get that movie! I don't care how many dago guinea wop greaseball goombahs come out of the woodwork!...Now you get the hell outta here! And if that goombah tries any rough stuff, you tell him I ain't no band leader! Yeah. I heard that story" [Note: the scene was a reflection of Columbia Pictures' boss Harry Cohn's decision to cast mob-connected Frank Sinatra in a role in From Here to Eternity (1953)]
that evening, the shocking scene of Woltz waking up in his satiny silk-sheeted bed soaked in blood; he ripped off the sheets to discover the bloody and severed head of Khartoum - his cherished and prized stud racehorse; it was a result of the mob's retaliation against him when he refused to listen to Hagen's calm request
the brutal murder scene of loyal Corleone henchman Luca Brasi (Lenny Montana) (wearing a bullet-proof vest) at Tattaglia's bar, who was offered $50,000 to betray the Corleones by rival racketeer Virgil Sollozzo (Al Lettieri); Brasi had his hand ice-picked into the top of the bar, while he was also slowly strangled from behind with a tightened garrote; after his eyes bulged, he sank to the floor - and would soon "sleep with the fishes"
Michael's rescue of his father in an unguarded hospital ("I'm with you now")
the numerous violent scenes including the ambush and toll-booth machine-gun killing of Sonny (James Caan) at Point Lookout on the Jones Beach Causeway
the tense scene of Michael's decision to cold-bloodedly murder two rivals in an Italian neighborhood restaurant set-up - Virgil Solozzo and corrupt cop McCluskey (Sterling Hayden)
Michael's Murder of Gang Rivals in Italian Restaurant

Michael Shooting at Point-Blank Range

Death of Sollozzo

Death of Captain McCluskey
Michael's short exile in Italy when he took a new bride - a peasant girl named Apollonia (Simonetta Stefanelli) followed shortly by her car bombing death
the sequence of all the Mafia's Family heads at a summit meeting where Don Vito Corleone refused to allow drug trafficking, but he also wanted to stop the endless months of slaughter - he was reluctantly willing to compromise and allow controlled narcotics operations ("You talk about vengeance. Is vengeance gonna bring your son back to you? Or my boy to me? I forego the vengeance of my son. But I have selfish reasons... let me say that I swear on the souls of my grandchildren that I will not be the one to break the peace that we've made here today")
the scene of Michael's tough negotiations with Moe Greene (Alex Rocco) in Las Vegas to buy him out, after which Michael's his older weakling brother Fredo (John Cazale) chose sides against the family ("Mike, you don't come to Las Vegas and talk to a man like Moe Greene like that!") - Michael gave Fredo a chilling reminder and warning: "Fredo, you're my older brother, and I love ya, but don't ever take sides with anyone against the family again. Ever!"
the garden scene between Michael and his father
the Godfather's fatal heart attack in a tomato garden in 1954 with his three year-old grandson; he first scared him by putting a sliced piece of orange peel in his mouth and pretending to be a grotesque boogey monster, but then suffered a fatal heart attack, wheezed, stumbled, and fell dead to the ground
the scenes showing the bloody passage of power to Michael - a cross-cut, contrapuntal scene between the christening and baptism of Michael's nephew and godchild (Carlo (Gianni Russo) and Connie's new son), when in the moment after Michael renounced Satan, Moe Greene was shot in the eye through his black-framed glasses, and there was a subsequent violent blood-letting massacre of his gangland rivals
Three of the Massacre Victims

Death of Moe Green

Death of Don Cuneo

Death of Barzini
the scene of Tessio's (Abe Vigoda) plea for a pardon after setting Michael up
the famous ending scene in which Michael lied to his wife Kay Adams (Diane Keaton) ("Don't ask me about my business, Kay") and the study/office door was shut to close her out as he was pronounced the new Godfather - "Don Corleone"
Michael's Wife Kay Shut Out of His Office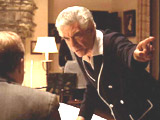 Jack Woltz Refusing Tom Hagen's Request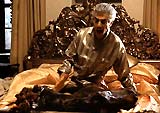 Jack Woltz's Horse Head in Bed Scene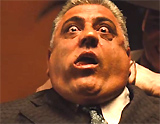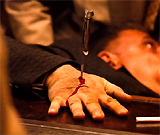 Ice-Picked Hand and Murder of Luca Brasi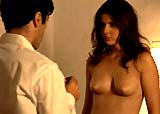 Michael with New Bride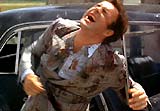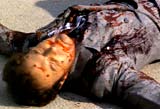 Sonny's Murder at Toll-Booth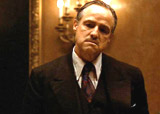 The Godfather Speaking at the Mafia Family Summit Meeting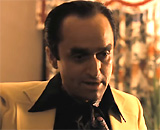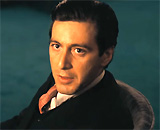 Michael's Chilling Reprimand of His Brother Fredo For Taking Sides Against the Family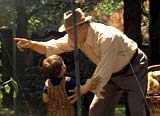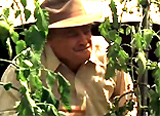 The Godfather's Fatal Heart Attack with Grand-son in Garden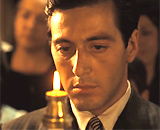 Michael At Church Altar - During Massacre