High Society (1956)
This entertaining, light-hearted Technicolored, VistaVision MGM musical comedy with an original Cole Porter score (earning two Academy Award nominations for Best Score and Best Song - "True Love") was a tuneful remake of director George Cukor's screwball comedy The Philadelphia Story (1940). The original non-musical film set in Philadelphia starred Cary Grant, Katharine Hepburn, and James Stewart. Both films were based on Philip Barry's 1939 play The Philadelphia Story.
The romantic musical comedy, now set amongst the rich elite of Newport, RI, starred miscast Bing Crosby as ex-husband CK Dexter Haven, Frank Sinatra as writer Mike Connor, and Grace Kelly (in her last film before marrying Prince Rainier of Monaco), as rich girl Tracy Samantha Lord. It featured the first teaming of Frank Sinatra and Bing Crosby.
at the conclusion of the opening overture and title credits, in the film's prologue, Louis "Satchmo" Armstrong (as Himself) was with five members of his band in the back of a chartered Greyhound bus (bound for Newport, RI and its famous Jazz Festival); he was singing the title song "High Society Calypso" in a calypso style; via the song, he outlined the plot like a Greek chorus and introduced its main characters; he explained how Dexter, a formal pal, was managing the local Newport Jazz Festival but was "nursing the blues"; his former wife (a "silly chick") was making plans to marry a "square"; Satchmo urged Dexer to "stop that wedding and kill that match"; then he informed the audience: "End of song, beginning of story"
in the plot's opening, Armstrong and his band were delivered to a palatial estate home where they were greeted by successful jazz singer-composer C.K. Dexter-Haven (Bing Crosby), a financially-successful and popular composer-singer who was organizing the upcoming Newport Jazz Festival; he was living in a mansion where rehearsals would be held in the lobby, and it happened to be located across the street from where his ex-wife lived
Dexter had been divorced from wealthy, strong-minded Newport, Rhode Island socialite Tracy Samantha ("Sam") Lord (Grace Kelly), but was still in love with her; Tracy was in the midst of preparations in the Lord's estate for her impending marriage the next day to a stuffy and bland gentleman named George Kittredge (John Lund) whom she regarded as an "angel"; she was being helped with her many wedding presents by her mother Mrs. Seth Lord (Margalo Gillmore) and younger opinionated and precocious sister Caroline (Lydia Reed) who still favored Dexter; during their conversation, it was mentioned that Tracy's philandering father Seth Lord (Sidney Blackmer), who was not invited to the wedding, was rumored to have deserted his wife for a chorus girl (or talented ballet dancer)
Dexter retained his love for bride-to-be Tracy ("I'm still in love with you") and was maneuvering to win Tracy back; after marching over to the mansion, she accused him of trying to disrupt her next day's wedding plans; Dexter reminded Tracy that they had divorced due to differences in expectations: (Dexter: "You called the shots. You were dictating the fellow you wanted me to be")
incensed by him, she accused him of lowering his serious and respectable reputation by becoming a "jukebox hero": ("With your background and taste and intelligence you could have become a serious composer, or a diplomat or anything you wanted to be. And what have you become? A jukebox hero?")
Tracy's Uncle Willie (Louis Calhern) called to warn that he had arranged for two employees of the tabloid magazine Spy to arrive and stay at the Lord's residence to cover the high-society wedding: reporter Mike Connor (Frank Sinatra) and photographer Elizabeth "Liz" Imbrie (Celeste Holm); Uncle Willie had been promised by a SPY editor (Paul Keast) - or blackmailed - that a scandalous, "unsavory" article about Mr. Lord's infidelity with a dancer would be withheld and not published if they were given permission to attend; Tracy initially responded vindictively that she didn't mind if the article was published: "I couldn't be happier. It serves him right," but then agreed to let SPY "send their spies"
| | |
| --- | --- |
| Uncle Willie (Louis Calhern) | Scandalous SPY Magazine Article About Mr. Seth Lord Was Promised to Be Withheld |
Tracy sternly ordered no interference from Dexter to ruin her wedding: "No member of my family is to invite Dexter-Haven into this house until after I am married and gone. I will not have my wedding spoiled by intruders"
once the two interloping SPY employees arrived at the house with their suitcases, Mike was amazed by the overt luxury of the place: "All the comforts. Lousy with phones. South parlor, sunroom, terrace, pool, stables. Stables?"
it was obvious to Mike and Liz, after meeting Tracy (who pretended to be over-dramatic and put on exaggerated airs), that the Lords were a strange, and highly-dysfunctional family; the SPY employees also met Tracy's divorcee-husband Dexter, who was sarcastically denounced: "Mr. Haven has become quite famous since our divorce. Undoubtedly you know of his piano concerto - 'Choo Choo Mama'"
in order to distract and mislead the two Spy interlopers; Tracy tried to sabotage picture-taking by knocking Liz's camera to the floor after she was asked to pose for a photograph "between her first and second husband": Dexter and George; Tracy also pretended that her Uncle Willie was her father, while Seth was identified as her "wicked" Uncle Willie
| | | |
| --- | --- | --- |
| (l to r): Liz, Mike, and George | (l to r): Tracy, Dexter, Caroline | Tracy Posing Between Two Husbands |
Liz and Mike were astounded by the "filthy rich" family with many materialistic possessions - and in response, they sang a duet together of "Who Wants to be a Millionaire?", as they danced in the room holding all of the Lords' fancy and expensive silverware and other glittering possessions
| | | |
| --- | --- | --- |
| "Who Wants to Be a Millionaire?" | Dexter's Wedding Present to Tracy | Model of Sailboat - "True Love" |
meanwhile by the pool, Dexter met with Tracy (in her bathing suit), and he again mused about the reason for their failed marriage: ("You felt I tricked you. I didn't know you wanted a husband who'd be a kind of high priest to a virgin goddess"); he warned that she might face difficulties in her upcoming marriage if she didn't soften up and become more human: ("You'd be a wonderful woman if you'd just, just let your tiara slip a little. But you'll never be a wonderful woman, or even a wonderful human being until you learn to have some regard for human frailty. There's a lot more of you goddesses around than people realize")
after leaving, Tracy opened up the wrapped wedding present he had brought to her - it was a scale model of their former sailboat-yacht "True Love"; Tracy was inspired - in an evoked flashback sequence or reverie, to recall her romantic honeymoon with Dexter aboard their yacht; she remembered Dexter on shipboard singing to her (with a squeezebox) the romantic popular Oscar-nominated hit song "True Love" - and she joined him with a duet (her film singing debut)
she was brought out of her pleasant memories of her honeymoon with Dexter by the arrival of her fiancee George Kittredge, who unrealistically idealized her as a "goddess"; when he told her: "There's a beautiful purity about you like a statue to be worshipped...I also want you up on a pedestal where you belong. Where I can look up and adore you," Tracy sharply told him: "But I don't want to be worshipped. I want to be loved," but he appeared to know little about her true nature; it was the beginning of her second-thoughts about marrying Kittredge - signified by her response to her mother about going swimming: "I've changed my mind"
in a conversation with his daughter Tracy and his wife, Seth explained his simplistic reason for his cheating: "What most wives don't seem to realize is that a husband's philandering, even as innocuous as my own, has nothing whatever to do with them....A reluctance to grow old, I think"; he also cruelly referred to Tracy as a cold and critical daughter rather than what he would have rather preferred: "The right kind of daughter, one who's full of warmth and affection - a kind of foolish, unquestioning, uncritical affection...You have everything it takes to make a lovely woman, except the one essential: an understanding heart"
a slightly-drunken Tracy drove a silver 1955 Mercedes-Benz sports-car convertible roadster around Newport, RI to guide writer-reporter Mike and try to dissuade him from negative feelings about the "idle rich" - ("I thought I'd show you the playground of the rich, the graveyard of wealth"); she showed him many of the town's large mansions that were boarded up and on sale due to high taxes and "the high cost of being rich"; she also criticized him for what she had just been criticized for: "You'll never be a first-class writer or a first-class human being until you learn to have some compassion or regard for human -- "
when they pulled through the gates of her Uncle Willie's two-story home, she explained how Willie was giving it away to be turned into a boys' school the next year; inside, her bachelor(ette) party was being planned; at the bar in Uncle Willie's library, Tracy admitted at the age of 26 that she had been "raised on a pedestal," and sheltered and protected by her wealthy status; she also compared herself to the boarded-up homes as "a thing of the past"
Mike began to express his increasing affection for Tracy, and seductively sang "You're Sensational" to her ("I don't care if you are called The fair Miss Frigidaire 'Cause you're sensational"); when the song ended, he attempted to warm her up: ("What you require is the proper squire To fire your heart") by kissing and embracing her, but she became embarrassed and ran off
Tracy was movingly affected by hearing Dexter sing a love song in her honor that he had written specifically for her: "I Love You, Samantha" (Sam and Samantha were his nicknames for Tracy)
Liz noted to Mike during the night's pre-marriage dance held at Uncle Willie's place: "You know, one of the prettiest sights in this pretty world is the sight of the privileged class enjoying its privileges"; before the large audience, Uncle Willie introduced Louis Armstrong's jazz band, and Dexter sang "Now You Has Jazz" (the middle of the piece featured Armstrong's own trumpet solo)
The Night Before the Planned Wedding


George Dancing with Tracy


Dexter Dancing with Tracy


Dexter Kissing the Bride on the Patio of Uncle Willie's Place


Mike Dancing with Tracy by the Lord's Pool
complications arose the night before the planned wedding as a messy love triangle (of sorts) was developing around Tracy, while she experienced a series of flirtatious escapades with three men; she was faced with a difficult choice between her pompous but clueless fiancee, her reassessment of Dexter, and her growing romantic attraction to Mike; the jealous George witnessed Dexter kissing the bride-to-be - a slightly-inebriated Tracy on the outside patio
Dexter and Mike shared champagne drinks in Uncle Willie's library, when hiccuping Mike told him he should never have let Tracy get away: ("If you had really known her, you would've [hiccup] never let her get away"); Mike sensed Dexter's ongoing love for Tracy; in a clever duet, Mike and Dexter sang the recycled song: "Well, Did You Evah?" [Note: It was borrowed from Cole Porter's 1939 Broadway musical "Du Barry Was a Lady."]
although slightly drunk and relegated by a "frowning" and spiteful George to a separate room away from the dance (and Dexter), Tracy exited the room through a window; she happened to bump into Mike, and the two drove off and sought privacy (and more drinks) on a private patio at her home for over an hour
while dancing together by the Lord's pool, she suggested that they go swimming in the moonlight ("Tonight I want to do everything"); after Mike sang the beautiful love song "Mind If I Make Love to You" to her as they kissed and embraced, Mike called Tracy a "flesh and blood" woman: ("Darling, you're lit from within. Bright, so bright...You're made of flesh and blood. That's the blank, unholy surprise of it all"); she asked if it could be love between them, and he responded: "It couldn't be love, could it?"; she cooed to him: "Put me in your pocket, Mike," and then jumped into the pool with her clothes on
meanwhile, Dexter returned with Liz to the Lord's house, and realized that she was in love with Mike; he bluntly asked her: "Liz, you're in love with Connor, aren't you?...Why don't you marry him?"; she knowingly answered that she knew Mike had to first get over his infatuation with Tracy before they had a chance
then, George showed up and both George and Dexter witnessed Tracy being carried up to the house by Mike (both were slightly drunk, wet and dressed in robes) after their pool experience; already enraged about Dexter, now George turned his anger toward Mike - and to Tracy ("How could she do this to me?"); Dexter stepped in to punch Mike before George was able to take a swing at him, and afterwards boasted to George: "She isn't your wife yet, and she was mine, you know"; after George stalked off, Dexter apologized to Mike and told him: "Thought I'd better get you before he did, he's in much better shape than I am "
| | | |
| --- | --- | --- |
| Mike and Tracy in Pool Robes | Dexter Punching Mike to Silence Him | Dexter Apologizing to Mike |
as the countdown to the wedding approached the next morning, Tracy appeared slightly hung-over and couldn't remember anything that had happened; but then she began to slightly recall that she had taken a late-night swim with Mike and became embarrassed - with some regret; she also apologized to Dexter for their failed marriage: "I've always been so hard on people who weren't perfect," and she felt bad that George had witnessed everything the previous night; Tracy was miserable: "I'm such an unholy mess of a girl" and thought she had compromised her own virtue
Liz and Mike interrupted to announce their resignations from SPY Magazine, and therefore how they wouldn't be submitting their dirty-journalistic exposes about the wedding to safeguard the family's privacy; Tracy was relieved but still dismayed: "Everybody seems to know about last night"
when George arrived and stomped over, he told everyone about his second thoughts about the marriage, and demanded an explanation; Mike calmed George's and Tracy's nerves by admitting that due to her drunkenness, he had treated her with the utmost respect the previous evening - and her virtue remained intact: "Mr. Kittredge, it may interest you to know that our so-called affair consisted of exactly two kisses and one rather late swim all of which I thoroughly enjoyed and the memory of which I wouldn't part with for anything"
Tracy told her fiancee: "If my wonderful, beautiful, marvelous virtue is still intact, it's no thanks to me, I assure you...George, I don't want you to marry me because you think I'm now worthy of you. It would've meant so much more to me if you had married me because I was unworthy"; Tracy attempted to coax George into calling off their nuptials, by claiming she was unworthy for him and couldn't behave herself; although George said he was big enough to overlook Tracy's single indiscretion: ("Well, what's done is done...In spite of the circumstances, I guess I'm big enough to overlook a single indiscretion"), Tracy insisted that he was too good for her - "I couldn't bear a perfect man - I'd make you most unhappy"; George refused to beg for Tracy's heart, blamed Dexter (and his class) for his troubles: ("You and your whole rotten class"), and then marched off
the guests had already arrived and an organ began playing the 'Wedding March,' Tracy awkwardly informed them of the change in plans and that her fiancee had cancelled the wedding: ("There's been a little hitch. I've made a terrible fool of myself, which isn't at all unusual. Well, my fiance that was. Well, that is, he thinks we ought to call it a day, and I quite agree with him")
she turned to Dexter to ask him to announce a wedding to make up for the one they didn't have earlier; they had eloped two years earlier to Maryland to get married, and would now have the opportunity for a full ceremony: ("...by going through with it - as originally and most beautifully planned"); Dexter impulsively volunteered to be the groom - and Tracy accepted; her father began to escort her down the aisle as Mike and Liz mentioned how the idea of marriage was becoming "contagious" - a declaration of their own love for each other
| | |
| --- | --- |
| Tracy's Announcement to Wedding Guests of a Change in Plans | Dexter Volunteering to be Tracy's Groom |
| Mike and Liz: Marriage Was Becoming "Contagious" | The Film's Ending: Wedding of Dexter and Tracy |
the picture closed with Louis Armstrong's jazzy rendition of "Here Comes the Bride" (loudly played outside on the patio) for the marital processional of the reconciled couple Tracy and Dexter; he also told the audience with the film's last line of dialogue: "End of story"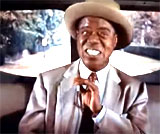 On a Chartered Bus to Newport, RI, Louis Armstrong: "High Society Calypso"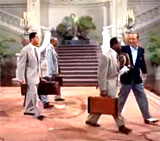 CK Dexter-Haven (Bing Crosby) Escorting Band Members into Borrowed Estate's Palatial Lobby (Rehearsal Hall)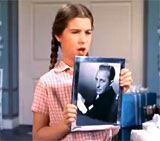 Tracy's Younger Sister Caroline (Lydia Reed) - With Picture of Dexter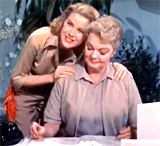 Tracy (Grace Kelly) with Her Mother Mrs. Seth Lord (Margalo Gillmore)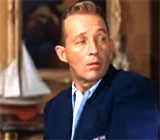 CK Dexter-Haven (Bing Crosby)


Tracy Deriding Dexter as a "Jukebox Hero"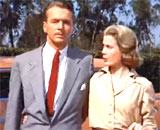 Tracy's Fiancee George Kittredge (John Lund)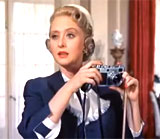 Liz Imbrie (Celeste Holm)


Mike Connor (Frank Sinatra)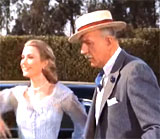 Tracy Introducing Uncle Willie as 'Papa'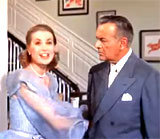 Tracy Introducing Her Father as Uncle Willie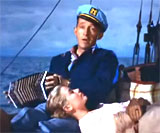 Flashback -- Dexter Singing to Tracy: "True Love"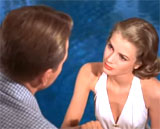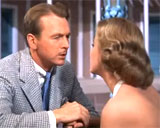 Tracy to Kittredge: "I don't want to be worshipped. I want to be loved"



Mr. Lord's Cruel Criticism of His Cold-Hearted Daughter Tracy


Riding Through Town with Mike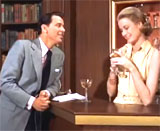 Mike Sang to Tracy at the Library-Bar of Uncle Willie's Place: "You're Sensational"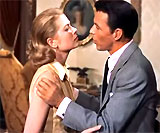 An Attempt at an Embrace and Kiss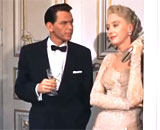 Liz's Comment About The Privileged Class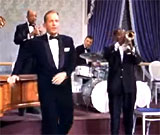 "Now You Has Jazz"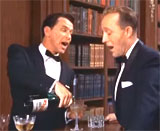 "Well, Did You Evah?"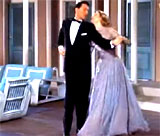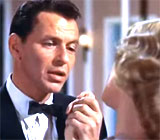 Mike with Tracy by the Pool, Singing "Mind If I Make Love to You"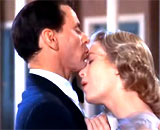 Tracy to Mike: "Put me in Your Pocket"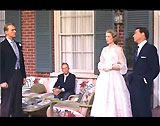 Mike Admitting He Had Treated Tracy With Respect - And That She Still Had Her Virtue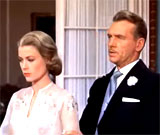 Tracy Attempting to Coax George Out of Their Planned Marriage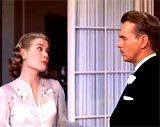 Tracy's Request to George to Call Off the Wedding: "I'd make you most unhappy"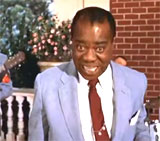 Louis Armstrong: "End of Story"