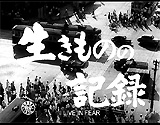 I Live in Fear (1955, Jp.) (aka Record of a Living Being, or Ikimono no kiroku)
In writer/director Akira Kurosawa's family drama - a tale of inter-generational rivalries during an age of atomic paranoia in the mid-1950s (a decade after the bombing of Hiroshima and Nagasaki):
the opening credits sequence - with views of traffic at a busy Tokyo intersection, accompanied by theremin music
the character of the lead protagonist: elderly, self-made, wealthy, eccentric and age-degenerating steel foundry owner Mr. Kiichi Nakajima (Toshiro Mifune), facing the debilitating, fear-stricken dread of nuclear weapons and radioactive fallout, and stubbornly determined to convince his reluctant, greedy, and entitled family members to emigrate to a farm in Brazil for safety's sake
the sequence of the overly-anxious, increasingly mad industrialist Nakajima confusing bright flashes of lightning and thunder for a nuclear attack, ducking at imagined blasts, and panicking
the continuing domestic-family arbitration case, led by a three-person tribunal (and arbitrator-counselor Dr. Harada (Takashi Shimura), a dentist), to rule on the overly-worried Nakajima's rationality and mental competency (and the fate of their inheritance) - and whether he could sell his foundry and home, and uproot his entire family to Brazil
in the film's conclusion, Nakajima's desperate and irrational decision to destroy his assets (by burning down his factory, and unwittingly hurt his factory workers) to persuade his family - afterwards, he was committed and placed in an insane asylum, where he sat with his delusions while staring at the sun - (believing he had safely escaped from Earth and transported elsewhere) - in a chilling moment, he cried out as he pointed out the barred window at the rising sun: "It's burning! It's burning! The earth is at last burning away"
the film's final juxtaposed, metaphoric shot of differing generations: Dr. Harada slowly descended the sloped corridor of the mental hospital after his visit, while Nakajima's mistress Asako Kuribayashi (Akemi Negishi), bearing her little boy on her back, walked up a stairway - they both passed each other without recognition
Passing By Each Other on Staircase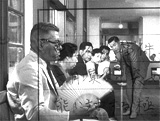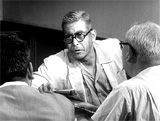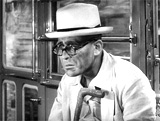 Mr. Kiichi Nakajima
(Toshiro Mifune)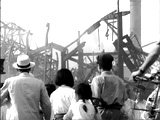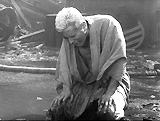 The Mad Nakajima's Destruction of His Own Assets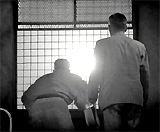 Nakajima: "It's Burning!"