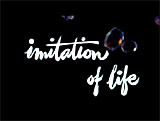 Imitation of Life (1959)
In Douglas Sirk's great melodrama about dysfunctional families and racism:
the scene in an alley -- light-skinned Sarah Jane Johnson (Susan Kohner) (who was hiding her racial background) asked her handsome date Frankie (Troy Donahue): "Frankie, you said you wanted to take a job in Jersey. Couldn't we run away? I'd do anything to be with you, anything"; but then he just wanted one racist question answered: "Just tell me one thing...Is it true?...Is your mother a nigger? Tell me, tell me!"; when she responded: "What difference does it make? You love me!", he responded about all the rumors he had heard: "All the kids talking behind my back! Is it true?...Are you black?" - when she answered: "No, I'm as white as you," he accused her of lying and repeatedly slapped her, leaving her lying on the ground
the scene in a Hollywood motel room in which estranged black-maid mother Annie Johnson (Juanita Moore) (who was in the employ of career-minded actress Lora Meredith (Lana Turner)) met with her self-hating daughter Sarah Jane, who had essentially disowned her; in a moving farewell scene, Sarah Jane disavowed her mother forever: "I'm white! White! White!...and if by accident, we should ever pass on the street, please don't recognize me"; then, Sarah Jane's mother made one last, two-part heart-wrenching request or wish: "If you're ever in trouble, if you ever need anything at all, if you ever want to come home and you shouldn't be able to get in touch with me, will you let Miss Lora know?...I'd like to hold ya in my arms once more like you was still my baby... Oh, my baby, my beautiful, beautiful baby. I love you so much. Nothin' you ever do can stop that"
Sarah Jane's Farewell Scene with Mother
in the funeral scene finale with Mahalia Jackson singing "Trouble of the World," Sarah Jane unexpectedly returned for her mother's funeral (after she died of a broken heart), rushed to the casket, and sobbed uncontrollably as she apologized: ("Mama, Mama, I didn't mean it, I didn't mean it. Mama, do you hear me? I'm so sorry, I'm sorry, Mama. Mama, I did love you...I killed my mother, I killed her. I wanted to come home. Now she'll never know how much I wanted to come home")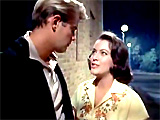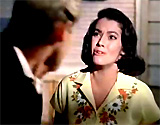 In Alleyway, Sarah Jane Rejected by Frankie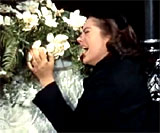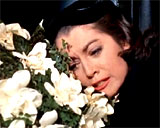 Funeral Scene at Mother's Coffin