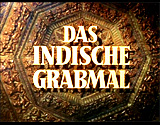 The Indian Tomb (1959, W. Germ/Fr./It.)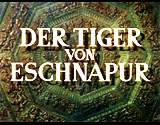 The Tiger of Eschnapur (1959, W.Germ/Fr./It.)


The Indian Tomb (1959, W. Germ./Fr./It.) (aka Das Indische Grabmal)
and
The Tiger of Eschnapur (1959, W.Germ/Fr./It.) (aka Der Tiger von Eschnapur)
In director Fritz Lang's Technicolored romantic adventure drama - a two-part Indian epic, composed of The Tiger of Eschnapur (1959, W.Germ./Fr./It.) (aka Der Tiger von Eschnapur) and The Indian Tomb (1959, W. Germ/Fr./It.) (aka Das Indische Grabmal) - both were edited into American-International's 92-minute Journey to the Lost City (1960) for its US release - a comic-bookish precursor to the Indiana Jones franchise:
[Note: Screenshots for the two lengthy dance sequences were derived from the original films, not the 1960 compilation. The dance scenes in the 1960 compilation were heavily edited and censored by the Hays Office.]
In both films, the star performer was Seetha (Debra Paget), a beautiful, half-white (Irish) handmaiden and sacred temple dancer - the love-object of two competing males in the mystical province of Eschnapur:
Harold Berger (Paul Hubschmid), a German architect who was in the town to build schools, hospitals, a temple and a dam
Maharaja Chandra (Walther Reyer), the local wicked, tyrannical, and aristocratic ruler. At the same time, the Maharaja's scheming, treacherous brother Prince Ramigani (René Deltgen) was conspiring to steal the ruler's throne.
In the story, Maharaja Chandra had hired Harold's brother-in-law Dr. Walter Rhode (Claus Holm) to build a giant tomb for Seetha, who had run off with Harold in the first film. In the second film, Chandra's dastardly plan was to bury Seetha alive in the tomb on the night of her wedding!
There were two remarkable dance sequences (shown below and in right panel) performed by Seetha - one in each film:
in the first film (see below), Seetha descended stairs, wearing a gold headdress, bangles, and a gold-colored dance costume that bared her belly. She performed a ritualistic dance in front of sacred priests and the giant stone statue of the goddess Shiva with voluminous breasts. At one point, she writhed her body in the huge outstretched right hand palm of the statue.
The Tiger of Eschnapur (1959, W.Germ/Fr./It.)
First Film Dance Sequence
in the second film (see right panel), Seetha performed a second time - a sexy, mesmerizing, sinuous, near-naked (stripteasing), exotic temple dance (in a three-piece, glued-on, strategically-placed, scanty jewel-encrusted white bikini) to prove her innocence before temple priests in a cave - again directly in front of Shiva - the enormous, half-naked stone temple goddess; the snake dance began when Seetha moved her hands from inside her blue robe, in front of a gigantic hooded cobra (obviously fake) - pretending them to be snake heads, with two green rings (snake eyes) on each of her hands; after discarding her robe, she attempted to provocatively charm the ropy, long phallic-shaped creature with her entrancing dance; at the conclusion of her dance, she tripped and before being bitten by the disapproving cobra, Chandra stepped in and crushed the snake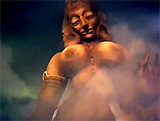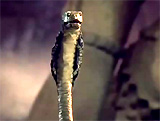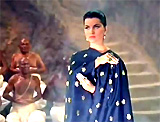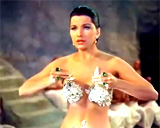 The Indian Tomb (1959, W. Germ/Fr./It.)
Second Film Dance Sequence