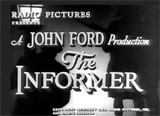 The Informer (1935)
In director John Ford's and RKO's political drama about the consequences of a Judas-like betrayal in the early 1920s:
the opening title credits quote: "Then Judas repented himself - and cast down the thirty pieces of silver - and departed"
the dialogue-free scene of Gypo Nolan (Oscar-winning Victor McLaglen), a former Irish Republican Army (IRA) member, who read a "wanted" poster promising a reward of 20 pounds for the apprehension of current IRA member Frankie McPhillip (Wallace Ford) (allegedly accused of murder) to the fearsome 'Black and Tans'; after he tore down the poster and crumpled it up, it blew toward him and clung to his leg as he walked away - foreshadowing his traitorous betrayal of his best friend
| | |
| --- | --- |
| | |
| Wanted Poster | Poster Clinging to Gypo's Leg |
the next tense atmospheric scene of shadowed, fog-filled Irish streets in Dublin, when Gypo Nolan defended his distraught girlfriend-prostitute Katie Madden (Margot Grahame) from being forced to sell herself to a rich client; he tossed the man aside, then listened as she voiced her frustrations about being poor; she begged him to help her (they were standing in front of an advertisement for 10 pound tickets for passage to America): "Gypo! Ah, Gypo, what's the use? I'm hungry, and I can't pay my room rent. Have you the price of a flop on ya? No. Oh, what's the use? Don't look at me like that, Gypo. You're all I got. You're the only one. You know that. But what chance have we to escape? Money. Some people have all the luck. Look at that thing, handing us the ha-ha. Ten pounds to America. Twenty pounds and the world is ours...Twenty pounds, might as well be a million...Saint Gypo. Too good for me, eh? Well, let me tell you something. You're no better than any other man. You're all alike" - before she marched off; he was therefore motivated to help realize their goals of escaping from their lives of desperation by acquiring the reward
the incredible scene of British authorities breaking down the front door of the McPhillip's residence, where Frankie attempted to shoot back and defend himself from the staircase, but when he attempted to flee from a rear two-story window, he was machine-gunned to death; his shocked mother Mrs. McPhillip (Una O'Connor) screamed and sank to her knees at the foot of the stairs; Gypo was paid off with 20 pounds when news of McPhillip's death reached the British Headquarters; he was coldly advised: "20 pounds. You'd better count it. Show him out the back way"
Frankie McPhillip's Death
the scene of Frankie's wake, when the coins (from the reward) fell to the floor from Gypo's pocket, and some of the members of the IRA became suspicious of him
the scene of drunken Gypo's examination by the IRA 'kangaroo court' and his eventual confession and admission that he had 'informed' on Frankie - Gypo repeatedly claimed that he didn't know what he was doing: ("I'm all mixed up. I don't know what I'm doing. I'm drunk....I don't know what I'm doing, that's all...I didn't know what I was doing. Do you see what I mean?...Isn't there a man here that can tell me why I did it?")
in the dramatic climax - Gypo who had escaped from jail, but was mortally-wounded by the rebels, stumbled into a nearby church where he pleaded for forgiveness from the dead man's mother Mrs. McPhillip who was praying and sitting in the front pew: ("Twas I informed on your son, Mrs. McPhillip. Forgive me"; he was told: ("Aye, Gypo, I forgive ya. You didn't know what you were doin'. You didn't know what you were doin'"); and then with his arms outstretched and facing a life-sized crucifix, Gypo cried out: ("Frankie! Frankie! Your mother forgives me") and fell dead at the front of the church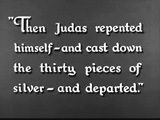 Quote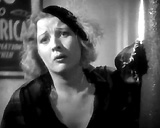 Katie Madden
(Margot Grahame)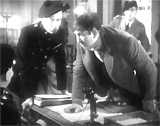 Gypo's Betrayal for the 20 Pound Reward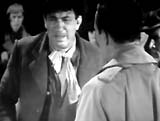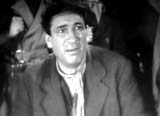 Gypo's Confession at the IRA Kangaroo Court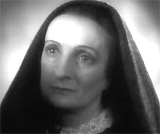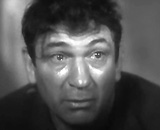 Gypo's Plea for Forgiveness from Mrs. McPhillip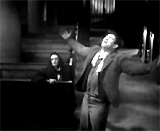 Gypo: "Frankie! Your mother forgives me"