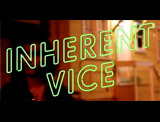 Inherent Vice (2014)
In director Paul Thomas Anderson's neo-noirish, mystery-comedy crime-drama - a convoluted, meandering tale (with themes of sex, money, and murder) about an alleged kidnapping plot, based upon Thomas Pynchon's 2009 novel of the same name:
the circuitous, atmospheric, eccentric drama was set in the psychedelic free-love year of 1970 in Gordita Beach, a fictional town in Los Angeles; astrologer Sortilège (Joanna Newsom) served as the film's narrator
the messy film followed continually-dazed dope-head/hippie Larry "Doc" Sportello (Joaquin Phoenix), a private investigator (with mutton-chop sideburns) who became involved in three cases all linked to the disappearance of his alluring, tanned, long-haired, and long-legged former girlfriend Shasta Fay Hepworth (34 year-old Katherine Waterston, daughter of actor Sam Waterston), a quasi-femme fatale vixen
before her disappearance, she had moved on to another lover, wealthy real estate land developer/mogul and criminally-involved white supremacist Mickey Wolfmann (Eric Roberts). Mickey was married to conniving British-accented Sloane (Serena Scott Thomas) who also had a boyfriend/lover named Riggs (Andrew Simpson)
the philandering Mickey, an eccentric Jewish millionaire, was known for his sleazy TV ad commercials
in the plot, Doc was greeted by Shasta in Los Angeles - she wasn't missing, but had returned from a boat trip up north. In the noteworthy 8-minute nude scene (mostly a one-shot sequence) in his beach house, she appeared at his door, wearing puka shells around her naked chest (and body), gathered from a beach area. She seductively asked:

Shasta Fay: "What kinda girl do ya need, Doc? Maybe a thing for one of those Manson chicks?"
Doc: "Whoa... it depends on what, uh, you sure you want to be doin' that?" (she was playing with herself, circling her finger on her breast's right nipple)
Shasta Fay: "Submissive, brainwashed, horny little teeners who do exactly what you want before you even know what that is. You don't have to say a word outloud. They get it all by ESP. Your kind of chick, Doc?"
Doc: "You're the one that's been stealin' my magazines?"
Shaska: "Now what would Charlie do?"

Doc lit a joint, as she walked over and sat next to him, and began touching herself in the crotch, while stroking his right leg with her bare left foot. She spoke about her experiences with her powerful, animalistic lover Mickey, and how she was made to be submissive:
"Mickey - Mickey could have taught all you swingin' beach bums a thing or two. He was just so powerful. Sometimes he could almost make you feel invisible. Fast, brutal, not what you'd call a considerate lover ....It's so nice to be made to feel invisible that way sometimes....He'd bring me to lunch in Beverly Hills, his big hand wrapped around my bare arms steering me blind down those bright streets into some space where it was dark and cold. You couldn't smell any food - only alcohol. Tables full of them and I'll be drinking in a room that could have been any size, and they all knew Mickey. They wanted, some of them, to be Mickey. He might as well have been bringing me in on a leash.

He kept me in those micro-mini-dresses, never allowing me to wear anything underneath, just offering me up to whoever wanted to stare, grab. Sometimes, he'd fix me up with some of his friends. And I'd have to do whatever they wanted."
as she stretched her naked body over Doc's lap, literally draping herself over him - he asked: "Why are you telling me all this?" She responded provocatively - calling herself a "faithless little bitch":
"Oh, I'm sorry, Doc. Do you want me to stop? If my girlfriend had run off to be the bought-and-sold whore of some scumbag developer, I'd just be so angry, I don't know what I'd do. Well, I'm even lying about that, I know what I'd do. If I had the faithless little bitch over my lap like this..."
she pushed him into violently spanking her, and then he had aggressive sex with her from behind. Afterwards, she said: "This doesn't mean we're back together." He replied: "Of course not."
Shasta described how she was brought along on a boat trip up North as "inherent vice" -- "They told me I was precious cargo that couldn't be insured because of inherent vice." She was referring to an insurance term implying a fundamental weakness or defect in an object that can cause deterioration
at the conclusion of their secret rendezvous and get-together, Shasta requested that 'Doc' help to prevent Mickey's wife Sloane (and her boyfriend Riggs) from plotting to abduct her 'sugar-daddy' Mickey and commit him to an insane asylum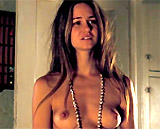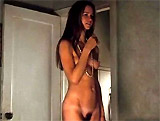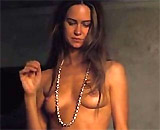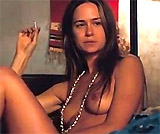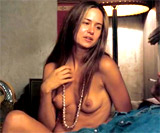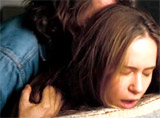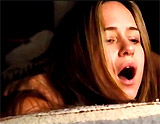 Shasta Fay Hepworth
(Katherine Waterston) With Doc (Joaquin Phoenix)