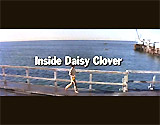 Inside Daisy Clover (1965)
In director Robert Mulligan's strange and satirical, rags-to-riches melodrama (and musical show-business drama) of the perils of an adolescent Hollywood star seeking recognition, fame, and fortune:
the character of tomboyish, rebellious, angry, expressive 15-year old ragamuffin-urchin, Angel Beach boardwalk/pier-dwelling Daisy Clover (Natalie Wood at age 26) in Santa Monica, CA with her eccentric and senile Solitaire card-playing mother Mrs. Clover (Ruth Gordon), aka The Dealer, where Daisy sold movie-star pictures with forged autographs in 1936
Daisy's rise to teenaged stardom (she declared: "I'm gonna make a noise in the world") after she submitted a recording and was driven by limousine to an audition/screen test for manipulative, Svengali-like studio head Raymond Swan (Christopher Plummer), known as "The Prince of Darkness" - with her singing the memorable song: "You're Gonna Hear From Me"
her debut appearance after she was put on contract for five years, when she was heralded by Swan in 1936 Hollywood as "America's Little Valentine" - with a bow in her hair
the scene of Daisy left stranded at a Jawbone, Arizona motel after being deserted by honeymooning, self-absorbed, narcissistic groom and fellow actor Wade Lewis (Robert Redford) [Note: Swan's wife Melora (Katharine Bard) had at one time been Wade's lover as well, and almost committed suicide over him.]
Swan's drunken and neglected wife Melora's revelation to Daisy that Wade Lewis was a closeted homosexual: "Your husband never could resist a charming boy"
| | | |
| --- | --- | --- |
| | | |
| Daisy with Wade | After Break-Up - Wade to Daisy: "You see? Everything's wiped away" | The Start of Daisy's Affair with Studio Head Raymond Swan |
Daisy's costuming as a rag-doll - when Wade gave her all the postcards that he had sent to her after leaving her, and told her: ("I came back"), and then removed her blonde wig and wiped away white grease-paint on her face, metaphorically asking for her to forget his "sins": ("You see? Everything's wiped away")
Raymond Swan's tender soliloquy/speech to Daisy by his pool following her quick breakup with Wade - and the beginning of his own affair with her; he told her: ("It's over Daisy. All over. I've got you the best divorce lawyer in town -- so sleep it off. Take a long deep sleep. Sandman's orders. (She stood up and cradled her head in his chest.) At least you know all about love. Hmm? (He picked her up in his arms.) All about love. Just nothing. Lost cause. Just like your husband. Who needs it? (He passionately kissed her. She wrapped her arms around his neck)
Daisy's big pink-colored production number - the performance of "The Circus is a Wacky World"
Daisy's histrionic-rich, nervous breakdown/crack-up in a sound-recording booth as she was dubbing in her voice to a film track
the concluding scene of her aborted efforts to suicidally gas herself to death by sticking her head inside her beachhouse kitchen's oven when she was interrupted by the phone - and her triumphant strut down the shoreline drinking coffee as she blew up the beach-house behind her (and her explanation to a passer-by on the beach of what happened: "Someone declared war" - the film's last line)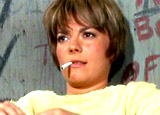 Daisy Clover
(Natalie Wood)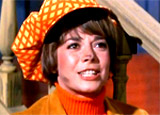 "You're Gonna Hear From Me"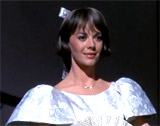 "America's Little Valentine"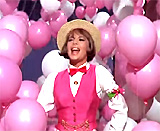 "The Circus is a Wacky World"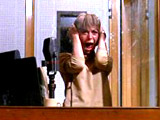 Daisy's Hysteria in Recording Booth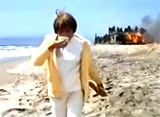 Daisy's Unsuccessful Suicide Attempt