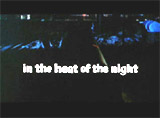 In the Heat of the Night (1967)
In Norman Jewison's Best Picture-winning racial drama:
the striking scene of black stranger and Philadelphia homicide policeman Virgil Tibbs (Sidney Poitier) identifying himself when asked by bigoted, Sparta Mississippi red-neck Sheriff Gillespie (Rod Steiger): "Virgil - that's a funny name for a nigger boy that comes from Philadelphia. What do they call ya up there?" - with the famous, angry but noble one-line self-introduction: "They call me Mister Tibbs"
the powerful greenhouse scene in which Tibbs exchanged an angry back-hand slap to the face of white, wealthy plantation owner and murder suspect Eric Endicott (Larry Gates) in the presence of Sheriff Gillespie - leading to Endicott's lethal threat against Tibbs: "Gillespie...you saw it....Well, what are you gonna do about it?...There was a time when I could have had you shot"
Greenhouse Scene - An Exchange of Slaps
the plot-twist: the murderer of a prominent and wealthy Chicago industrialist named Philip Colbert (uncredited Jack Teter) was revealed to be Ralph Henshaw (Anthony James), a sleazy and dishonest diner counter worker who was the 'true father' of slutty 16 year-old girlfriend Delores Purdy's (Quentin Dean) baby; the revelation came during a night-time altercation when all the principal characters were assembled; Tibbs was confronted by a gun-wielding mob outside the back-room abortionist's store, led by Delores' racist brother Purdy; Tibbs announced that Delores had $100 in her purse - funds that she had received for her abortion from Ralph Henshaw; when the money was discovered in her purse, Lloyd Purdy became enraged at Delores (and Henshaw): "You turned my little sister into a field slut?" - he was shot and killed by Henshaw before being disarmed and held by Tibbs
in a sheriff's office confession, Henshaw admitted that he had murdered Colbert to pay for Delores' abortion, but he claimed that it was an assault that all went wrong ("I didn't mean to kill him") - (after being offered a ride by Colbert late one night, and after expressing an interest in future employment ("I sure would like a job in that new factory once you get started"), Henshaw struck him a fatal blow in the head at the proposed factory's construction site, drove Colbert's car with the corpse back to an alleyway in town, and stole most of the cash in his wallet to pay for Delores' illicit abortion)
Train Station Goodbye and Departure
the final parting scene at the train station when the begrudging Sheriff and Tibbs showed mutual respect and understanding for each other: (Sheriff: "Virgil? You take care, ya hear?" Tibbs: "Yeah")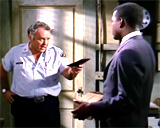 Sheriff Gillespie with Virgil Tibbs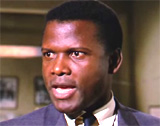 "They call me Mister Tibbs!"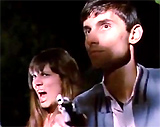 Delores Purdy with Henshaw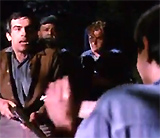 Delores' Brother Lloyd Purdy (left) Shot by Henshaw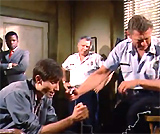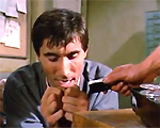 Murder Confession of Ralph Henshaw in Sheriff's Office