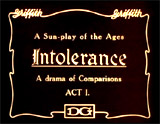 In D. W. Griffith's epic silent film classic, with epic-sized sets, especially in the ancient "Fall of Babylon" segments - it was Griffith's expensive, most ambitious silent film masterpiece, and one of the milestones and landmarks in cinematic history:
THE BABYLONIAN STORY
(539 B.C.) in the time of King Belshazzar

THE 'MODERN' STORY
(A.D. 1914) in America

THE FRENCH STORY
(A.D. 1572) in Huguenot France

THE JUDAEAN STORY
(A.D. 27) during Jesus' time in Jerusalem
the four widely separate, yet paralleled stories set in different ages - and in the original print, each story was tinted with a different color
the Mountain Girl's (Constance Talmadge) unsuccessful and futile efforts to avert the attack of Persian King Cyrus upon Prince Belshazzar (Alfred Paget); during a prolonged death scene, the Mountain Girl crawled toward the Prince, her hero, to be next to him, and then died at the base of a statue near the throne; an iris opened, revealing the toy chariot pulled by two white doves next to her body
the exciting last-minute rescue of the Boy (Robert Harron) from being hanged with the delivery of a pardon by his wife, the Dear One (Mae Marsh) in the early 20th century America segments, and his heart-warming reunion with her at the bottom of the scaffold
the innovative finale - an overwhelming, rhythmic, conglomerate sequence which placed all four stories into a stirring, fast-moving and exciting climax - as the suspenseful drama began to conclude, the cross-cutting increased in tempo and rapidity with shorter and shorter segments of each tale flowing together
and the recurrent, interwoven image of a mother (Lillian Gish) endlessly rocking a cradle, the film's final medium-close shot - accompanied by the title from Walt Whitman's poem Leaves of Grass: "Out of the Cradle Endlessly Rocking. Uniter of Here and Hereafter - Chanter of Sorrows and Joys."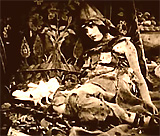 Mountain Girl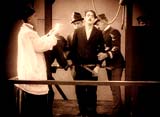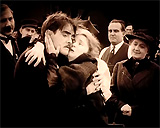 Rescue of the Boy From Hanging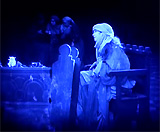 Recurring Cameo Image of Mother