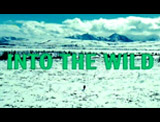 Into the Wild (2007)
In director/writer Sean Penn's documentary-styled, ill-fated odyssey and biopic drama, based upon Jon Krakauer's 1996 non-fiction book - about a quest for self-discovery:
the opening scene was actually a concluding sequence - titled 'Final Chapter: Getting of Wisdom' - free-spirited, idealistic, arrogant college-grad adventurer Christopher McCandless (Emile Hirsch) (who had renamed himself "Alexander Supertramp") arrived at a remote portion of Alaska in 1992 after forsaking his estranged family and many friends along his wanderlust journey; he set up a camp inside an abandoned city bus ("The Magic Bus"); there, he began to live a life of isolation, diary-writing, and hunting for sustenance
a flashback returned to two years earlier, when he graduated from Emory University (Atlanta, Georgia); he was quickly disillusioned by modern and "corrupt" civilization (after he learned he had been born out-of-wedlock); he began a cross-country drive that ended near Las Vegas where he abandoned his car and began hitchhiking; he wandered to N. California, then back to South Dakota, down to Mexico, and west to Los Angeles, taking odd jobs and having various misadventures
on the S. California border with Mexico in the Sonoran Desert, he had a brief encounter at an RV park with teenaged Tracy Tatro (Kristen Stewart), a guitar player who was introduced to him as "little Joni Mitchell" - and he spent an enjoyable but brief time with her
he also met up, a month later at the Salton Sea (California) with kindly, elderly widower and leather worker Ron Franz (Oscar-nominated Hal Holbrook); they had a discussion on a rocky hilltop - where they both climbed up - to talk about where to find human happiness: ("From the bits and pieces I've put together, you know, from what you told me about your family, your mother and your dad, and I know you've got your problems with the church too, but there's some kind of bigger thing we can all appreciate, and it sounds like you don't mind calling it God. But when you forgive, you love, and when you love, God's light shines on you")
two months later, during their tearful and heartfelt parting scene just before Ron dropped off hitchhiking 'Alex' at the start of his Alaskan adventure, he proposed paternalistically to adopt 'Alex' as his grandchild: ("You know, my, uh, my mother was an only child and so was my father, and, uh, I was their only child, so, uh, when I'm gone, I'm the end of the line. My family will be finished. What do you say you let me adopt you? I can be, say, your grandfather"); unfortunately, 'Alex' demurred: "Ron, could we talk about this when I get back from Alaska? Would that be okay?" - they would never have another opportunity to speak
the final scene flashed-forward about four months in Alaska to find Chris' prolonged, lonely, and painful death due to starvation and poisoning after eating inedible Wild Sweet Peas (mistaken for Wild Potato Alaska Carrot) - his final words were scrawled in block letters into his journal: "HAPPINESS ONLY REAL WHEN SHARED"; two weeks later, his body was found by moose-hunters.
there was incredible pull-back shot from his face (as a single tear dropped from the corner of his right eye and then his left eye) as he gazed up at the light in the back of his abandoned 'magic bus' home (an IH 1946 abandoned bus) and expired - followed by an actual self-portrait photograph of Chris sitting next to his bus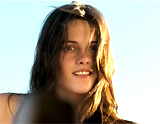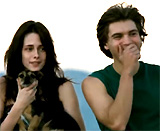 Tracy (Kristen Stewart) with Christopher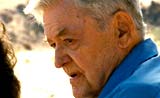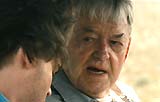 Christopher's (or Alex's) Encounter with Ron Franz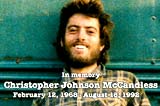 Self-Portrait