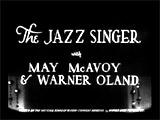 In director Alan Crosland's landmark picture - the first Warner Bros' Vitaphone release (and first feature-length Hollywood "talkie" film in which spoken dialogue was used as part of the dramatic action):
the audio of musician Jack Robin's (Al Jolson) (aka cantor's son Jakie Rabinowitz) first performance - of "Dirty Hands, Dirty Face" - prefaced by title cards specifying: "Years later - - and three thousand miles from home...Jakie Rabinowitz had become Jack Robin - - the Cantor's son, a jazz singer. But fame was still an uncaptured bubble - - ... Al Jolson"; he was in San Francisco in a nightspot known as "Coffee Dans" ten years after leaving his orthodox Jewish home, after adopting a new anglicized name Jack
a cutaway to one of the audience members introduced the character of beautiful dancer Mary Dale (May McAvoy), an admirer of Jack's who helped him further his career
after his first song, Jack raised his hand to stop the audience (in Jolson's first words on screen), speaking some of the most famous lines of dialogue in film history; he delivered an ad-libbed introduction before his dynamic performance of "Toot Toot Tootsie," accompanied by various bird noises made by the singer: ("Wait a minute! Wait a minute! You ain't heard nothin' yet. Wait a minute, I tell ya, you ain't heard nothin'! Do you wanna hear 'Toot, Toot, Tootsie!'? All right, hold on, hold on. (To the band leader) Lou, Listen. Play 'Toot, Toot, Tootsie!' Three choruses, you understand. In the third chorus I whistle. Now give it to 'em hard and heavy. Go right ahead!")
the lengthy scene of a natural conversation between an affectionate Jack and his mother Sara (Eugenie Besserer) during the singing of "Blue Skies" at the piano in his home during a visit: ("Did you like that, Mama?...I'm glad of it. I'd rather please you than anybody I know of. Oh, darlin' - will you give me something?...You'll never guess. Shut your eyes, Mama. Shut 'em for little Jakie. I'm gonna steal something. (He kissed her and then laughed) I'll give it back to you someday too - you see if I don't. Mama darlin' - if I'm a success in this show, well, we're gonna move from here. Oh yes, we're gonna move up in the Bronx. A lot of nice green grass up there, and a whole lot of people you know...")
the scene in which son Jack met his sick Jewish father Cantor Rabinowitz (Warner Oland), who had wanted his son to carry on the family traditions and not become a "jazz singer"; Jack faced the dilemma of choosing his entertainment career (opening night on Broadway) or singing the "Kol Nidre" in his ailing father's place in the synagogue (on Yom Kippur, the Day of Atonement): "It's a choice between giving up the biggest chance of my life - and breaking my mother's heart - I have no right to do either"; Jack's producer pressured: "You're a jazz singer at heart!"
Jack's Theatrical Rendition of "Mammy"

In "Blackface"

Dedicated to Mother in Audience
in the last sequence, Jack had decided to postpone his Broadway opening for one day, and perform in the synagogue (the day of his father's death); he delivered a curtain-closing rendition of "Mammy" (in black-face makeup) to his tearful mother seated in the Winter Garden Theater audience, when he was down on one knee for the final chorus to her, flinging his arms out toward her and the world: ("Mammy! My little Mammy! The sun shines east. The sun shines west. But I know where the sun shines best. It's on my Mammy I'm talkin' about. Nobody elses. My little Mammy! My heart strings are tangled around, Alabamy. Mammy! I'm comin'! I hope I didn't make you wait! Mammy! I'm comin'! Oh God, I hope I'm not late. Mammy! Don't ya know me? It's your little baby! I'd walk a million miles for one of your smiles! My Mammy!")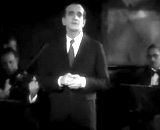 Jack's First Audio Performance: "Dirty Hands, Dirty Face"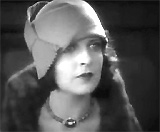 Admirer in Audience:
Mary Dale (May McAvoy)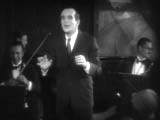 Jack: "Wait a minute! Wait a minute!..." Before "Toot Toot Tootsie"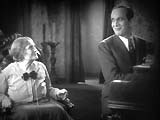 Jack With Mother: "Blue Skies"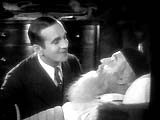 Jack with Gravely-Ill Father One Night Before Opening on Broadway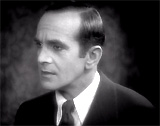 Jack's Dilemma - Sing on Broadway or in the Synagogue?