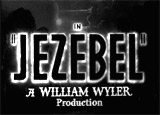 In director William Wyler's romantic melodrama about a headstrong, sexually-transgressive Southern belle:
the introduction of the rebellious character of spoiled, impetuous and strong-willed Julie Morrison (Bette Davis), who was spiteful and adamant to defy her proper, fiancee-beau Preston "Pres" Dillard (Henry Fonda), a successful banker - she insisted on wearing a "saucy" and "vulgar" red gown, customarily worn by a demi-mondaine - an "infamous Vickers woman" - rather than the traditional virginal, pristine white gowns worn by unmarried women
the scene in the upstairs boudoir of her guardian's mansion, where the fickle-minded Julie insisted on remaining rather than coming down to greet Preston in the parlor; and then in her bedroom, she proudly showed off her shocking red dress to Preston that she had laid out on her chair, with the obvious intention of scorning convention and publicly embarrassing the conservative banker; he strongly objected: "You're supposed to know better than to scandalize the whole town...Julie, for heaven's sake, will you be reasonable?... You're just nursin' a spite. Well, I'm not gonna let ya. You made your point. For once, you're gonna do as I say. I'm callin' for you tomorrow night at ten and you're gonna be dressed properly for the ball in white" - but she became even more resolute
the sequence at the Olympus debutante ball in which Julie stubbornly wore the red dress - and even though she ultimately realized her grievous mistake, she demanded that they would continue dancing together; afterwards, she blamed him for inflicting humiliation and slapped his face - causing the breaking of their engagement
The Embarrassing Debutante Ball Sequence
a year later, the scene of Julie's apology and humbling of herself that she delivered on her knees to Preston, while wearing a white dress: ("Pres, I can't believe it's you here. I dreamed about it so long. A lifetime. No, longer than that. I put on this white dress for you to help me tell ya how humbly I ask you to forgive me. (She dropped to the floor) Pres, I'm kneelin' to ya....to ask ya to forgive me and love me as I love you"); to her shock, she was told that he had married a Northern woman named Amy Bradford (Margaret Lindsay)
the scenes of Julie's determination and scheming to win Pres back, first with Aunt Belle Massey (Fay Bainter): ("Do you think I wanna be wept over? I've gotta think, to plan, to fight...Marriage, is it! To that washed-out little Yankee. Pres is mine! He's always been mine. And if I can't have him.."); and her begging to take Pres back: ("You had to come home, didn't you? You had to come back to the country and the things you know 'cause you belong here. Nothing can change that. Pres, listen. Can you hear 'em? The night noises - the mockingbird and the magnolia. See the moss hangin' from the moonlight. They're gonna taste the night. Can't you? You're a part of it, Pres, and it's part of you, like I am. You can't get away from us Pres. We're both in your blood. This is the country you were born to, the country you know and trust. Your country, Pres. Amy wouldn't understand. She'd think there'd be snakes...Oh, it isn't tame, and isn't like the North. It's quick and dangerous, but you trust it. Remember how the fever mist smells in the bottoms, rank and rotten, but you trust that too, because it's part of you. Just as I am part of you and will never let you go. (She made a sexual advance and began kissing him, but he repulsed her.) Pres, you're afraid")
the scene in which Julie convinced Pres' wife Amy to allow her to care for her sick husband, who was afflicted with yellow fever, making the ultimate sacrifice: ("I'm askin' for the chance to prove I can be brave and strong and unselfish. Help me, Amy. Help me make myself clean again as you are clean. Let me prove myself worthy of the love I bear him....Amy, you must let me go with him...What does it matter who he loves? It's his life that matters!...We both know. Pres loves his wife. Who else would he love? Not me, surely. I've done too much against him. You see, I never know how to be gentle and brave as you are. Had there been any love in his heart for me, I'd have taken him from you. I tried and failed 'cause he loves only you")
the final view of a resolute Julie riding off in a quarantined wagon-load of yellow fever victims (including Pres) to the hellish, condemned Lazarette Island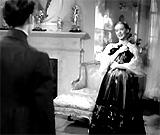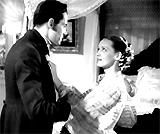 Pre-Ball Scene: Julie's Rebelliousness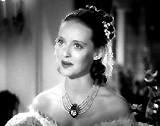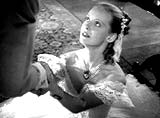 A Year Later, Julie's Supplication at the Feet of Preston: "I'm kneeling to ya"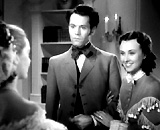 The Shocked Julie's Introduction to Preston's Wife Amy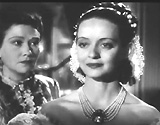 With Aunt Belle, Julie's Determination to Win Pres Back ("To Fight")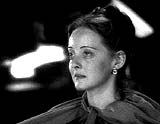 Riding in a Wagon: Resolute Julie Sacrificed Herself to Care for Sickly Preston (with Yellow Fever)