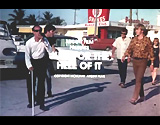 Just For the Hell of It (1968)
In Herschell Gordon Lewis' famed yet shocking exploitational, low-budget juvenile delinquent film - a violent discourse with numerous examples of mindless, random, and amoral teen destruction, vandalism and mayhem, appropriately taglined: "YOU'VE NEVER SEEN ANYTHING LIKE THIS!":
in a small Florida town, the nihilistic actions of a teenage gang (a "destruction crew" known as Destruction, Inc.) led by sociopathic Dexter (Ray Sager) with his redheaded girlfriend Bitsy (Nancy Lee Noble), and their friends Denny (Steve White) and Lummox (Ralph Mullin)
the many examples of their savage terrorizing of the town including: completely trashing an apartment during a house party, tormenting a blind man (Barry Whitmore) with a white cane, beating up a bandaged, disabled man with his own crutches, assaulting a man painting his house, beating up the owner of a bar, burning the hands of the owner (Paul Jensen) of a corner coffee shop/diner on a hot stovetop, tearing up magazines in a waiting room, destroying clothes hanging on a clothes-line, interrupting a ballgame among young boys, and other instances of innocent townsfolk being harassed "just for the hell of it"
| | | |
| --- | --- | --- |
| | | |
| Disabled Man Assaulted with His Own Crutches | Shop Owner's Right Hand Burned on Hot Stovetop | Baby Stuffed into Trash Can |
the most outrageous, most-remembered example of mean cruelty: snatching a woman's baby and stashing him in a trash can, and then destroying the mother's stroller
the Police Chief's (A.V. Dreeson Sr.) reaction to the lawbreaking gang's reckless behavior: "These groups wandering around today lookin' for trouble. Dropping out of school. Letting their hair grow! Joining some darn-fool movement. Gettin' in trouble somewheres along the line. We get 'em in here for assault and battery all the time. They're getting into trouble all along the lines, so you might as well go pick 'em up.They're restless. They're lookin' for trouble! They're like a plague of rats!"
the film's montage of newspaper headlines announcing the gang's crime wave - each headline ended up being splashed with blood or paint, slashed or cut, or finally burned
during a party in Destruction, Inc's hideout, the invitation to four high-school girls (Gail Lucas, Bonnie Henry, Dawn Willis, and Alma Kamp) to attend, who were forcibly drugged, stripped on the floor, humiliated, raped and then driven away and abandoned
the senseless and cruel sequence of attacking a teenaged couple making out on a beach, stripping and gang-raping the girl, and leaving them both bludgeoned after ransacking their boat with an axe
the heroic efforts of Doug (Rodney Bedelle) and his girlfriend Jeanne (Agi Gyenes) to stop the violence, leading to Dexter and his gang's retaliation
the sequence of the gang's abusive torment of pink lingerie-wearing Jeanne (after luring Doug away) - beating her up, stripping her, sexually mutilating her (with a knife blade) and leaving her to die; the evidence of her torture was seen in a lingering pan down her partially-nude body, showing a rat drawn on her lower abdomen
Jeanne's Horrific Mutilation and Death
the ending scene of Doug's revenge: a climactic car chase in his convertible (joined by police) that resulted in the demise of Denny and Bitsy after their motorcycle crashed and the two were thrown to their deaths; a policeman asked Doug: "They're done for. Why, son? Just for the hell of it? Just for kicks? Come on"
the last brief scene of Dexter's uncaring reaction to news from Lummox:
Lummox: "You know, those guys may be in a lot of trouble."
Dexter (chuckling): "Who cares, man?"
the final on-screen message: 'THE END of this Story..BUT NOT OF VIOLENCE'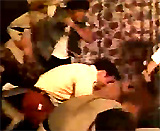 Trashing Apartment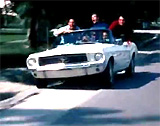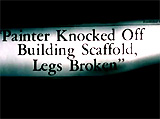 Teenage Delinquency in Newspaper Montage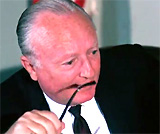 Police Chief's Reaction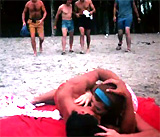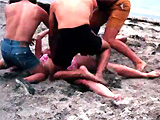 Attack on Teenaged Couple on Beach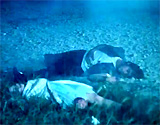 Gang Members Denny and Bitsy Thrown to Their Deaths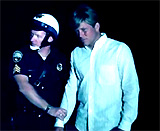 Vengeful Doug Apprehended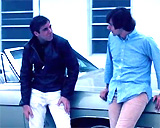 Sociopathic Dexter: "Who cares, man?"