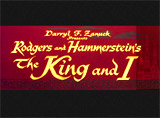 In director Walter Lang's film version of Richard Rodgers and Oscar Hammerstein's 1951 Broadway hit musical (although some numbers were cut from the original stage play) - the musical drama was based upon real-life characters from the 1860s, including English schoolteacher Anna Leonowens and the stubborn and imperious King Mongkut of Siam. Controversy arose over the historical accuracy of the film and its depiction of the King, leading to the film's recent banning in Thailand.
The story had previously been presented in director John Cromwell's Anna and the King of Siam (1946), starring Irene Dunne and Rex Harrison, and then resurfaced in CBS-TV's 1972 13-episode (half-season) series, Anna and the King (with Brynner and Samantha Eggar), and in another non-musical version -- director Andy Tennant's Anna and the King (1999), starring Jodie Foster and Chow Yun-Fat.
The stage musical's choreographer Jerome Robbins also worked on the film version. From its nine Academy Award nominations (including Best Director, Best Actress, Best Director, and Best Cinematography), it won five Oscars (Best Actor, Best Color Art Direction-Set Decoration, Best Color Costume Design, Best Sound Recording, and Best Musical Score).
in the film's opening set in 1862, widowed, prim and Victorian English (Welsh) schoolteacher/governess Anna Leonowens (Deborah Kerr) arrived from Wales by ship (helmed by Captain Orton (Charles Irwin)) in Bangkok, Siam (present-day Thailand). Anna had been hired (for £ 20 pounds a month) to be a schoolmistress to tutor the King's royal children in learning English; she was accompanied by her excited young son Louis (Rex Thompson)
Louis asked if his mother was ever afraid and what she did when frightened, prompting her to sing the tune: "I Whistle A Happy Tune"
they were greeted on board the ship by a royal barge carrying "half-naked" Kralahome (Martin Benson), King Mongkut's confidant ("right-hand man") and Siam's Prime Minister; although believing that she had been promised a house of her own, the strong-willed Anna was shocked when the intimidating and stern Kralahome informed her that he had come to escort them to their living quarters in the Royal Palace; Anna decided that she must personally deliver her disagreement to the arrogant King that her agreed-upon and promised "letter of agreement" was to live outside the palace's walls
| | | |
| --- | --- | --- |
| Widowed Anna's Arrival by Ship at Bangkok with Her Son Louis | Anna: "I Whistle a Happy Tune" | Siam's "Half-Naked" Prime Minister Kralahome (Martin Benson) |
the plucky Anna charged into the massive Throne Room of autocratic King Mongkut (Yul Brynner in a star-making role), who was sitting in his chambers; Anna watched from the side as the King was being presented with the gift of a Burmese slave-concubine named Tuptim (Rita Moreno, a Puerto Rican actress), a present from the Prince of Burma; Tuptim was obviously in love with the Burmese ambassador Lun Tha (Carlos Rivas) who had brought her to the palace
afterwards, although she was told the arrogant King refused giving her an audience, Anna pushed forward; he brought her into his harem room to introduce her to his many wives, and presented his head wife to her - Lady Thiang (Terry Saunders) - known as "The Number One" wife; the King reinforced his order that Anna would be teaching his wives, in addition to the children; he also remained adamant that Anna live and teach in the palace
during the sequence of "The March of the Siamese Children," the King's fifteen children who were to be tutored were introduced, including his eldest son and heir Prince Chulalongkorn (Patrick Adiarte); charmed by the fifteen cute children (that were in the King's favor) that she would be tutoring, Anna agreed to remain for the time being (and live in the Palace), and the King was pleased
in Anna's first night in the Palace, Lady Thiang and some of the other giggling wives helped her to unpack; Anna fondly recalled her love for her own late husband Tom, and sang a tribute to him: "Hello, Young Lovers"
Anna's Thoughts About Her Beloved Deceased Husband Tom: "Hello, Young Lovers"
shortly later, the children marched into the Palace, singing a song taught to them by Anna: "Home Sweet Home (There's No Place Like Home)"; the King overheard them and became perturbed and irritated that Anna was deliberately teaching his children about the value of a home; she was obviously instructing her pupils to sing "Home Sweet Home" and to learn proverbs (such as "East or west, home is best" and "A man's house is only less dear to him than his honor") - to remind the King of his promise to give her a separate house to live in; he also realized that advanced truths and new, more complicated and confounding scientific wonders were also being taught by Anna - to the future King
the King contemplated to himself about how the changing world of knowledge, due to education, was becoming more complex, and sang a song titled: "A Puzzlement"
during one of the tutorial lessons, Lady Thiang pointed out the prominence of Siam on an outdated map; Anna then displayed an updated map of the world that displayed Siam as quite a small county, but she diplomatically pointed out that her country of England was even smaller; she also added that getting to know Siam's people and its children was the most rewarding, before singing one of the film's most memorable songs: "Getting to Know You"
| | | |
| --- | --- | --- |
| Lady Thiang's Lesson With an Old Map of the World | Anna's Lesson with a New Updated Map | "Getting to Know You" |
when a disagreement and chaos erupted between the children and Anna over her lesson about ice and snow (something they had never seen), the King interrupted the classroom and ordered the children to be open to learn new things: ("Never let me hear of not believing schoolteacher whom I have bring here at high expense...I command all of you to make most of this opportunity for expensive education")
the King happened to notice an unapproved study book in Tuptim's hands - a copy of The Small House of Uncle Thomas (aka Uncle Tom's Cabin), written by Harriet Beecher Stowe; the King and Anna briefly spoke about the institution of slavery, and President Lincoln's strategy to win the Civil War in America to end slavery; the heir Prince was resistant to laws that would end slavery in Siam; shortly later, Prime Minister Kralahome privately expressed his concern that Anna's teachings were contrary to the country's traditional ways, and that she was duping herself to believe that she could change the stubborn King's opinions, and would eventually end up as the King's slave
later in the middle of the night, Anna was summoned to King Mongkut's private chambers; he discussed how he firmly disagreed with the Bible's account of 6 days of creation, and then ordered Anna to take dictation for a letter to President Lincoln; first however, he realized that Anna was towering over him - prohibited by ancient customs, and ordered that her head should never be higher than his; when she refused to grovel on the floor, he quipped: "You are very difficult woman!"; he then repeated that in any public settings, all subjects should obey, followed by his familiar string of etceteras: ("Observe care that head shall not be higher than mine. When I shall sit, you shall sit! When I shall kneel, you shall kneel. Et cetera, et cetera, et cetera!"); she promised to follow his lead
the King then returned to the subject of the dictated letter, and his worries about the President's strategy of not using elephants to help win the Civil War. He offered military support by sending pairs of MALE elephants that would multiply after the war and become beasts of burden - an idea that Anna had to refine and correct for him before mailing the letter (King: "You put in the details")
| | |
| --- | --- |
| Burmese Ambassador Lun Tha (Carlos Rivas) | In Love With Tuptim, Singing: "We Kiss In a Shadow" |
as Anna left the King's chambers, in the outdoor garden, she was met by the Burmese Ambassador Lun Tha, who told her that he had seen his lover Tuptim twice in secret; he requested for Anna to arrange a rendezvous between them; at first, she refused the dangerous request, but then changed her mind; the two lovers met in the dark, and sang "We Kiss in a Shadow"; afterwards, Lun Tha promised that he would one day return to free Tuptim and escape with her
meanwhile, the King became more and more troubled and apprehensive when his Prime Minister Kralahome brought rumors and reports of "Western treachery" and the spread of British imperialism that regarded the King as an "unfit" ruler of Siam; he took his anger out at Anna - as his scapegoat - he was reminded of her accusations that he didn't keep his promise to provide her with a house, and ordered her to never present the singing lesson of "Home Sweet Home" again; she disapprovingly stood up to his autocratic rule, refused to be called his "servant" ("I am most certainly not your servant!"), and threatened to resign, leave and return to England
following Anna's violent disagreement with the King, Lady Thiang visited her in her bedroom to plead with her to provide guidance and advice to the distressed and anxious King Mongkut, who had been called a "barbarian" and feared having his kingdom overthrown and turned into a protectorate; Anna was upset by the accusations, but was still prideful and reluctant to immediately give in to the close-minded King; after Lady Thiang sang: "Something Wonderful" about the King's personality, Anna relented
in the King's presence, when he spoke to Anna of news from Singapore about how the British regarded him as a "barbarian," she skillfully was able to provide her reasoned guidance by suggesting that he personally host and honor the foreign guests with a high-class banquet (with European food and music); the two "distinguished" British envoys arriving from Singapore for a "friendship tour" in one week were Ambassador Sir John Hay (Alan Mowbray) and Sir Edward Ramsay (Geoffrey Toone) (one of Anna's old admirers before she was married)
during prayers to Buddha to bless the upcoming event, the grateful King promised to build Anna a house, in exchange for her help: "And Buddha, I promise you that I shall give this unworthy woman a house"
| | | |
| --- | --- | --- |
| The King with the Two British Envoys at Banquet | Ambassador Sir John Hay | Sir Edward Ramsay |
the arrival of the two British envoys at the banquet initially went well, although there were a few moments of embarrassment when the "royal wives" lacked undergarments and were startled by the bearded, monocle-wearing Ambassador; during a private dance with Anna, Sir Edward attempted to rekindle romance with her, as he spoke about "old times," but she affirmed that she was being fulfilled by bringing education to the people of Siam
during the banquet, the King's main objective was to present a good impression and appear to be an intellectual conversationalist; toasts were presented by the Ambassador: "His Gracious Majesty, the King of Siam: May the rest of the world always regard him with the same high esteem as does the government of Her Majesty, Queen Victoria"
to provide theatrical entertainment for the guests, Tuptim narrated her seditious version of Harriet Beecher Stowe's controversial, anti-slavery novel Uncle Tom's Cabin, known as The Small House of Uncle Thomas - it was presented as a traditional Siamese ballet (performed as a "play within a play"); characters in the retelling included "Poor Eliza Poor unfortunate slave, Eliza's lord and master: King Simon of Legree. She hates her lord and master and fears him"; in the tale, Eliza was able to escape from the wicked slave-owner
when the play was almost over, narrator Tuptim left her seat and added her own personal assessment: "...I too am glad for death of king. Of any king who pursue a slave who is unhappy and who tried to escape. And Your Majesty, I wish to say to you: I beg of you!" Her words were interpreted as a personal affront to the King. The King snapped his fingers at her to force her to end the performance
the story concluded with both a happy and sad sacrificial ending: ("Is very sad ending, with sacrifice"). Poor little Eva (a "poor unfortunate child") was taken to be with Buddha: ("Is Buddha's wish that Eva come to him and thank him personally for saving of Eliza and baby. And so she die and go to arms of Buddha")
when the ballet ended, there was wild applause from the guests, although the King (and the Kralahome) were perturbed by the underlying anti-slavery message threatening their power; the Ambassador called for special attention to be awarded to the "Author," but when the camera panned to the right, Tuptim's chair was empty - with a chaba flower. Tuptim had disappeared as the play ended, to run away from her own enslavement to join her lover Lun Tha
after the British departed, the King and Anna had a short discussion about his misogynistic attitudes toward women, and his powerful sense of entitlement to possessively keep multiple women in his harem. She was especially upset about his illogical claim that women were naturally expected to please men and to remain faithful, but men could be rampant and promiscuous philanderers; the King regarded men who remained faithful to one woman as "sick." Anna, on the other hand, believed in the Western practice of single-partner monogamy
Anna recalled the exciting thrill of her first dance as a young girl, and then in an iconic, joyous dance segment, Anna taught the barefooted monarch how to polka, as they happily swirled around the room, while singing: "Shall We Dance"
| | | |
| --- | --- | --- |
| Anna Begging for Mercy for Tuptim | Tuptim Spread-Eagled on the Floor | The King About to Personally Whip Tuptim |
the two were interrupted by news from the Kralahome of Tuptim's capture, and the King ordered that his dishonored slave-wife should be whipped; when Tuptim ran into the room to seek mercy, Anna defended her: "She's only a child, running away because she was unhappy. Can't you understand that?"; a concerned Anna yelled out that the King had no heart and was incapable of loving anyone; ignoring her pleas, the King grabbed the whip to personally punish the girl; after Anna called him a "barbarian," he asserted "There is no barbarian worse than a weak king" and was about to strike, but crumpled over, grabbed his chest and raced from the room; then, a report arrived that the body of Tuptim's lover was found in a river, and Tuptim reacted in shock as she was led away in tears
the Prime Minister - the Kralahome - blamed Anna for destroying the King and his reputation; Anna returned the King's gift of a ring, cut off all of her responsibilities as a governess, and declared that she would be leaving on the next boat out of Siam with her son Louis
a few weeks later before Anna's departure back to England, Lady Thiang came to Anna's quarters with news that the King was dying. Anna asked about the circumstances and was told that the despairing King had completely isolated himself, shut himself away in disgrace, and starved himself
Lady Thiang brought an unfinished letter from the King that he had struggled to write when he learned of her departure. Anna read the letter out-loud in the Prince's presence - it expressed the King's deep gratitude and respect although they often clashed over major differences; moved by the letter, Anna became tearful and decided to visit the King at his bedside before departing
in the King's emotional deathbed scene, he shared how the people of Siam and the children would miss her very much; he also joked with her that her head was higher than his; he returned the ring that she had given back and insisted that she wear it, before his many children were brought in to surround his bed; one young Princess recited a memorized message about how Anna would leave them in darkness without her instruction; Anna decided to stay and made a promise to remain in Bangkok to provide guidance for the future king
the newly-appointed young Prince issued two proclamations to his subjects, and became more resolute as he spoke about how he would no longer require bowing before the King, as the ex-King quietly expired nearby: ("There shall be no bowing like toad. No crouching. No crawling. This does not mean, however, that you do not show respect for king. You will stand with shoulders back and chin high, like this. You will face king with proud expression showing pride in self as well as in king. This is proper way for men to show esteem for one another by looking upon each other's faces with calmness of spirit, eyes meeting eyes in equal gaze, bodies upright, standing as men were meant to stand with dignity and awareness of self. So from this day forward...")
| | |
| --- | --- |
| Young Prince's First of Two Proclamations | Anna's Tearful Farewell |
in the film's final moment, Anna placed her face next to the King's limp left hand following his death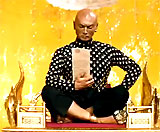 First View of King Mongkut of Siam (Yul Brynner) in His Throne Room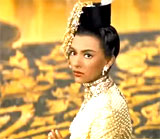 Burmese Slave Tuptim (Rita Moreno), a Gift from the Prince of Burma to the King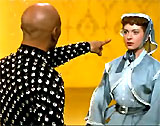 The King Confronting the Plucky Anna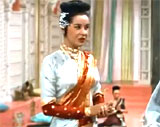 The King's Number One Wife, Lady Thiang (Terry Saunders)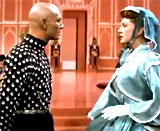 King to Anna: "You shall live in palace"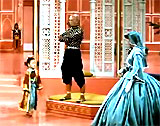 "The March of the Siamese Children" Before Anna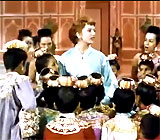 Anna Surrounded by Children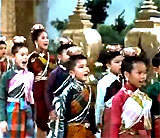 "Home Sweet Home" - Sung by Children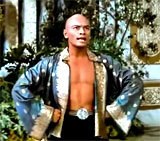 "A Puzzlement" - Sung by the King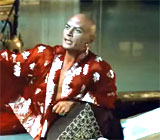 The King Reading the Bible About the Story of Creation - Reclining on Floor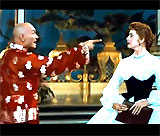 King to Anna: "You are very difficult woman!"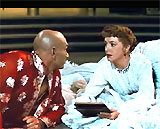 The King Dictating Letter to President Lincoln to Anna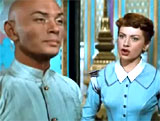 King and Anna: "And you did promise me a house!"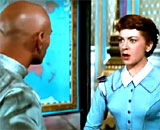 "I am most certainly not your servant!"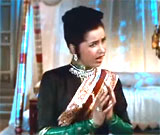 Lady Thiang: "Something Wonderful"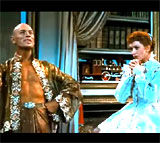 Anna Skillfully Offering Political Advice to the King - Host the Two British Envoys with a First-Class European-styled Banquet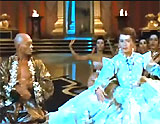 King's Prayer to Buddha To Build a House for Anna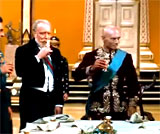 Toasts with the British Ambassador at the Banquet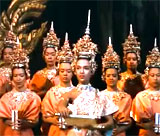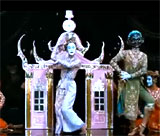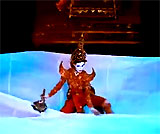 Tuptim's Narration of Her Balletic Interpretation of Uncle Tom's Cabin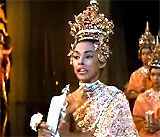 Tuptim's Personal Affront to the Slave-Owning King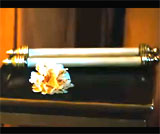 Tuptim's Chair - With a Chaba Flower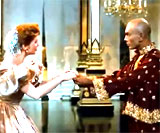 "Shall We Dance"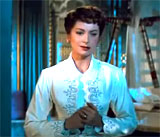 Anna's Last Night in Siam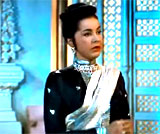 Lady Thiang's News to Anna of the King's Imminent Death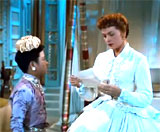 Anna Reading the King's Letter Outloud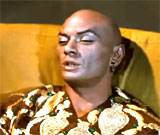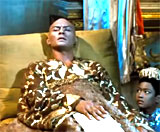 The King on His Deathbed