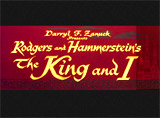 In director Walter Lang's film version of Richard Rodgers and Oscar Hammerstein's 1951 Broadway hit musical:
the series of vignettes and confrontations in the King's Throne Room between prim and Victorian, strong-willed, widowed teacher/governess Anna Leonowens (Deborah Kerr) who had arrived in the 1860s to tutor the many children of the autocratic King Mongkut of Siam (Yul Brynner)
the sequence of "The March of the Siamese Children," when the King's fifteen children to be tutored were introduced, including his eldest son and heir Prince Chulalongkorn (Patrick Adiarte)
the welcoming song by Anna to the many children: "Getting to Know You"
the King's description of rules to Anna, that no one's head should be higher than his, followed by his familiar string of etceteras: ("Observe care that head shall not be higher than mine. When I shall sit, you shall sit! When I shall kneel, you shall kneel. Et cetera, et cetera, et cetera!"); she responded with objections about having to grovel on the floor if he sat down near her; and later also voiced her disapproval: ("I am most certainly not your servant!")
the iconic, joyous dance segment "Shall We Dance" - Anna taught the barefooted monarch how to polka
just before Anna's departure back to England, the King's emotional deathbed scene after he had been starving himself and not sleeping - and the proclamation issued to his subjects by the newly-appointed young Prince, that he was ending slavery and that he no longer required bowing before the King, as the King quietly expired nearby: ("There shall be no bowing like toad. No crouching. No crawling. This does not mean, however, that you do not show respect for king. You will stand with shoulders back and chin high, like this. You will face king with proud expression showing pride in self as well as in king. This is proper way for men to show esteem for one another by looking upon each other's faces with calmness of spirit, eyes meeting eyes in equal gaze, bodies upright, standing as men were meant to stand with dignity and awareness of self. So from this day forward...")
Young Prince's
Announcement

Tearful Farewell and Deathbed Scene
the film's final moment, as Anna placed her face next to the King's limp left hand following his death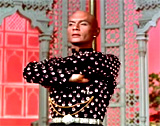 King Mongkut of Siam
(Yul Brynner)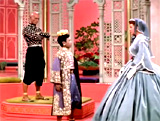 "The March of the Siamese Children"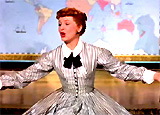 "Getting to Know You"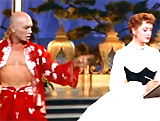 Lecturing Anna About Ancient Customs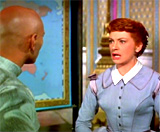 "I am most certainly not your servant!"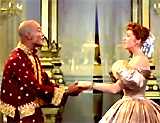 "Shall We Dance"