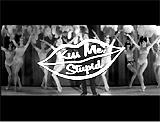 Kiss Me, Stupid (1964)
In director Billy Wilder's now-rated PG-13 sex film - a crude, satirically-biting and sordid movie about debauchery (marital and extra-marital sex) and the obsession with fame, that received a condemned rating from the Catholic Legion of Decency for its allegedly smutty and vulgar tale. It was the first major Hollywood film to be "condemned" by the League of Decency following Baby Doll (1956). To avoid controversy, UA shifted the film's publicity and distribution to their art-house subsidiary, Lopert Films:
the foundation for the suggestive and farcical film was Anna Bonacci's 1944 Italian bedroom farce L'Ora della Fantasia, which had been adapted into a play titled The Dazzling Hour. It was also based on the subsequent Italian film Wife For a Night (1952, It.), starring Gina Lollobrigida
this caustic sex romp told about an opportunist, amateur songwriter and neurotic piano teacher Orville J. Spooner (Ray Walston) (wearing a sweatshirt with Beethoven's face) who was insecurely married to beautiful wife Zelda (Jack Lemmon's real-life wife Felicia Farr), living in the town of Climax, NV - and they were about to celebrate their 5th wedding anniversary.
after his closing night performance at The Sands, drunken Las Vegas entertainer and suave playboy Dino Latino (a depraved, lecherous, self-parodying Dean Martin) left town and was driving to Hollywood. When the unsuspecting Dino stopped at the gas station of deceitful gas station owner Barney Millsap (Cliff Osmond), Orville's friend, the two aspiring and cluelessly-manipulative songsters plotted to sabotage Italian sports car convertible, in order to strand him for the night. In his company, aspiring amateur lyricist Barney was hoping to help his partner Orville sell his songs to the crooner Dino during his forced overnight visit.
Barney hatched a plan - Orville would invite Dino to spend the night in his home (to coax him into becoming interested in their songs). But then, Orville became concerned that his marriage would be put in jeopardy. He feared that Dino's insatiable, horny amorous attentions would be focused on Zelda. (Zelda had a long-standing juvenile crush on Dino when she was 16, evidenced by her presidency of the Dino fan club in high school.) And one-track-minded Dino claimed he suffered debilitating migraines if he didn't get laid every night!
| | | |
| --- | --- | --- |
| The Seedy Roadhouse in Town: The Belly Button | Waitress Polly the Pistol (Kim Novak) | Polly's Trailer Behind the Belly Button |
in order to ensure his wife would avoid the libidinous Dino - Orville provoked Zelda to pack up and leave the house in tears. Then, through Barney, he hired naughty Polly the Pistol (Kim Novak in a role similar to her imposter part in Vertigo (1958)), a buxom roadhouse cocktail waitress (and floozy prostitute) to pose as Orville's wife for $25 dollars for the night - to sweeten the deal for Dino. She worked in the Belly Button on the edge of town, and lived in the trailer out back.
everything worked as planned until Orville also became raucous and "got carried away" with Polly, at the same moment that Zelda returned home and watched the shenanigans through the window. She stormed off and ended up at the Belly Button where she began drinking multiple Bloody Marys. Concerned about her drunken state, she was led to Polly's empty trailer to sleep it off.
meanwhile, Polly had become amorous with Orville listening to his playing and singing of songs on the piano. But Orville also realized that he had a deal for Polly to be with Dino, so he reluctantly left with an excuse to go bowling. However, a few moments later, he was overcome with jealousy, returned after standing outside and seeing the lights go out, and confronted Dino - who was having sex with Polly on the floor (Orville: "So you're helping my wife with the dishes, ha! Who's washing and who's drying?"). He threw Dino out of his house for flirting with and molesting his 'wife' - actually Polly.
Then it became a case of swapped identities and sexual partners between a housewife and a prostitute: Orville treated Polly as his wife (and spent the rest of the night with her), and Zelda (who had fled to the Belly Button and gotten drunk, and was resting in Polly's trailer out back) was soon mistakenly thought to be Polly by Dino
Dino explained to Zelda what had happened to him at her husband's place: "My car broke down. They put me up with some piano teacher...What an evening!...Ah, these amateurs, what they won't do to sell a song. He kept throwing his wife at me...Yeah. Get the scene?...Not a bad-lookin' dame, if you like home cookin', but me, I like to eat out, you know, Chinese one night, a little French cuisine another, and a little delicatessen in between." And then he propositioned her, assuming that she was Polly: "Well, it's my night on, Polly, baby, and if you're worried about money, I tip large." She succumbed to his kisses and her own adulterous desires.
Swapped Identities and Partners


Orville with Polly - at the Piano


Dino with Polly Caught Having Sex on the Floor by Orville and Then Thrown Out


Zelda's Surprise to See Dino Arriving at Polly's Trailer


Zelda Submitting to Sex with Dino
in the re-released, restored version of the film (the original European version), Dino and Zelda presumably had sex after a kiss and the lights went out, and the next morning, she awoke naked under the sheets after he left. She saw that he had given her a generous $500 tip (5 $100 dollar bills). When Polly was driven back to her trailer by Orville, Zelda identified herself as the real wife of Orville: "You took my place last night, so I took yours." To be let off the hook for mutually-redemptive adultery, Polly admitted: "Whatever your husband did, he did it for you." Zelda admitted back to Polly: "Whatever I did, I did it for him." They both admitted it was "fun" to swap identities for one night. Zelda gave the money to Polly since she was entitled to it. Polly encouraged Zelda to return to Orville whom she claimed was a good man: "So when you find a good guy, you should stick to him. I deal with married men all the time, the heels. Believe me, you got a wonderful husband."
the film concluded with Orville (threatened with fake divorce by Zelda as a trick) as he discovered that Dino had bought his song - and was singing "Sophia" during a nationwide program on a bank of TV screens in downtown Climax. Orville was shocked: "Why would he sing our song after what I did to him?" After the song finished, Dino explained how he had acquired the tune from two songwriters on his way through Climax, NV: "Which just goes to prove that if you've got what it takes, sooner or later, somebody will take what you've got, baby." As a result of her windfall of $500, Polly bought a car and was towing her trailer out of town for a new future.
the almost-hysterical Orville admitted to Zelda that he was completely confused and flabbergasted by everything: "I can't figure out any of this" - (not knowing that Zelda had spent the night with Dino as a way to save her marriage - and her husband's fortunes). He mused: "I mean, the ring and the song and the car and Dino. How would you? When did she? Why would he?" - Zelda explained to her clueless husband in the film's last line of dialogue: "Kiss me, stupid."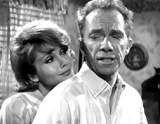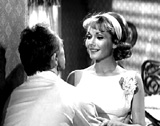 Orville (Ray Walston) With
His Pretty Wife Zelda (Felicia Farr) on Their 5th Anniversary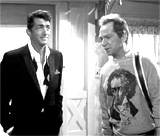 Orville Inviting Dino (Dean Martin) to Spend the Night in His House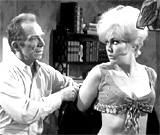 Orville Pretending that Polly the Pistol (Kim Novak) Was His Wife, After Provoking Zelda to Leave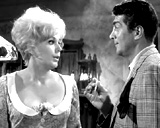 Dino Flirting With Polly in Orville's House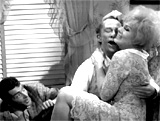 Orville Also Flirting With Polly in His House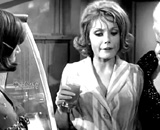 Zelda Drinking Heavily at the Belly Button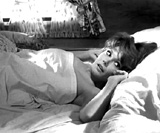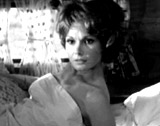 Zelda: Waking Up The Morning After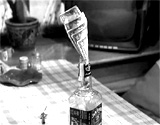 Dino's $500 dollar Tip to Zelda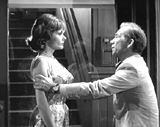 Final Scene: Orville Begging to Have Zelda Back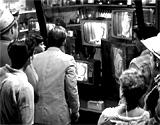 Dino Singing Orville's Song on TV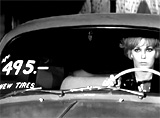 Polly Leaving Town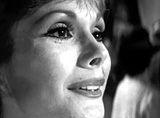 Zelda to Orville: "Kiss me, stupid"