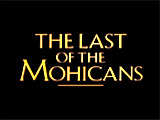 The Last of the Mohicans (1992)
In Michael Mann's historical romance epic - based mostly on director George Seitz's 1936 film (starring Randolph Scott) with screenplay by Philip Dunne - of James Fenimore Cooper's early 19th century novel about the battles between British and French forces in the American colonies during the French and Indian War - the lead heroic character was Nathaniel "Hawkeye" Poe, the European-born adopted son of Mohican scout Chingachgook (literally, the last of the Mohicans):
the visually stunning opening scene of the pursuit-tracking of a deer
the scene of British troops, led by Army Major Duncan Heyward (Steven Waddington) and guided by villainous Huron warrior Magua (Wes Studi), being unwitting led into an ambush - and the violent hand-to-hand combat during the Huron attack - including scalpings, stabbings, throat slashings
the sequence of heroic adopted Mohican Hawkeye's (Daniel Day-Lewis) ultimate rescue of the group of attacked Britons, including Redcoat Colonel Edmund Munro's (Maurice Roëves) headstrong daughter Cora Munro (Madeleine Stowe) and her younger sister, Alice (Jodhi May); during the midst of battle, Cora point-blank shot a charging Indian
the sequence of the besieged Fort William Henry (commanded by Colonel Munro), surrounded by French troops and the Hurons, while there was growing romance, kisses and passion in a golden light between Hawkeye and Cora, causing extreme jealousy in Major Heyward
the evacuation of the surrounded Fort William Henry, and the sequence of Hawkeye's famous romantic instructions and farewell scene in a cave behind a cascading waterfall to Cora as they were pursued by a Huron war party; she begged for him to save himself: ("You've done everything you can do. Save yourself. If the worst happens, and only one of us survives, something of the other does too"), but he promised to come back and find her later, before jumping into the waterfall to escape: ("No. You stay alive. If they don't kill you, they'll take you north, up to Huron land. Submit, do you hear? You're strong, you survive. You stay alive, no matter what occurs! I will find you. No matter how long it takes, no matter how far, I will find you!")
and the chilling, quietly vitriolic promise of revenge against Cora's father Colonel Munro - who was nicknamed "Grey Hair" by Huron warrior Magua: ("The Grey Hair's children were under Magua's knife. They escaped...When the Grey Hair is dead, Magua will eat his heart. Before he dies, Magua will put his children under the knife, so the Grey Hair will know his seed is wiped out forever")
the chilling scene of hostage Alice's decision to commit suicide by jumping off a cliff, rather than submitting to Magua
the dialogueless 15-minute sequence featuring the climactic one-on-one fights on a cliff-side path between Magua and Chingachgook's (Russell Means) son Uncas (Eric Schweig) - ending in Uncas' death when he was stabbed and thrown off a mountain, and then another one-on-one fight between Chingachgook and Magua, ending with Magua's death
Chingachgook's Duel to the Death Against Magua
the scene of Chingachgook's final prayer (with Hawkeye at his side) as the "Last of the Mohicans" to honor Uncas: ("Great Spirit, Maker of All Life. A warrior goes to you swift and straight as an arrow shot into the sun. Welcome him and let him take his place at the council fire of my people. He is Uncas, my son. Tell them to be patient and ask death for speed; for they are all there but one - I, Chingachgook - Last of the Mohicans"); after Chingachgook finished his speech, he gave a tortured look to his adoptive European-born white son Hawkeye as they looked out to the New York wilderness
Honoring Uncas With Prayer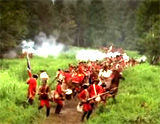 Huron Ambush on British Troops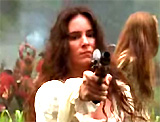 Cora's Point-Blank Shooting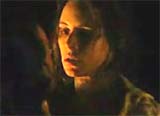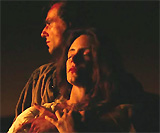 Romance Between Hawkeye and Cora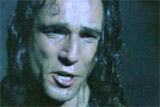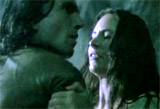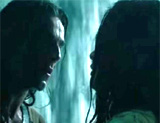 Hawkeye's Farewell Scene at Waterfall: "I will find you"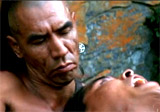 Uncas' Killing by Magua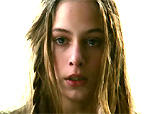 Alice's Suicide