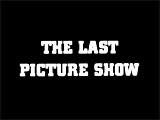 In critic turned director Peter Bogdanovich's best film about life and rites of passage in the small, dying Texas town of Anarene in the early 1950s, with Robert Surtees' magnificent black-and-white cinematography:
the sex-capades of co-captains of the football team, Texas high-school seniors Duane Jackson (Jeff Bridges) and Sonny Crawford (Timothy Bottoms) as they pondered their uncertain futures
Sonny's affair with the coach's wife Ruth Popper (Oscar-winning Cloris Leachman), when the two hurriedly and self-consciously undressed (without looking at each other) in separate areas of her bedroom, and he lost his virginity when he awkwardly made unceremonious love to the older woman - under the sheets
the reading of a Keats poem by an English teacher (John Hillerman) to his disinterested class of teens: ("When old age shall this generation waste Thou shalt remain, in midst of other woe Than ours, a friend to man To whom thou sayest, 'Beauty is truth, Truth Beauty' That is all ye know on Earth And all ye need to know")
the scene of the private, teenaged midnight skinny-dipping indoor pool party when neophyte Jacy Farrow (Cybill Shepherd in her film debut) was greeted by a stark naked Bobby Sheen (Gary Brockette) and his nude girlfriend Annie-Annie Martin (Kimberly Hyde) who asked: "Wanna join the club?" - Jacy was challenged to get undressed out on the diving board as part of the initiation rites ("so everybody gets to watch"); expectantly, the whole naked group of teenaged boys and girls eagerly sat by the edge of the pool to watch "the strip show" - she nervously and gingerly removed many articles of clothing, almost fell off the diving board, and then with one dramatic gesture, yanked off her bra top and flung it on top of her pile of clothes; finally, she was cheered as she hopped into the water - completely naked
The Skinny-Dipping Indoor Pool Party
the fishing scene at the old tank dam on an overcast day, where old-timer, ex-cowboy Sam 'The Lion' (Oscar-winning Ben Johnson), owner of the local pool hall, delivered a monologue to Sonny about his recollection of the idyllic "old times" and his one true love; he remembered a "crazy" youthful romance with a girl who swam nude with him in the water: ("You wouldn't believe how this country's changed. First time I seen it, there wasn't a mesquite tree on it, or a prickly pear neither. I used to own this land, you know. First time I watered a horse at this tank was more than forty years ago. I reckon the reason why I always drag you out here is probably I'm just as sentimental as the next fella when it comes to old times. Old times. I brought a young lady swimmin' out here once, more than 20 years ago. Was after my wife had lost her mind and my boys was dead. Me and this young lady was pretty wild, I guess. In pretty deep. We used to come out here on horseback and go swimmin' without no bathing suits. One day, she wanted to swim the horses across this tank. Kind of a crazy thing to do, but we done it anyway. She bet me a silver dollar she could beat me across. She did. This old horse I was ridin' didn't want to take the water. But she was always lookin' for somethin' to do like that. Somethin' wild. I'll bet she's still got that silver dollar....Oh, she growed up. She was just a girl then, really"); at the end of the monologue, he explained why he didn't marry her: ("She was already married. Her and her husband was young and miserable with one another like so many young married folks are. I thought they'd change with some age, but it didn't turn out that way"); he concluded that marriages were often miserable and failed ("About eighty percent of the time, I guess"); he also lamented the coming of old age ("If she was here, I'd probably be just as crazy now as I was then in about five minutes. Ain't that ridiculous? Naw, it ain't really. 'Cause bein' crazy 'bout a woman like her's always the right thing to do. Bein' a decrepit old bag of bones - that's what's ridiculous - gettin' old")
the revelation of Sam's sudden death from a stroke to the two stunned teens Duane and Sonny after they returned to town following a trip to Mexico, and the cascade of misfortunes that followed in the wake of his death (i.e., the closing of the local movie house and the pool hall, the molestation of a little girl)
the pre-arranged rendezvous and sexual encounter between Duane and the town's ravishingly beautiful, calculating, fortune-hunting Jacy at the Cactus Motel in the dying Texas town - she laid back on the motel bed and half-closed her eyes as she encouraged him to take her virginity: "Oh Duane, hurry"; but then asked annoyingly: ("Aren't you gonna do it?...What do you mean? How could anything be wrong? Just go on and do it"); aggravated by the aborted love-making when he was unable to perform, she ordered him to dress: ("You think I wanna sit around here and look at you nekkid?"); she instructed him to "not tell one soul - you just pretend it was wonderful," and then threw her panties at his face; afterwards she told her admiring girlfriend-classmates: "I just can't describe it in words"
the scene of Duane and Sonny attending the 'last picture show' in town - Howard Hawks' western Red River (1948) before Duane's deployment to fight in the Korean War
the senseless death of Sonny's mentally retarded brother Billy (Sam Bottoms, Timothy's real-life brother) -- hit by a truck -- and Sonny's anguished cry: ("He was sweepin', ya sons of bitches. He was sweepin'!") - before covering Billy's body with his letter jacket
Ruth's tirade at Sonny for abandoning her when he returned to her after Billy's death: ("I'm sorry, I'm still in my bathrobe. What am I doing apologizing to you? Why am I always apologizing to you, you little bastard?! Three months I've been apologizing to you without you even bein' here! I haven't done anything wrong. Why can't I quit apologizin'?! You're the one oughta be sorry! I wouldn't still be in my bathrobe if it hadn't been for you. I'd have had my clothes on hours ago. You're the one made me quit caring if I got dressed or not! I think it's just because your friend got killed, you want me to forget what you did and make it all right? I'm not sorry for you. You'd have left Billy too, just like you left me. I bet you left him plenty of nights whenever Jacy whistled. I wouldn't treat a dog that way. I guess you thought I was so old and ugly, you didn't owe me any explanation. You didn't need to be careful of me. There wasn't anything I could do, so why should you be careful of me? You didn't love me. Look at me. Can't you even look at me? See? Shouldn't have come here. I'm around that corner now. You've ruined it. It's lost completely. Just your needin' me won't make it come back")
in the final moments of the film, Ruth empathically realized Sonny's pain: ("Never you mind, honey, never you mind...")

(l to r): Sonny, Duane, and Jacy


Sonny's Affair with Ruth Popper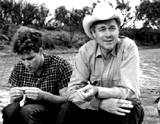 Sam's Eloquent Monologue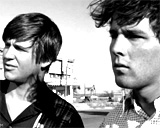 Reaction to Sam's Sudden Death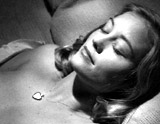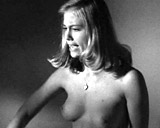 Jacy and Duane's Sexual Encounter in Motel Room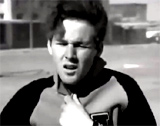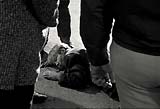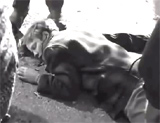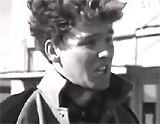 The Sequence of The Senseless Death of Sonny's Brother Billy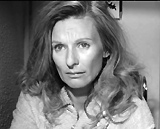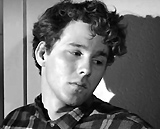 Ruth's Tirade Against Sonny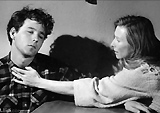 Ruth to Sonny: "Never you mind, honey, never you mind"