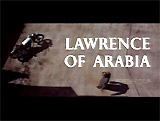 In David Lean's extravagant Best Picture-winning epic, with visual beauty and cinematography of the desert vistas:
the opening sequence (both a prologue and an epilogue) including Lieutenant T. E. Lawrence's (Peter O'Toole) death in mid-May of 1935 while racing his motorcycle on an English country road; at the crest of a hill, he applied brakes and swerved to avoid two bicyclists, losing control and crashing his motorcycle into shrubbery - he disappeared off-screen, although his eye goggles hung lifelessly from a branch
the memorial service at St. Paul's Cathedral in London, where British adventurer Lawrence was lauded by Colonel Harry Brighton (Anthony Quayle): ("He was the most extraordinary man I ever knew") and American journalist Jackson Bentley (Arthur Kennedy): ("It was my privilege to know him and to make him known to the world. He was a poet, a scholar, and a mighty warrior....He was also the most shameless exhibitionist since Barnum and Bailey")
the scene of Lawrence snuffing out a burning match with his fingertips while working as a bored cartographer in the British headquarters in Cairo during World War I: ("The trick, William Potter, is not minding that it hurts") - and then shortly afterwards, in profile in the presence of the Arab Bureau's Mr. Dryden (Claude Rains), Lawrence said he didn't view the desert as a "burning fiery furnace" but instead thought: "It's going to be fun"; Dryden replied: "It is recognized that you have a funny sense of fun" - before Lawrence blew out another match that was burning close to his fingertips - and then the scene transformed and jump-cut to a long-shot view of the burning hot Arabian desert horizon at sunrise, and the sequence of uniformed Lawrence's first journey on camelback into the desert with his nomadic Bedouin guide Tafas (Zia Mohyeddin)
the famous entrance scene in cinematic history that began with the slow and majestic appearance of black-robed Arab chieftain Sherif Ali (Omar Sharif) from a pinpoint in the desert's distance in the shimmering, mirage-like heat as he approached a well and then shot Lawrence's Bedouin guide Tafas in cold-blood for unauthorized trespassing and drinking; Tafas' gun fell at the feet of Lawrence, as he watched the shooter ride up, dismount, and approach the dead body; their initial conversation was brief: Sherif: "He is dead." Lawrence: "Yes. WHY?" Sherif: "This is my well."
afterwards, Lawrence chastized Sherif Ali: ("Sherif Ali, so long as the Arabs fight tribe against tribe, so long will they be a little people, a silly people, greedy, barbarous, and cruel, as you are")
The Stunning Entrance of Sherif Ali
The Cold-Blooded Death of Tafas
the difficult crossing of the Nefud desert and Lawrence's turning back to rescue fallen friend Gasim, and his successful return, including his retort to Sherif Ali while drinking water: ("Nothing is written")
the exciting attack on and defeat of the Turks at the port city of Aqaba, by engaging in a tribal alliance with Auda Abu Tayi (Anthony Quinn) and using an unpredictable strategy -- capturing the Turkish garrison "from the land" while the enemy Turks had their guns pointed in the opposite direction toward the sea
the metaphoric words of director David Lean (in a cameo) - portraying a man on a motorcycle who called out to Lawrence and his guide on the other side of the Suez Canal: "Who are you?"
the uneasy entrance of Lawrence and his Arab guide Ferraj into the officers' bar in Cairo
the bloody ambush guerrilla attack of tribesmen on a Turkish train crossing the Hejaz desert led by the Messianic-like, wild-eyed, white-robed Lawrence, who personally blew up the train tracks with dynamite and led his warriors to victory ("Come on, men!") - and afterwards miraculously survived being killed by a sniper wielding a gun who was slashed with Auda's sword: ("You are using up your nine lives very quickly"), and then posed for photos (silhouetted against the bright sky and casting a shadow) and exalted with a victory dance on top of the train
and the scene of the planned assault on Damascus, when Lawrence and his cavalry force came upon a Turkish column that had just massacred the Arab village of Tafas in its path - his choice was to either go around them and head instead for Damascus, or lead a deadly charge on the Turkish column -- he chose to shout with wild-eyed vengeance and battlefield-intoxication: "No prisoners! No prisoners!"
the final sequence - Lawrence was being driven out of Damascus on a dusty desert road in an open car, passing a group of Arabs riding on camels; he rose out of his seat as the Arabs partially moved off the road to let them go by; the driver offered the final spoken lines of the film: "Well, sir. Goin' 'ome...'Ome, sir"; a motorcyclist sped past them on the right, kicking up a small cloud of dust (it was an omen of Lawrence's own tragic demise while riding his motorcycle seen in the prologue); words from a song were heard by soldiers driving past in a truck, singing: "Goodbye, Dolly. I must leave you, Though it breaks my heart to go"
the final view of Lawrence was peering through the dirty, dust-covered windshield, almost invisible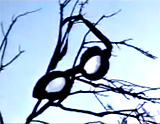 Opening: Motorcycle Crash-Death of Lawrence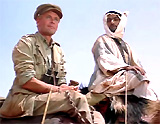 Lawrence's Initial Journey Into the Desert with Bedouin Guide Tafas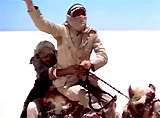 Lawrence's Rescue of Gasim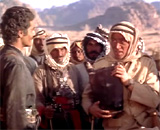 Lawrence to Sherif Ali: "Nothing is written!"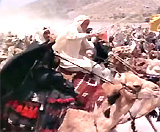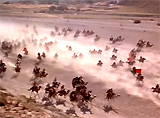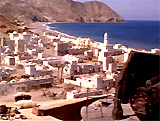 Lawrence's Leading of The Charge on Port City of Aqaba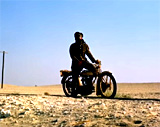 At Suez Canal: "Who are you?"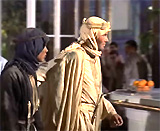 Lawrence's Uneasy Entrance into Cairo's Officers' Bar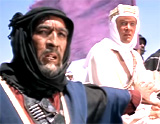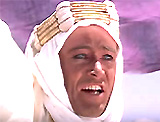 Lawrence's Command Before Attack on Turkish Column: "No prisoners"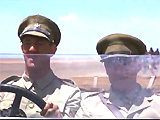 Last Lines to Lawrence: While Driven Out of Damascus (Driver: "Well, sir. Goin' 'ome...'Ome, sir")