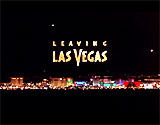 Leaving Las Vegas (1995)
In Mike Figgis' tragic love story about a romantically-involved, co-dependent couple - a critically-acclaimed film shot on Super 16 film:
the opening credits sequence of failed, out-of-control Hollywood screenwriter - self-destructive, doomed alcoholic Ben Sanderson (Oscar-winning Nicolas Cage) buying a shopping cart loaded with bottles of alcohol
Sexual Fantasy of Ben's Appeal to Blonde Bank Teller
the sequence of completely-drunken Ben's sexual fantasy of his appeal to a blonde bank teller (Carey Lowell) who he was attempting to charm for a date, while holding up a tape recorder - his dream was that she was receptive: ("Are you desirable? Are you irresistible? Maybe if you drank bourbon with me, it would help. Maybe if you kissed me and I could taste the sting in your mouth, it would help. If you drank bourbon with me naked. If you smelled of bourbon as you f--ked me, it would help. It would increase my esteem for you. If you poured bourbon onto your naked body and said to me 'drink this.' If you spread your legs and you had bourbon dripping from your breasts and your pussy, and said 'drink here,' then I could fall in love with you. Because then I would have a purpose - to clean you up. And that, that would prove that I'm worth something. I'd lick you clean so that you could go away and f--k someone else"); when he appeared back at the counter, confident and ready to sign - and to ask for a date ("I am back. I've got my check, and, baby, I'm ready to sign...Want to have dinner with me?") - she obviously declined his invitation
Ben was fired from his job with a "generous" severance check (his boss Bill graciously told him: "We're gonna let you go....We really liked having you around, but you know how it is"), and afterwards, Ben burned most of his possessions (including clothes, photographs, even his passport) and planned to move to Las Vegas
the monologue of high-class Las Vegas hooker, needy street-walking prostitute Sera (Oscar-nominated Elisabeth Shue) who bragged about her skilled abilities as a call girl to her off-screen therapist: ("I bring out the best in the men who f--k me. I mean, it's not easy, but I'm very good. I mean, it's amazing. Like, I haven't worked for a really long time and boom, I can just turn on a dime. I can just become who they want me to be. I walk into that room, I know right away, this is their fantasy, and I become it. I'm that service, you know. I just, I perform it, and I perform it well. I'm an equation most of the time. Like, thirty minutes of my body is, costs $300 dollars. Well, that's just to get into the room. And then, it's about $500 dollars after that and we negotiate. But it's a performance. It's definitely a performance")
the scene of Ben's first encounter with tight, leather-skirted streetwalker Sera, when he almost struck with his vehicle in a Las Vegas Strip cross-walk: (Sera: "That was a red light. I walk, you stop. Are you sorry?")
First Encounter with Ben in a Las Vegas Strip Cross-Walk
and later, Ben's rendezvous with Sera in his motel room (The Whole Year Inn, which Ben read as "The Hole You're In" when he checked in) after he paid $500 for a one-hour session, and she gave him instructions: ("For $500 bucks, you can do pretty much whatever you want. You can f--k my ass...You can come on my face. Whatever you want to do. Just keep it out of my hair. I just washed it"); she knelt down and began to deliver oral sex, but Ben suffered from impotence (due to his drinking too much tequila): (Sera: "What's the story? Are you too drunk to come?") although that afforded both of them time to talk and develop a relationship: (Ben: "I want you to talk or listen. Just stay"); he described his objective: ("I came here to drink myself to death. Cashed in all my money, paid my AMEX card, gonna sell the car tomorrow..."); she asked: "How long is it gonna take for you to drink yourself to death?" - and he answered: "I think about four weeks. I don't know for sure, but I think. I got enough for about $250, $300 a day. That should do it"; when she responded: "What am I? A luxury?" - he told her: "You're a luxury, and your meter just ran out"
a second scene of Sera's discussion with her off-screen therapist - about the effect of seeing Ben for one night: "I really like this guy. I mean, I've never felt anything for anyone I've ever been with, as a trick, you know, It's weird. I feel kind of confused about it. We were with each other only one night, but I felt like the relationship - you know, I felt like there was a relationship being formed. I was kind of scared. No, I don't think I should see him again. But I look for him. I went out last night. I was looking for him"
the last encounter between Sera and her abusive Latvian pimp Yuri Botsov (Julian Sands) in his hotel room; apparently, he was in trouble with Polish or Russian mobsters to whom he owned money; she showed him all the money she had made with tricks: ("I think things are finally picking up, we made so much money"), but he forced her face against a wall to listen to the next-door conversation, and ordered her to never see him again: "Come here. Now listen. (he forced her ear up to the adjoining wall) Do you hear? They're talking about me. Do you hear? ...Get out. Do not come back here. I'll not see you again"; as she left his room and walked down the corridor, threatening-looking mobsters left the adjoining room as one cocked his pistol and they approached Yuri's room
the scene in Sera's apartment when Ben seriously demanded that she never ask him to stop drinking: ("You can never ever ask me to stop drinking. Do you understand?"); likewise, she asked him to never criticize her occupation
the sequence of Sera's heartfelt concern about Ben's medical condition, when she told him: "I want you to see a doctor" - and his flat refusal: "Sera, I'm not going to see a doctor"
the pool scene (to the sound of Don Henley's singing of "Come Rain or Come Shine"), when they were both relaxing poolside, and Ben told her: "Need a mixmaster...Just sort of take everything and blend it all together"; shortly later, she straddled Ben's lap as he reclined on a lounge chair; she removed the top of her one-piece black swimsuit, and enticingly nuzzled a bottle between her breasts before pouring alcohol over them for him to enjoy before she returned the swimsuit straps to her shoulders; however, Ben fell over and shattered a glass table that left him cut, bruised and bleeding
Booze and Sex at the Motel Pool
after breaking property poolside and causing issues and complaints, the two were asked to leave by the next morning: ("We get a lot of screw-ups here. Now you two, you take your loud talk and your liquor to your room. You check out first thing tomorrow. And after that, I don't want to see either one of you back here ever again. And don't you worry about payin' for anything. And don't you worry about cutting your little hands on the glass. Let's just leave it at that. See you in the morning")
the scene of Sera's brutal attack and gang rape by a group of three drunken college football jocks in their room at the Hotel Excalibur and Casino, who insisted on anal sex, but when she refused, she was beaten; afterwards, the battered and bloodied Sera washed away the blood and memory in the shower
by film's end - in a touching final scene, sickly pal Ben's death in a hotel room, when Sera came to his side and asked: "Do you want my help?" - she then coaxed and readied him for a last loving act of intercourse (Ben: "See how hard you make me, angel? You know I love you") before he expired from toxic alcohol poisoning
the final scene of Sera with her therapist (in voice-over), confessing her love for Ben in the film's last lines of dialogue, as she sat on the bed next to Ben's body: ("I think the thing is, we both realized that we didn't have that much time, and I accepted him for who he was. And I didn't expect him to change. And I think he felt that for me, too. I liked his drama. And he needed me. I loved him. I really loved him")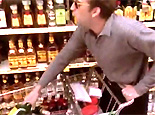 Buying Booze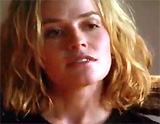 Sera's Monologue About Her Skills as a Hooker - to Her Off-Screen Therapist


Sera In Hotel Room with Drunken Ben: "For $500 bucks, you can do pretty much whatever you want..."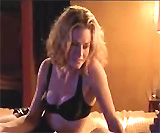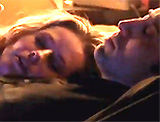 "How long is it gonna take for you to drink yourself to death?"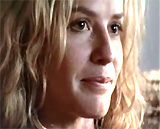 To Therapist (About Ben): "I went out last night. I was looking for him"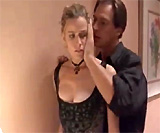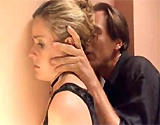 Sera Let Go by Her Pimp Yuri Who Was in Trouble with Threatening Mobsters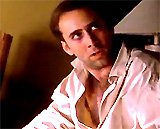 "You can never ask me to stop drinking. Do you understand?"


"I want you to see a doctor"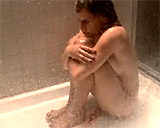 Washing Away Blood After Brutal Gang-Rape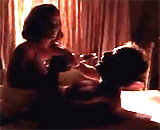 Last Act of Intercourse on Ben's Death-Bed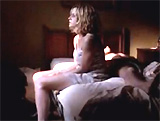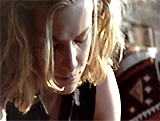 On the Bed Next to Ben's Body With Voice-Over (Speaking to Her Therapist)