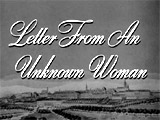 Letter From an Unknown Woman (1948)
In director Max Ophuls' fine romantic melodrama, told mostly in flashback (through a letter), and set in turn-of-the-century Vienna:
the tale of unrequited love and sorrow suffered by Lisa (Joan Fontaine) - an "unknown woman," revealed in a letter (in female voice-over) written to self-absorbed, frivolous dilettante concert pianist Stefan Brand (Louis Jourdan) - after her death at St. Catherine's Hospital: ("By the time you read this letter, I may be dead. I have so much to tell you and perhaps very little time. Will I ever send it? I don't know. I must find strength to write now before it's too late, and as I write it may become clear that what happened to us had its own reason beyond our poor understanding. If this reaches you, you will know how I became yours when you didn't know who I was or even that I existed")
the first of many flashbacked scenes in which as a shy, fourteen year old schoolgirl, Lisa stood in fright behind a glass door, holding it open for the pianist she had fallen in love with, Stefan Brand
the scene on the staircase in which Lisa looked down and witnessed Stefan's return home in the early morning hours with his latest woman-of-the-evening
Lisa's one night of romantic bliss with Stefan including his purchase of a single white rose for her
the sequence at the Viennese fairgrounds - their cyclorama ride, dancing in a deserted dance-hall, her kneeling at the keyboard as he played, and her return up the stairs to his apartment
their goodbye at the train station when Lisa said: "I'll be here when you get back" as Stefan falsely promised to be gone only two weeks: ("It won't be long. I'll be back in two weeks"); however, Lisa's voice-over of her letter recalled: "Two weeks. Stefan, how little you knew yourself. That train was taking you out of my life"
Train Station Goodbye

Flashbacked Memory of
Young Lisa
the sequence in which Lisa left her husband, wealthy, middle-aged Austrian aristocrat named Johann Stauffer (Marcel Journet) (who accepted her son born out of wedlock), and returned with a large bouquet of white roses to offer herself to her pianist love
the touching scene (and ending scene) years later of Stefan (still with the letter at his desk), now with tears in his eyes, looking back and remembering the enamoured young girl shyly holding the door open for him

The "Letter From an Unknown Woman" - Sent to Pianist Stefan Brand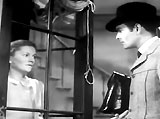 Flashback: Shy 14 Year Old Schoolgirl Lisa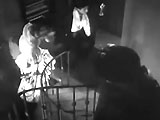 Lisa Spying on Stefan with Another Woman From Staircase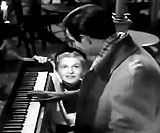 At the Viennese Fairgrounds