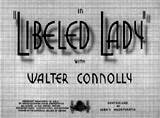 Libeled Lady (1936)
In director Jack Conway's funny screwball comedy - a Best Picture nominee:
after the MGM lion and before the opening credits - the medium shot of the four stars (Harlow, Powell, Loy, and Tracy) walking arm in arm toward the camera and into a wind
in the film's plot, the New York Evening Star and its managing editor Warren Haggerty (Spencer Tracy) had printed a libelous, false story about sophisticated, wealthy heiress Connie Allenbury (Myrna Loy), who was accused of breaking up a marriage; the publication resulted in Connie threatening to sue the paper for libel with a $5 million lawsuit
the scenes of newspaper editor Warren Haggerty's cooked-up scheme to re-hire ex-employee and ladies man Bill Chandler (William Powell) to convince him to temporarily marry (in name only without consummation) Warren's own wisecracking, long-suffering, impatient bride-to-be divorcee/girlfriend Gladys Benton (Jean Harlow) - promising her a quickie Reno divorce afterwards; so in the meantime, Chandler could seduce and then frame or trap Connie in a compromising situation with him (witnessed by his 'wife' Gladys) to force Connie to drop the expensive lawsuit
in the clever and fast-paced script, memorable scenes included the very long "bride kisses the best man" congratulatory kiss sequence at the city magistrate wedding of Bill Chandler and Gladys, with 'Best Man' - Gladys' own fiancee Warren: (Justice of the Peace: "Well, I hope you'll be very happy and don't forget to invite me to your silver anniversary." Gladys: "It'll have to be within the next six weeks!")
the fishing scenes: first, inept Chandler receiving fly-fishing lessons in his hotel room, and then the outdoor scene of inept, nearly-drowned Chandler impressing Connie's angler father Mr. James B. Allenbury (Walter Connolly) by catching an elusive walleye trout
the plot twist of ensuing complications when Chandler became truly smitten by Connie and then changed his strategy of fooling her to sweet-talking her to drop the suit - and she asked to marry him - he was flabbergasted: ("Will I? Is there a preacher in the house?")
the multiple confusions in the rushed concluding scene in a hotel room: Bill was now married to Connie (and they were on their honeymoon), but then Gladys affirmed that she really wanted to remain married to Bill; Bill announced that he had found out that 'wife' Gladys' previous Yucatan divorce to her first husband was illegal (and therefore their marriage was a fake), countered by Gladys' claim that she had a second confirming divorce in Reno and was actually still married to Bill; but then, real romantic allegiances were revealed after Bill and Warren had a brief fisticuffs encounter
| | | |
| --- | --- | --- |
| | | |
| 'Married' Chandler with Connie - Falling in Love | Chandler After Being Married to Connie | Bill Chandler and Warren's Fisticuffs |
the ending line of Connie's father Mr. Allenbury demanding an explanation - and then after he was filled in on the marital complications, he screamed exasperatingly: "Quiet, will you please be quiet!"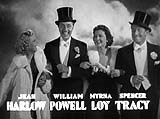 Opening Credits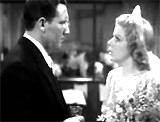 Gladys Complaining to Newspaperman Fiancee Warren: "Today, I get married!"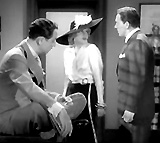 Warren's Scheme: Gladys Was Forced to Instead Temporarily Marry Bill Chandler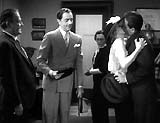 The "Bride Kisses the Best Man" Wedding Kiss Sequence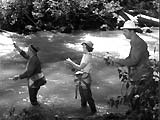 Fishing Sequence