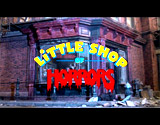 Little Shop of Horrors (1986)
In Frank Oz' comedy/sci-fi musical (a remake of the original 1960 film by director Roger Corman), about a flower-shop worker in Mushnik's Floral Shop located in "Skid Row":
the 'character' of nerdy flower-shop worker Seymour Krelborn's (Rick Moranis) fast-growing Venus Fly-Trap-type plant, voraciously requesting: "Feed me, Seymour"
the many appearances of the doo-wop Greek chorus trio, (a girl group "Greek Chorus" comprised of Michelle Weeks, Tichina Arnold and Tisha Campbell) who sang the title song "Little Shop of Horrors" and later "The Meek Shall Inherit"
The Greek Chorus Trio
the song "Dentist!" introduced sadistically abusive, motorcycle-riding and torturing dentist Orin Scrivello D.D.S. (Steve Martin): ("When I was younger, just a bad little kid, My momma noticed funny things I did, Like shootin' puppies with a BB gun, I'd poison guppies And when I was done, I'd find a pussy cat and bash in its head. That's when my momma said... She said My boy, I think someday, You'll find a way To make your natural tendencies pay. You'll be a dentist, You have a talent for causing things pain. Son, be a dentist. People will pay you to be inhumane. Your temperament's wrong for the priesthood, And teaching would suit you still less. Aah! Son, be a dentist, You'll be a success...")
the scene of Dr. Scrivello's appointment with masochistic patient Arthur Denton (Bill Murray) with a "history of dental problems" who needed "a long, slow root canal"; as he got into the dentist's chair, he delivered a long and nervous monologue about his past experiences with dentists before and during the painful procedure: ("I went to a terrible dentist Wednesday, who was recommended to me by somebody that I saw on Monday who is the brother of a man that I usually see on Sundays. And their mother actually taught them everything that they know. She's incredibly gifted, but quite elderly. And a lot of people think she shouldn't be working. But I go to her because I'm just incredibly devoted to her strength. She can't really see who you are, but she knows, she knows the sound of your voice. And if you tell her where it is, the problem, she eventually works her way back and she finds the trouble and she does it. I wish I had that stamina, 'cause I can only go so long. That's how I want to be. I don't ever want to have to be just... I remember the first time I went to a dentist. I thought, 'Gosh, What a neat job! If only I were a dentist.' The dentist I went to had the greatest car. He had a Corvette. I thought, 'My gosh. Everybody calls him 'Doctor, ' and he's not really a doctor.' Oh, my God. 'If only I got out of here okay.' But then after everything was all finished, they gave me a candy bar. I thought, 'This is what I get? A candy bar?' This is what you do. You go through a little thing and get chocolate out of it. Getting to work with incredible professionals who use incredibly, incredibly wonderful equipment...Ahhh! Ahhh! Candy bar! Ohh! Candy bar! Candy bar! Gosh! Oh, God. Do it again. Oh, God, doctor. Whoo! Yeah, aw, great! Oh, you are something special. You are something special! Come on! Come on! Come on! Mm, aw, oh! Thank you! Oh, y eah, thank you! Oh, my God. It's your professionalism that I respect. Oh, God! Don't stop, doc! Don't stop! Come on! More! Yeah! Yeah, come on! Yeah!..."); when the dentist was finished, he ordered Arthur out of the office, and then mumbled to himself: ("God-damn sicko!")
Dr. Scrivello's Appointment with
Masochistic Patient Arthur Denton
the dentist's own lethal addiction to nitrous oxide (laughing gas)
the buxom bimbo and shrill-voiced flower arranger Audrey (Ellen Greene) - the object of Seymour's infatuated crush - and Seymour's duet "Suddenly Seymour" with Audrey: ("...Audrey, that's all behind you now. You got nothin' to be ashamed of. You're a very nice person. I always knew you were. Underneath the bruises and the handcuffs, you know what I saw? A girl I respected. I still do. (singing) Lift up your head. Wash off your mascara. Here, take my Kleenex. Wipe that lipstick away. Show me your face. Clean as the morning. I know things were bad. But now they're okay...")
the show-stopping rock-bop tune "Downtown (Skid Row)" sung by the cast - the entire neighborhood of bums, drunks, prostitutes, and lower class apartment dwellers, and Seymour's heart-felt plea to his new-found plant "Grow for Me"
the concluding scene of the giant, carnivorous fly-trap plant Audrey II menacing Seymour and singing "Mean Green Mother From Outer Space": ("I'm just a mean green mother from outer space. And I'm bad - mean, green, bad. I'm just a mean green mother from outer space, and it looks like you've been had. I'm just a mean green mother from outer space, so get off my back and get out my face. 'Cause I'm mean and green and I am bad, I'm bad")
the demise of Audrey II (in the theatrical ending) when Seymour electrocuted it with an electrical cable, and the giant plant exploded, although it might return - a small plant bud was viewed in the front yard flower bed of the idyllic, dream-like suburban home of Seymour and Audrey (now a married couple)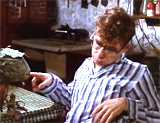 Seymour Krelborn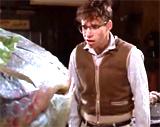 "Feed me, Seymour"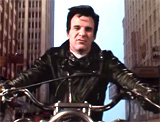 "Dentist"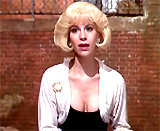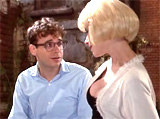 Audrey with Seymour: "Suddenly Seymour"


"Downtown (Skid Row)"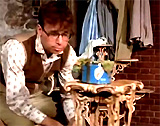 "Grow for Me"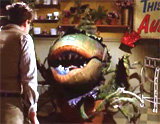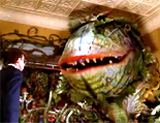 Audrey II: "Mean Green Mother From Outer Space"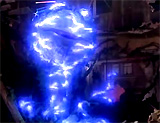 Audrey II Electrocuted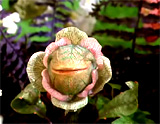 Small Plant Bud