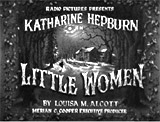 In director George Cukor's classic adaptation of Louisa May Alcott's novel about the March family in Concord, Massachusetts, distinguished by snowy opening title credits, and set during the Civil War Era:
the scene of the four March sisters, Jo, Meg, Beth and Amy, discussing what they would each do with their Christmas present of $1 dollar from their well-to-do Aunt March (Edna May Oliver): (Jo advised her practical sisters: "Let's each buy what we want and have a little fun. I'm sure we work hard enough")
the amusing malapropisms by pretty but selfish daughter Amy March (Joan Bennett): ("I know what I mean, and you needn't be 'statirical' about it! It's proper to use good words and improve your 'vocabilary'"); spirited, tomboyish Jo (Katharine Hepburn) got into an argument with Amy, who told her: "I detest rude, unladylike girls," to which Jo responded: "I hate affected, niminy-piminy chicks"; Beth (Jean Parker) advised both of them - and particularly Jo: "Really, you're both to blame. You're old enough now to leave off boyish tricks and behave better, Josephine. Now you are so tall and turn up your hair, you must remember you're almost a young lady" - and then she told off Amy: "As for you, Amy, your absurd words are as bad as Jo's slang. Your airs are funny now, but you'll grow into an affected little goose unless you take care"; Jo told her sisters about her intentions to be an author and playwright: "Wait until I become a famous author and make my fortune. Then we'll all ride in fine carriages, dressed like Flo King snubbing Amy's friends and telling Aunt March to go to the dickens"
the scene of their beloved mother Marmee March's (Spring Byington) reading of a letter to her daughters from their father fighting for the Union in the Civil War: ("Give them all my dear love and a kiss. Tell them I know they will remember all I said to them: that they will be loving children to you, they will do their duty faithfully, fight their bosom enemies bravely and conquer themselves so beautifully that when I come back to them, I may be fonder and prouder than ever of my little women")
the repetition of Jo's enthusiastic favorite expression: "Christopher Columbus!"
the scene of Jo's rejection of romance and marriage to wealthy neighbor and childhood acquaintance Laurie (Douglass Montgomery) who had just graduated from college - he told her of his long and faithful love: "You've kept away from me ever since I got back from college. And I studied so hard and I graduated with honors, it was all for you....Then won't ya listen? Please. I've loved you ever since I've known you. I couldn't help it. I've tried to show it, but you wouldn't let me. But now I'm going to make you hear it and give me an answer...for I just can't go on so any longer. I know I'm not half good enough for you. But, well, if you love me, you can make me anything you like"; Jo tried to dissuade his romantic intentions: "As though I'd change you, Laurie. Laurie, you should marry some lovely, accomplished girl who adores you. Someone who would grace your beautiful house. I shouldn't. I loathe elegant society and you like it. And you hate my scribbling and I can't get on without it. And we should quarrel...oh yes, we always have, you know...And everything would be so horrid if we were ever foolish enough to (marry)..." - she rejected his proposal and then apologized: "I can't. Oh, Laurie, I'm sorry. So desperately sorry...I don't think I'll ever marry"
the reassuring words of dying Beth March to older sister Jo, due to a reoccurrence of her scarlet fever: ("I'm not afraid anymore! I'm learning that I don't lose you, that you'll be more to me than ever, and NOTHING can part us, though it seems to. Oh, Jo! I think I'll be homesick for you - even in heaven")
aspiring author Jo's written ode to her sister titled "My Beth": ("Oh my sister, passing from me / Out of human care and strife / Leave me, as a gift those virtues / Which have beautified your life / By that deep and solemn river / Where your willing feet now stand")
Death Scene of Beth - Comforted by Sister Jo
Beth's last words as she was comforted by Jo: ("I think I can sleep now. Oh look, Jo. My birds. They got back in time") - at the moment of her death when the birds flew off from the window sill
as the film started to reach its conclusion, Jo reconciled with Laurie, although explained that now that they were older, they would be better as brother/sister: ("We never can be boy and girl again, Laurie. Those happy old times can't come back. We shouldn't expect them to. We're man and woman now, we can't be playmates any longer. But we can be brother and sister, to love and help one another all the rest of our lives, can't we, Laurie?")
the ending scene of the sisters with their husbands (Meg with John Brooke (John Lodge), and Amy with Laurie) returning home for a long-awaited visit, and Jo's aside to Beth in heaven: "It's fun, isn't it, Bethie? Now that we're all together again"
and the curtain-closing, outside-in-the-rain proposal of German linguist Professor Bhaer (Paul Lukas) from NYC, who had brought Jo's manuscript for Little Women and announced it had just been published; he then confessed his love to Jo and meekly proposed: ("Would you - Oh, I have no courage to think that, but could I dare hope that I know I shouldn't make so free as to ask. I-I have nothing to give but my heart so full and these empty hands"), and she accepted ("Not empty now") - she kissed him as he replied: "Oh, hearts dearest" - and then welcomed him into the door ("Welcome home") to join the family reunion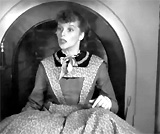 Jo (Katharine Hepburn) with Her Three Sisters Discussing $1 Dollar Christmas Gift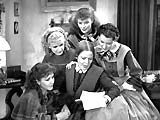 Marmee's Reading of Letter from Mr. March Fighting in Civil War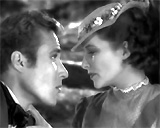 Jo with Laurie - Rejecting His Marriage Proposal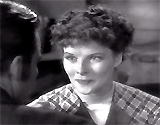 Jo to Laurie: "We're man and woman now..."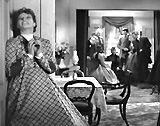 Jo's Aside to Beth: "It's fun, isn't it, Bethie? Now that we're all together again"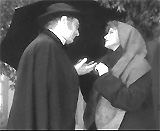 Jo's Final Line to Professor Bhaer After Accepting His Marriage Proposal: "Welcome home"