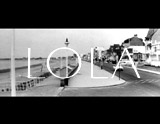 Lola (1961, Fr.)
In Jacques Demy's first feature film - a dreamy and lyrical romantic drama (made in tribute to director Max Ophuls) about chance encounters and criss-crossing lives, shared or mirrored stories, and repeated situations for the main protagonists - all enhanced by Michel Legrand's original music:
in the opening credits sequence, the introduction of a driver of a white Cadillac convertible - revealed to be wealthy, white-suited Michel (Jacques Harden), who had unexpectedly returned to the French coastal port-city of Nantes - his hometown, hoping to look up prostitute and Marlene-Dietrich-like cabaret dance-hall girl and chanteuse (inspired by Sternberg's The Blue Angel (1930, Germ.)) with a long cigarette holder - who had adopted the stage name Lola (Anouk Aimée) - she was an alluring and mysterious single mother named Cecile - and Michel was hoping to marry her; years earlier as a sailor, he had jilted and deserted her to seek a fortune, and left her with a son named Yvon (Gérard Delaroche), now 7 years-old
the tale of Lola/Cecile - and her acquaintances with a trio of lovers:
Michel - her true love from years earlier
Roland Cassard (Marc Michel) - a bored drifter, and Lola/Cecile's ex-boyfriend from 15 years earlier before WWII (who was considering taking a job as a smuggler) and
white-uniformed blonde American sailor Frankie (Alan Scott) from Chicago - on shore leave in Nantes, who reminded Lola of her own lost sailor Michel
Cabaret Dancer and Chanteuse Lola (Anouk Aimée) - aka Cecile

"It's me...Lola! The one who laughs at anything and says Love's a lovely thing! Wins men's hearts without fear, and gives without a tear!..."
the iconic scene of Lola's flirty, top-hatted performance of her own theme song "Lola" - posing and dancing seductively for the camera, with a black boa wrapped around her shoulders, and a top hat: "It's me...Lola! The one who laughs at anything and says Love's a lovely thing! Wins men's hearts without fear, and gives without a tear! To older guys or brave young men, Is always asking Where or When, Likes to please them everyday, Without going all the way. It's me...Lola! I see a ship tied to a buoy, Then I meet a sailor boy, We sing and we dance, We play with romance, We whirl and we spin, Then I say with a grin, That I mean no, It's time to go! That's enough, Don't get rough, It's me...Lola! I say, 'Oh, please come back!' Then I smile behind your back. But I'm lost on a dream, One that's not a scheme, It's all peaches and cream, He'll take me in his arms and show me, That out of thousands he will know me, You, You! It's true. It's me...Lola!"
the sequences of Roland meeting up with older and widowed Mme. Desnoyers (Elina Labourdette) and her 14 year-old teenaged daughter Cécile Desnoyers (Annie Duperoux), also named Cecile (a younger version of Lola) -- because of her name, Roland was reminded of his earlier relationship with Lola/Cecile, his first love
the teenaged, infatuated 14 year-old Cecile's mirroring of the life of her counterpart, Lola, who in a delightful and sensual sequence, spent an afternoon at a fair with older sailor Frankie; the two shared a few rides (bumper cars and a merry-go-round - during the ride on the merry-go-round, a smiling and ecstatic Cecile rested her head on his shoulder) - to the tune of Bach's First Prelude from The Well-Tempered Clavier
the magical fair sequence was highlighted by the magnificent gliding and swirling of seven slow-motion camera shots, when Frankie jumped off the ride, turned and lifted the emotionally-moved Cecile into the air and twirled her around, with her hair swinging and spinning around her face, and then the two joyously ran through the crowd, before they parted and she told him in broken English: "Goodbye Frankie"
Sailor Frankie at the Fairgrounds with 14 Year-Old Cecile
in the unrealistic 'Hollywood' ending and final scene, Michel picked up Lola (and her son), and they drove off in his white convertible; as they left town, Lola briefly spotted Roland walking alone on the street in the opposite direction (Lola glanced back) - Michel asked: "What's wrong?" Lola responded (the film's final line): "Nothing"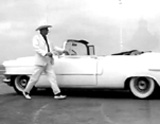 White-Suited Michel in His Hometown of Nantes (Under Title Credits)


The Cabaret Where Lola Performed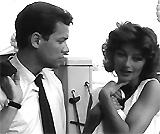 Lola with Roland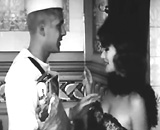 Lola with Sailor Frankie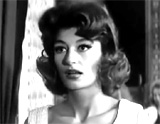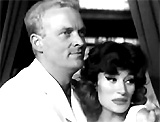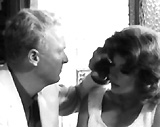 Lola With Michel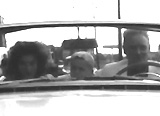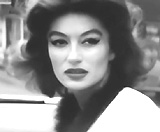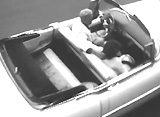 Final Scene: Michel Picked up Lola and Son and Drove Off in His White Convertible