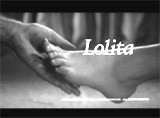 In Stanley Kubrick's once-controversial black comedy version of Vladimir Nabokov's 1955 novel, told mostly in flashback - a dramatic story of juvenile temptation and perverse, late-flowering lust:
the erotic pedicure scene under the credits of obsessed, middle-aged boarder and literature professor Humbert Humbert (James Mason) cradling the title character's foot and then lovingly and devotedly painting her toenails with bright enamel
in the prologue, the opening mad Ping-Pong match between TV writer/pedophile Quilty (Peter Sellers) and the threatening Humbert: ("Do you want to die standing up or sitting down?"), who soon after wounded Quilty in the leg and then emptied his gun, as Quilty dragged himself away to find cover behind a Victorian, Gainsborough-type watercolor painting of an 18th century genteel young woman - Quilty screamed with childlike disbelief: "That hurts!" before slumping over dead; the camera's frame lingered on one of the bullet holes ripped through the face of the demure, innocent young woman - a symbol of abuse; Quilty was blamed for his part in seducing, running off and abandoning nymphet teenager Dolores 'Lolita' Haze (Sue Lyon)
Prologue: Deadly Shooting of Quilty by Humbert

Prologue: "Do you want to die standing up or sitting down?"

Humbert with Gun

Quilty Murdered Behind Victorian Portrait
the first image of skimpy, sultry and nubile bikini-clad 'Lolita' sunbathing in her back yard - sporting a broad-brimmed, feathered straw hat and heart-shaped plastic sunglasses - accompanied by a "Yi Yi" bubble-gum theme song as Humbert was led through the house by Lolita's blowsy mother Charlotte (Shelley Winters), as she noted: ("My flowers win prizes around here! They're the talk of the neighborhood. Voila!...My yellow roses. My - daughter....I can offer you a comfortable home, a sunny garden, a congenial atmosphere, my cherry pies"); Humbert immediately accepted her offer to rent a room, and explained his decision-making: ("I think it was your cherry pies!")
later, Humbert's sly leering at Lolita over the top edge of the book he was pretending to read, as she practiced twirling a hula-hoop around her thrusting, pubescent hips while counting the rotations
Lolita's continual teasing (unintentional and intentional) of Humbert, and her words of farewell to Humbert and her half-winking at him as she went away to summer camp: "Well, I guess I won't be seeing you again, huh?...Then I guess this is goodbye....Don't forget me"; soon after, to be near Charlotte's seductive child so that he could proceed with his nymphetomania, Humbert realized that he must marry Charlotte
the scene following Charlotte's accidental vehicular death when Humbert took a hot bath and sipped from a martini glass floating on the water; Charlotte's untimely death meant widower Humbert became Lolita's legal guardian and stepfather
Humbert drove the Haze station wagon to pick her up from summer camp; the aptly-named camp sign welcomed him: "CAMP CLIMAX FOR GIRLS - Drive Carefully"; he was reluctant to tell Lolita the truth about her mother's death - but he confessed his love for the not-so-naive Lolita and she responded: "You haven't even kissed me yet, have you?"
the scene of Humbert's and Lolita's overnight stay at a hotel (although Humbert slept on a separate cot) - and Lolita's early morning coquettish suggestion to play a game that she learned at camp (whispered into his ear), while seductively twirling the hair on his head with her finger: ("I-I learned some real good games in camp. One in particular-ly was fun... Well, I played it with Charlie...He's that guy that you met in the office....You sure you can't guess what game I'm talking about?...You mean you never played that game when you were a kid?...All righty then...") -- followed by a discrete fade to black
Lolita's Suggestion to Play Game in Hotel Room
four years later, Humbert saw Lolita once again after she had married and was six months pregnant - and in debt; he greeted her: ("So this is what Mrs. Richard T. Schiller looks like!"); Lolita was very unlike the sultry, sleek young girl he had remembered a few years earlier; she admitted to having had a continuing affair with another of the film's prominent characters, TV writer Clare Quilty, another pedophile; Humbert made one final plea to rescue her from her shabby, bland existence in a hovel (with her superficial husband) and return to their own world of the past; when she denied his request, he cried and poignantly reached for over $400 in cash, a check for $2,500, and a mortgage document (from her mother's estate) worth about $10,000; Lolita was astonished and concerned: "You mean we're getting thirteen thousand dollars? Wonderful. Oh, come on now, don't cry. I'm sorry. Try to understand. I'm really sorry that I cheated so much, but I guess that's just the way things are"; afterwards, Humbert rushed for his car, as she called out from the door with the wad of cash in her hand: "Hey, well listen, let's keep in touch, huh? I'll write to you when we get to Alaska"
driving away from Lolita's home in the fog, Humbert proceeded toward Quilty's mansion - he was insanely motivated to commit murder for Quilty's duplicity and his part in seducing, running off and abandoning Lolita; the film returned to the prologue (now epilogue) in which Humbert called out: "Quilty, Quilty!" before the scene faded to black
the ending shot in the epilogue - a second view of the watercolor painting of a young woman with a bullet hole through her face - symbolic of the irrecoverably-marked life of Lolita - the epilogue's title card: "Humbert Humbert died of coronary thrombosis in prison awaiting trial for the murder of Claire Quilty."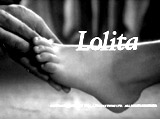 Pedicure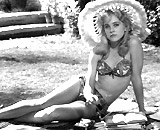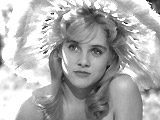 First View of Lolita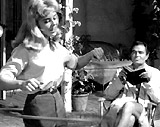 Lolita with Hula-Hoop While Spied Upon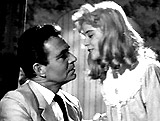 Humbert's Growing Interest in Lolita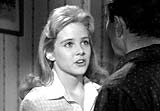 Lolita's Goodbye: "Don't forget me"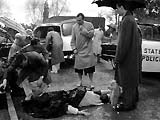 Charlotte's Accident Scene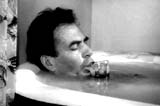 Humbert in Bath Following Charlotte's Death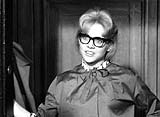 Lolita - Married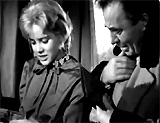 Humbert with Married and Pregnant Lolita - Offering Her Cash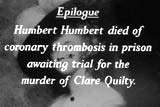 Epilogue Screen