Lost in Translation (2003)
In director/writer Sofia Coppola's award-winning romance-drama:
the opening views of a garish-nighttime Tokyo from within a limo after arrival at the New Tokyo International Airport, and his transport to the Park Hyatt Tokyo luxury hotel
the funny scene of middle-aged, disconnected, aging movie star Bob Harris (Bill Murray) shooting a Suntory whiskey commercial in Tokyo that required many takes due to loss of meaning and language differences with the director; in the short commercial, his only line was: "For relaxing times, make it Suntory time"; the director insisted through his translator: "Could you do it slower, with more intensity?"
the scene of a Japanese call girl (a "Premium Fantasy" girl) who entered Bob's room, offered a massage, and then demanded: "Lip my stocking" - when he finally understood, he asked: "You want me to rip your stocking?"
the sequence of Bob's problems with the hotel's exercise walking machine, that shouted out computerized Japanese instructions, sped up, and went backwards
the awkward hotel lobby encounter between photographer husband John John (Giovanni Ribisi) who was on a shooting assignment in Tokyo with his recent college-graduated wife Charlotte (Scarlett Johansson), when he met up with ditzy Hollywood actress Kelly (Anna Faris) who gushed about her life: ("I'm here promoting that action movie I did. Yeah, you know...I'm doing 20 million interviews a day...It's crazy. It's so good to see you...John, John, you are my favorite photographer. No, you are. I only want you to shoot me. It's true... Oh my god, I have the worst B.O. right now. I'm so sorry"); she was amazed that he was married when introduced to Charlotte, and afterwards told them she was registered under the pseudonym Evelyn Waugh; when Charlotte noted to John: "Evelyn Waugh was a man" - he criticized her: "Oh come on, she's nice. You know, not everybody went to Yale. It was just a pseudonym, for Christ's sake....Well, why do you have to point out how stupid everybody is all the time?"
the short sequence of Charlotte alone, lost and isolated in her hotel room, while her husband was away on a photo shoot, when she listened on headphones to Michael Rohatin's self-help CD audio book titled "A Soul's Search" -- "Do you ever wonder what your purpose in life is? This book is about finding your soul's purpose or destiny. Every soul has its path. Sometimes that path is not clear. The Inner Map Theory is an example of how each soul begins with an imprint, all compacted into a pattern that has been selected by your soul before you've even gotten here"
and later, Charlotte's overhearing of Kelly's press conference in the hotel about her film "Midnight Velocity" when she spoke about her co-star Keanu Reeves: ("He was always so -- he was always, you know, giving me ideas, and, you know, really helpful. He made me feel really comfortable, so -- and we both have two dogs, and we both live in L.A., so we have all these different things in common. So, you know, we both really like Mexican food and yoga and karate!")
Bob's scenes of a growing and intimate friendship with the bored Charlotte after meeting her in the luxury hotel bar; in their first conversation, he introduced himself and told what he was doing after 25 years of marriage: ("Taking a break from my wife, forgetting my son's birthday, and, uh, getting paid $2 million to endorse a whiskey when I could be doing a play somewhere, but the good news is, the whiskey works"); she told a bit about herself, and how she had been married already for two years: ("My husband's a photographer, so he's here working and, uh, I wasn't doing anything, so I came along. And we have some friends that live here"); soon the two spent off hours in various locales within the hotel (the elevator, hallway) and throughout the city (karaoke bars, pachinko parlors, etc.) as they shared their disoriented bewilderment about their married lives and problems
the scene of Bob and Charlotte talking while lying on a bed, when she asked about life and marriage: "Does it get easier?" - and his responses in their conversation: ("No, yes. It gets easier...The more you know who you are, and what you want, the less you let things upset you...We used to have a lot of fun. Lydia would come with me when I made the movies, and we would laugh about it all. Now she doesn't want to leave the kids, and she doesn't need me to be there. The kids miss me, but they're fine. It gets a whole lot more complicated when you have kids...It's the most terrifying day of your life the day the first one is born...Your life, as you know it, is gone. Never to return. But they learn how to walk, and they learn how to talk, and, and you want to be with them. And they turn out to be the most delightful people you will ever meet in your life")
Enigmatic Goodbye and Ending
the enigmatic ending in which there was a whispered secret message (was it? - "I have to be leaving, but I won't let that come between us. OK?") and a kiss between Bob and Charlotte on a busy Tokyo street as they said goodbye to each other - when he was on his way to the airport in a taxi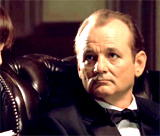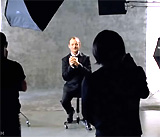 Suntory Whiskey Commercial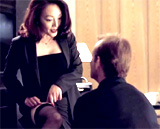 "Premium Fantasy" Girl: "Lip my stocking"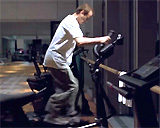 Hotel's Exercise Machine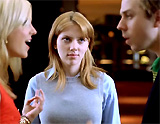 Ditzy Hollywood Actress Kelly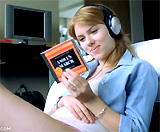 Charlotte Alone and Lost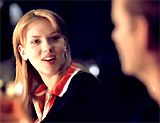 Meeting in the Hotel Bar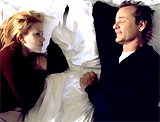 Conversing on Bed