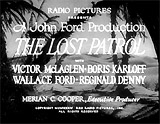 The Lost Patrol (1934)
In John Ford's bleak war/adventure drama set during WWI, with a stirring Max Steiner musical score:
the opening scene of a British patrol commander shot by an unseen Arab sniper ("right through the lung") and the fall off his horse; the "Sergeant" was angered: ("Blasted Arabs. Hide like sand-flies. Never see 'em")
the "Sergeant" (Victor McLaglen), now in charge, and his response to finding an abandoned desert oasis with food and water: "And not a ghost of an idea where we're at, what we're here for and where we're going"
the drama as the members of the lost patrol were picked off one-by-one by the hidden enemy, until only the Sergeant was left
the sole-surviving and dazed Sergeant's mad machine-gunning of a group of six Arab snipers, and wildly bragged to his fallen comrades after killing them: ("We got 'em, I got 'em")
the mirage-like appearance in the desert of a British rescue column (a second rescue party) amidst the sand dunes
in the memorable film ending of the Sergeant's rescue by another British patrol, his silent answer to the Colonel's question: "Where are your men? Speak up, man. Where's your section?" - the Sergeant pointed to the gleaming row of sabers marking the heads of all the graves of the men who had perished in his patrol group
| | |
| --- | --- |
| | |
| "Where are your men?" | Graves Marked by Sabers |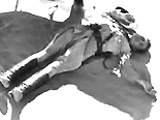 British Commander Shot by Sniper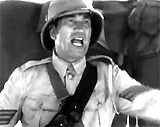 Commanding "Sergeant"
(Victor McLaglen)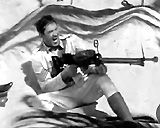 Mad Machine-Gunning: "We got 'em, I got 'em"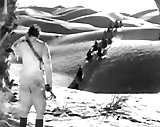 Appearance of Rescue Column On Sand Dunes