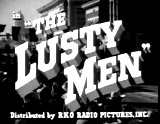 The Lusty Men (1952)
In Nicholas Ray's and RKO's quintessential rodeo film - a melancholy modern-day western drama:
the opening sequence - the introduction of retired, broken, shiftless, disaffected and aimless, almost 62 year-old saddle-bronc rodeo champion Jeff McCloud (Robert Mitchum), who suffered a goring leg injury from a lumbering and mean brahma bull (seen in closeup) during an 8-second ride when he was trampled: (Announcer: "He may be shaken up a bit, but he's walked away from tougher spills than this"); after the crowds had departed, there was the image at dusk of Jeff's wistful limping walk across the dusty rodeo arena (as sheets of paper swirled around him)
after hitchhiking, washed-up cowboy Jeff returned to his San Angelo, Texas childhood ranch home (now owned by elderly 61 year-old bachelor Jeremiah Watrus (Burt Mustin)) where he walked toward the ranch from the gate, found the front door locked, and strolled around to the side where he knelt down and entered the crawlspace under the dilapidated ranch house to find childhood treasures left there about 20 years earlier (including a broken six-shooter gun) - he explained what he was searching for to Jeremiah: "Lookin' for something I thought I'd lost. I used to save my money in this old tobacco can when I was a kid and my folks lived here. With my two nickels in it after 20 years. Two nickels was a load of money to me then"
during conversation about marriage with Jeremiah, the elderly man advised Jeff: "Marriage - it's lonely, but it ain't private" - Jeff mentioned that he wasn't married, but he still retained a few things in his life: "What I started out with, a strong back and a weak mind"
the decision of veteran greenhorn cowboy Jeff McCloud to mentor Jackhammer Ranch-hand Wes Merritt (Arthur Kennedy), a novice and penniless greenhorn, and prospective rodeo contestant eager for fame and riches (who wanted to purchase Jeff's previous home from Jeremiah for $5,000, later reduced to $4,100), against the conflicting wishes of Merritt's earthy, reluctant and grounded wife Louise Merritt (Susan Hayward), an ex-waitress; Jeff urged Wes on to make money- to Louise's dismay: "How else is a cowhand gonna get it? The only way a cowhand can make any real dough is rodeoin'. Wes is good. He'll make a potful of money" - Louise feared that Wes would become what she called Jeff - a "saddle-tramp"
Louise's only wish was for "a decent, steady life" and stable domesticity; she was disenchanted by the rodeo-riding sport, considered it too dangerous ("What good's the ranch gonna be if you're crippled?"), and was wary of the tempting womanizing, gambling, and drinking inherent in the rodeo lifestyle
the increasing friction between the threesome (a love triangle of sorts) on the open road to various rodeos, rowdy bars and dance halls, and their stays in rodeo trailer camps - Jeff's growing love for Louise ("the thing that kept me stringin' along was you"), Louise's disconsolation for being ignored by Wes, and ambitious Wes' resentfulness of Jeff taking half of his winnings ($439.57 out of $879.14), etc; Wes was angered by Jeff: "All you've been doin' is draggin' your foot in my stirrup... Playing me for a sucker. Takin' half my dough. Why? Because you ain't got guts to ride yourself....You're yella!" and they got into a fistfight
the self-destructive decision of McCloud to compete in a rodeo one more time, in four events - without taking into account that he was "out of shape" - and his fatal injury from a punctured lung during a saddle bucking bronc riding event, when after his successful ride, his foot became caught in the stirrup and he was dragged
the tack room sequence of Jeff's death when Louise asked: "What were you trying to prove?"; he answered: "I used to make my own money, I used to buy my own whiskey, take my own falls. A fella just likes to know if he can still do it. Isn't one man enough for you to worry about?"; Louise tearfully responded: "You're nothin' but a no-good, washed-out, beat-up bronc rider. All you know is how to bust a gut, and that's all you'll ever know. The more bones you break, the bigger man you think you are"; Jeff answered: "That's right. Broken bones, broken bottles, broken everything. There never was a bronc that couldn't be rode. There never was a cowboy that couldn't be throwed. Guys like me last forever" - these were his final words in Louise's arms
Jeff's Death As a Result of His Last Rodeo Event
the concluding sequence of Merritt's reaction to Jeff's death, when he realized the fate of his own future (an earlier quote: "A bunch of crazy men paying for the privilege of getting yourselves killed"); Merritt came to his senses and decided to turn away from a rodeo career when he shouted out to the rodeo grounds announcer who was describing the next event: "Pass, Wes Merritt!"; as he and Louise walked toward the EXIT, she removed his competition number from his back, and the two continued arm in arm out of the grounds - to quit and return to the Texas lifestyle they had left behind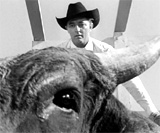 Jeff's Brahma Bull Riding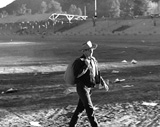 Jeff's Limp Across the Rodeo Arena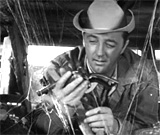 Jeff Finding Treasures Under His Childhood Texas Ranch House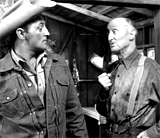 Jeff With Jeremiah


(l to r): Jeff, Louise and Wes Merritt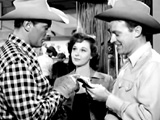 McCloud Demanding Half of Wes' Winnings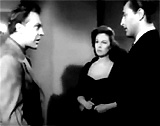 Wes to Jeff: "You're yella!"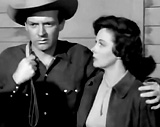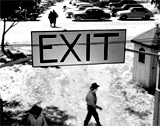 Wes' Decision with Louise to Leave Rodeo Competition