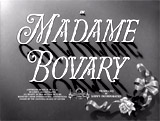 Madame Bovary (1949)
In director Vincente Minnelli's version of the classic Gustave Flaubert novel, a tragic melodrama with a musical score by Miklós Rózsa - it was a controversial film for its portrayal of an adulterous wife involved in self-destructive romances in 19th century France:
to appease censors, the film was structured as a framing story with a prologue and epilogue - of author Gustave Flaubert's (James Mason) 1857 courtroom trial (his novel was charged with obscenity as "an outrage against public morals and established custom"); he defended his scandalous novel before a French jury by describing the story of his banned inflammatory and fictional book about a character who was considered "a disgrace to France and an insult to womanhood"; in the epilogue, Flaubert was eventually acquitted of all charges (described in scrolling text at the film's end)
the scene of Flaubert's defense of his fictional creation: "Gentlemen, I do deny that I have made any attack upon public morality. I have shown you the vicious, yes, for the sake of understanding it, so that we may preserve the virtuous. Furthermore, I deny that Emma Bovary is a monstrous creation of my degenerate imagination. Monstrous she may be, but it was not I who created her. Our world, your world and mine, created her, as I shall attempt to demonstrate. There are thousands of Emma Bovarys. I only had to draw from life. And there are hundreds and thousands of women who wish they were Emma Bovary, and who have been saved from her fate, not by virtue, but simply by lack of determination"
the early flashback - Flaubert's (voice-over) narrated description of Emma's (Jennifer Jones) convent youth, when the motherless girl attended a convent: "Emma Roualt, motherless, had attended a convent in the provincial city of Rouen. Emma at first detested the convent. The scales, the eternal scales, when she might have been learning love songs. The discipline, the dreadful conformity. The eternal uniform, when a girl's young body is budding. Perhaps it was the discipline itself and Emma's discontent that drove her to dreams, and taught a lonely girl to live within herself. For these became the happy years, these convent years, when a young girl's mind could wander"
as the narration proceeded, it described how Emma lived in a fabricated fantasy world of romantic love novels (illegally slipped into the convent for her to read): "She lived in a world of love, lovers, sweethearts, persecuted ladies fainting in lonely pavilions, horses ridden to death on every page, gentlemen, brave as lions, gentle as lambs, always well-dressed and weeping like fountains. Oh, love in Italy! Oh, love in Spain!" - her dreamy obsessions about another "faraway" life became: "Happiness. Fashion. High Romance...To believe in Cinderella"
the film's most celebrated, beautifully-choreographed sequence was a high-society ball held by wealthy, aristocratic nobleman Marquis D'Andervilliers (Paul Cavanagh), attended by naive, kind, provincial doctor Charles Bovary (Van Heflin) and his wife Emma Bovary (Jennifer Jones) wearing an exquisite white linen gown; while her husband was in the billiards room and heavily drinking champagne, Emma was courted by a number of admirers for dances
one of Emma's partners was handsome, suave aristocratic landowner Rodolphe Boulanger (Louis Jourdan) - tracked with a kinetic, dizziness-inducing camera as they beautifully twirled around the ballroom; when she complained that she was exhausted, hot, and couldn't breathe ("I would like to stop, please. I can't breathe. I'm going to faint"), Rodolphe ordered the windows to be broken, as the soused Charles stumbled onto the dance floor repeatedly calling out Emma's name; he became lost in the twirling partners, but was finally able to barge in to ask his embarrassed wife to dance ("Hey, I want to dance with my wife") - it caused her extreme humiliation and she ran out of the ball-room
much later, the scene of Emma's sweaty and painful death after suicidally swallowing arsenic (she had stolen from an apothecary) - she was devastated after the stresses of further affairs and rejections, the complete deterioration of her marriage with her husband, and indebtedness had all taken their toll; she died in her husband's arms: ("I hurt Charles, I hurt inside...Always trying to save me. Why are you always trying to save me?...Where are we, Charles? Is this our house?...I'm going to make you the most beautiful home, like, like pictures in magazines when I was a child. There's not something wrong with things being beautiful, is there?...What did I do? Hold me, Charles. Hold me")
Emma's Painful Suicidal Death Scene
after Emma's demise and the administration of last rites by a priest (and a pardon for the suicide), Flaubert continued his voice-over narration: "And so it was. A woman had been born into this world and had died young. She had touched on numerous lives - some lightly, some not so lightly. Some despised her. Some mourned her a little. Some profited by her. And then, of course, there were those she had ruined, who would never cease to love her"
the final scene returned to the courtroom trial, where Flaubert successfully defended the right to publish his work to the presiding judge and court; his final lines of dialogue summarized his defense: "Now there are those who are offended by her, and who see in Emma Bovary's life an attack upon public morality. Gentlemen of the court, I maintain that there is truth in her story, and that a morality which has within it no room for truth is no morality at all. Men may dislike truth. Men may find truth offensive and inconvenient. Men may persecute the truth, subvert it, try by law to suppress it. But to maintain that men have the final power over truth is blasphemy and the last illusion. Truth lives forever. Men do not"
a scrolling epilogue described the outcome: "Gustave Flaubert's acquittal, almost a century ago, was a triumphant moment in the history of the free mind. His masterpiece, 'Madame Bovary,' became a part of our heritage, to live - - - like truth itself - - - forever."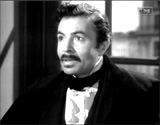 Gustave Flaubert (James Mason): "I deny that Emma Bovary is a monstrous creation"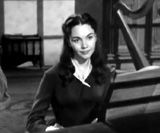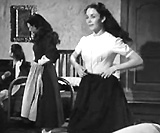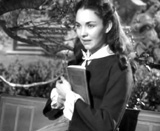 Young Emma (Roualt) in Convent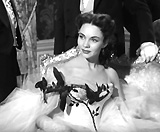 Emma Bovary
(Jennifer Jones)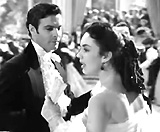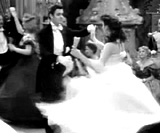 At The High-Society Ball, Waltzing with Rodolphe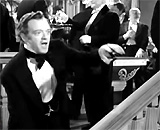 Emma's Soused Husband Charles at Ball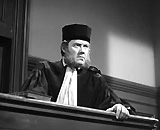 The Trial's Presiding Judge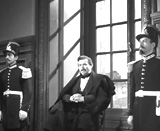 Flaubert's Ending Summary