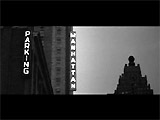 In co-writer/director Woody Allen's classic comedy, accentuated by Gordon Willis' exquisite soft-focus B/W cinematography, shot in 35 mm Panavision:
one of the greatest cinematic opening montages ever with George Gershwin's music ("Rhapsody in Blue") accompanying the beautiful black-and-white photography of New York City by day and then night (including fireworks) starting with the skyline, then buildings and streets
the character of television author/joke writer Isaac ("Ike") Davis (Woody Allen) who delivered a voice-over monologue/narration of his various failed attempts and five versions of "Chapter One" of his planned novel he aspired to write, ending with: ("'Chapter One. He was as tough and romantic as the city he loved. Behind his black-rimmed glasses was the coiled sexual power of a jungle cat.' Oh, I love this! 'New York was his town, and it always would be'")
Isaac's meeting with neurotic Mary Wilke (Diane Keaton) at an Equal Rights Amendment fund-raising event at the Museum of Modern Art (MOMA), and later after a date, taking an after-hours cab ride home, stroll, and conversation on a park bench (silhouetted) against the sight of the 59th Street Queensboro Bridge - to the sounds of the Gershwin tune: "Someone to Watch Over Me"
the famous one-liners: Mary: "I'm beautiful, I'm bright and I deserve better!"; and Isaac: "I think there's something wrong with me because I've never had a relationship with a woman that's lasted longer than the one Hitler had with Eva Braun"
the opening Elaine's restaurant scene, when Isaac bragged about his handsome, more provocative appearance with a cigarette to his date - 17 year-old high-school student Tracy (Oscar-nominated Mariel Hemingway): ("I know I don't smoke. I don't inhale because it gives you cancer, but I look so incredibly handsome with a cigarette, that I can't not hold one. You like the way I look?...Gettin' through to ya, right?"); when Tracy left for a few moments, Isaac continued: ("I'm older than her father. Can you believe that? I'm dating a girl wherein I can beat up her father. That's the first time that phenomenon ever occurred in my life")
the carriage ride scene with Tracy through Central Park, when Isaac told her - after kissing her: ("You're...you're God's answer to Job. You know, you would have ended all, all argument between them. I mean, he would've pointed at you and said, you know: 'I do a lot of terrible things but I can also make one of these.' You know? And then Job would've said: 'OK, well, you win.'")
the heartbreaking malt-soda shop scene when Isaac suggested breaking up with his radiant girlfriend Tracy: ("Listen, I don't, I-I don't think we should keep seeing each other...Because I think you're getting too hung up on me, you know? 'Hung up on me.' I'm starting to sound like you when I talk.... You can't be in love with me. We've been over this. You're a kid. You don't know what love means. I don't know what it means. Nobody out there knows what the hell's going on.... but you're 17 years old. By the time you're 21, you're gonna have, you'll have a dozen relationships, believe me, far more passionate than this one")
Isaac's film-ending "why is life worth living" dictation into his tape recorder (he mentioned jazz, sports, and entertainment heroes such as Groucho Marx, Willie Mays, Louis Armstrong, and concluded with the smile on Tracy's face): ("My idea for a short story about, uhm, people in Manhattan, who, uh, are constantly creating these real, unnecessary neurotic problems for themselves, 'cause it keeps them from dealing with more unsolvable, terrifying problems about the universe. Uhm, let's, uh, well, it has to be optimistic. All right, why is life worth living? That's a very good question. Uhm, well, there are certain things I-I guess that make it worthwhile. Uh, like what? Okay. Uhm, for me, ah, ooh, I would say - what, Groucho Marx, to name one thing. Uh, uhmm, and Willie Mays, and uhm, uh, the Second Movement of the Jupiter Symphony. And uhm, Louis Armstrong recording Potatohead Blues. Uhm, Swedish movies, naturally, Sentimental Education by Flaubert, uh, Marlon Brando, Frank Sinatra. Uhm, those incredible apples and pears by Cézanne. Uh, the crabs at Sam Wo's. Uhm, Tracy's face...")
his breathless run through NY streets to stop his (now) eighteen year-old drama student/girlfriend Tracy's departure by plane for London to study at the Academy and their romantically poignant and touching final scene when the young lover consoled Isaac with the bittersweet line that ended the film: ("Six months isn't so long. Everybody gets corrupted. You have to have a little faith in people")
the concluding shot of Isaac's face with a wry, resigned smiling expression (a farewell version of The Tramp's (Charlie Chaplin) expression in City Lights (1931)), followed by a reprise of the opening montage featuring the skyline from dawn to dusk to Gershwin's "Rhapsody in Blue"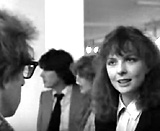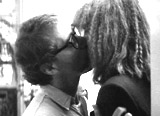 Isaac's Acquaintance with Mary Wilke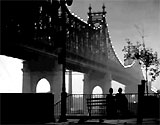 Park Bench Scene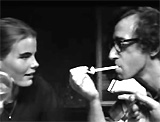 Isaac with 17 Year-Old Tracy in Restaurant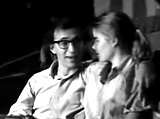 Central Park Carriage Ride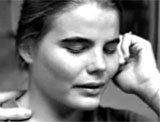 Soda-Shop Break-Up Sequence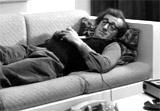 "Why is Life Worth Living"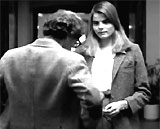 Tracy's Departure: "You have to have a little faith in people"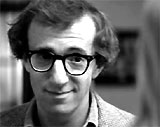 Isaac's Concluding Smile