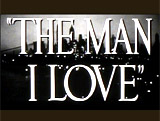 The Man I Love (1947)
In Raoul Walsh's forgotten, noirish melodramatic soap opera (a classic 'women's picture'), and dramatic character study - a tale of regret, damaged romance and unhappiness:
the opening late-night jam session sequence set in a NY (Manhattan) night club, to introduce hardbitten, tortured, jazzy torch singer Petey Brown (Ida Lupino) who was singing - with a smoky voice - the sad Gershwin title tune (dubbed by Peg La Centra) while sharing her cigarette with the piano player
the sequences involving Petey's temporary refuge from NYC at Christmas-time, traveling to visit her three siblings in their Long Beach, CA apartment: her two sisters - 18 year-old Virginia 'Ginny' Brown (Martha Vickers), and hard-working, downtrodden married waitress Sally (Brown) Otis (Andrea King) (her unbalanced husband, ex-Army Sgt. Roy Otis (John Ridgely), was recuperating in a military hospital from shell-shock), Sally and Roy's young son was Buddy Otis (Patrick Griffin); also living there was Petey's corrupted and cocky younger brother Joey Brown (Warren Douglas) (a hired wannabe 'tough guy' thug)
Petey's Siblings: Brother and Two Sisters

Tough-Guy Joey Brown (Warren Douglas)

Sally
(Andrea King)

Petey's 18 Year-Old "Kid Sister" 'Ginny' Brown
(Martha Vickers)
Joey and Sally were both under the employ of shady, playboyish, small-time gangster/racketeer and Bamboo Club club owner Nicky Toresca (Robert Alda) (Sally actually worked in Uncle Tony Toresca's (William Edmunds) diner-spaghetti-restaurant) - Toresca was making unwanted, lecherous and predatory advances toward Sally, even though she rejected him ("I don't have boyfriends"); the feisty Petey took a job as a singer in Toresca's nightclub to distract and divert the detestable Nicky to herself
the problems that resulted from Ginny's secret crush on the across-the-hall neighbor - Johnny O'Connor (Don McGuire) who was married to neglectful, trampy, irresponsible and flirtatious Gloria O'Connor (Dolores Moran) - they had baby twin boys that Ginny and Sally often cared for; party-girl Gloria - who hated being a mother and housewife ("I'm tired of cooking and taking care of babies") also became involved in an affair with Toresca; Petey had a negative opinion about Gloria that she expressed to Sally: ("She wouldn't give you the time of day if she had two watches")
at the club, Petey's continuing and difficult relationship with down-and-out, brooding and haunted alcoholic, divorced, and legendary ex-jazz pianist San Thomas (Bruce Bennett), a Merchant Marine who still hadn't recovered from the breakup with his ex-wife ("Isn't life difficult enough without mixing it up with memories?"); Petey's relationship with him temporarily ended and she turned spiteful when his ex-wife Amanda Chandler returned home to the LA area and his interest waned in her (Petey told him: "I don't feel like sharing you with her...I'm not sharing you at all, San, and that's final!"); however, they still saw each other
a major tragedy occurred one evening, when Toresca ordered the neighbor's sloppy-drunk party-girl cheating wife Gloria O'Connor to leave his place after she tried to force herself on him; Toresca strong-armed Joey to drive her home: "Get her outta here!"; during the drive, Gloria foolishly jumped out of the car on the busy highway, and as Joey watched in his rear-view mirror, she was run over by an oncoming vehicle - she was instantly killed; afterwards, Toresca refused to take any responsibility for the death, and compelled the bungling Joey to take the blame: ("This is your rap!...You're the one that got me into this mess, and you're the one that's gonna get me out"); Petey intervened and confronted Toresca in his office about what had just happened; she tried to bribe him to keep quiet about the circumstances of Gloria's death (and her brother Joey's involvement and responsibility); he agreed only if she would return to him: ("Grow up, baby. Stick with me in my gutter. We both talk the same language...You're what I want")
Gloria's Tragic Death

Toresca To Joey
("This is your rap!")

Petey's Intervention with Toresca
after discussing what to do, Toresca invited Petey to join him for a nighttime drive ("It'll cool us both off"); as they descended stairs to the garage, they were confronted by widower-husband Johnny O'Connor seeking revenge against Toresca for Gloria's death; he wielded a gun and was ready to murder Toresca; after talking sense to him failed: ("Johnny, don't be a fool...Now listen, Johnny. I wouldn't care if you got the whole load pumped into him, but you're too nice a guy. You've got kids to think of. This'd be murder"), Petey authoritatively delivered a karate chop to Johnny's wrist to disarm the gun, repeatedly slapped him across the face, and convinced him to leave without violence: ("Please go home, will you, please?"); she then turned and threatened Toresca - challenging him to reveal the truth of Gloria's death to authorities: "If you don't call the police and tell them the truth, Nicky, I will!"
Toresca and Petey Confronted by Johnny O'Connor With Gun
in the gripping, bittersweet final scene, after most of her family's problems were resolved through her interventions, and a restored Roy had returned home to Sally, Petey decided to leave town - (she assured Sally: "Don't you worry about me, kid. I'll land on my feet, I always do")
she also said her goodbyes to San who was about to ship out with the Merchant Marines; she confessed her love to him during final embraces: ("Oh, San, I do love you. I know you don't feel the same way. Don't say you do, darling, because nobody could love two people the way you did her. I'm gonna miss you so"); he couldn't promise her anything, but said he would return: "And I'll be back...Remember what you once told me when I was low. All of us are standing in the mud" - she responded: "Some of us are looking at the stars"; as he touched her chin for a last kiss, he delivered the film's final line of dialogue: "Here's lookin' at ya, baby!"; she watched as he boarded the ship and waved one last time at her, as the gangplank was pulled away; a slight smile developed on her tearful face while she strode away in the open-ended conclusion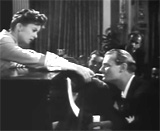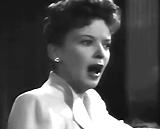 Torch Singer Petey Brown (Ida Lupino) in NYC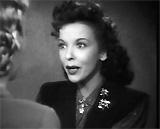 Petey's Arrival at Brown Household in California on Christmas Eve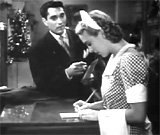 Nicky Toresca's Interest in Waitress Sally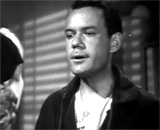 Sally's Angry, Hospitalized Shell-Shocked Husband, Ex-Army Sgt. Roy Otis (John Ridgely)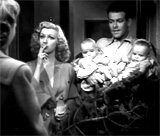 Across-the-Hall Neighbors Gloria and Johnny O'Connor with Twin Baby Boys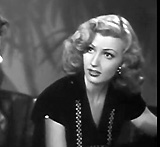 Party-Girl Gloria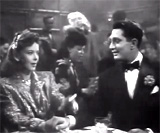 Petey with Nicky Toresca (Robert Alda)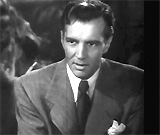 Petey with San Thomas
(Bruce Bennett)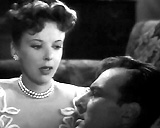 Petey's Break Up with San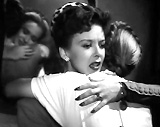 Ending: Petey's Goodbye to Sally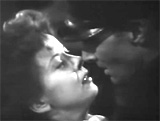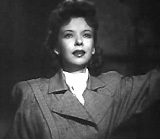 Ending: Petey's Goodbye to San Who Was Leaving for Merchant Marines