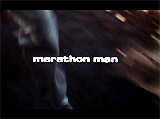 In John Schlesinger's paranoid suspense thriller:
the early scene of the Parisian hotel room attack on Henry "Doc" Levy (Roy Scheider), a globe-trotting, covert American government agent (in a group known as "the Division") working to foil aging, fugitive, ex-Nazi war criminals; while standing on his balcony with a view of the Eiffel Tower, Doc was garrotted from behind by an assailant, but was able to fight off his brutal attacker and break his neck
the character of Dr. Christian Szell (Laurence Olivier), who was known for selling stolen contraband diamonds for his own profit (derived from gold taken from Jews' teeth during WWII when he was at Auschwitz, known as "The White Angel, Der Weie Engel, due to his white hair")
the break-in scene, when doctoral student Thomas "Babe" Levy (Dustin Hoffman), "Doc's" brother, was taking a bath in his tub in his NYC apartment, when two mysterious intruders entered - he screamed for help, but was seized, dunked head-first into his bathtub, and abducted
the first session of death camp dentist Szell's sadistic, grim torture of "Babe", in a window-less room, when he calmly asked the baffling question: "Is it safe?", unrolled a collection of probing, ominous-looking dental instruments, and began to torture him; "Babe" stubbornly refused to divulge any information; after causing intense pain, Szell applied a dab of a medicinal liquid on his little finger to the affected tooth: ("Is it not remarkable? Simple oil of cloves and how amazing the results. Life can be that simple; relief - discomfort. Now, which of these I next apply, that decision is in your hands, so, take your time and tell me. Is it safe?")
Dr. Christian Szell: "Is it safe?"
the second session of interrogation, when Szell spoke about how "Doc" had possibly relayed information to "Babe" before his death, and he would now use further torture to extract assurances of safety: ("Your brother was incredibly strong. Strength is often inherited. He died in your arms. He travelled far and in great pain to do that. There has to be a reason....Please don't worry. I'm not going into that cavity. That nerve's already dying. A live, freshly-cut nerve is infinitely more sensitive, so I'll just drill into a healthy tooth until I reach the pulp. Unless, of course, you can tell me that it's safe"); "Babe" screamed as the pain increased and then passed out; Szell spoke to his thugs: "He knew nothing. If he'd known, he would have told. Get rid of him"
the scene of Babe's marathon run-escape across town to get back to his Manhattan apartment
the confrontation scene in a country house between "Doc's" double-agent boss Peter Janeway (William Devane), "Babe's" duplicitous girlfriend Elsa Opel (Marthe Keller), and Janeway's agents, ending with everyone shot and dead except for "Babe"
the scene of Szell's return to NYC from his hideout in Uruguay, South America, in order to retrieve a valuable cache of diamonds in a NYC bank safe deposit box, when he was recognized by a jewelry shop assistant clerk (an Auschwitz survivor and former victim) in a Jewish section of town, although Szell claimed his name was "Christopher Hess"; as he calmly but quickly left the shop and walked down a Manhattan street, he was also identified by a Jewish woman, who spoke out and cried after him: ("I know that man. It can't be Szell? Szell. Szell! Szell! Szell! My God! Stop him! Szell! Stop Szell! It's Szell. Der Weie Engel! Der Weie Engel is here. Oh, my God. Stop him. Stop him! Der Weie Engel! Der Weie Engel. He has to be stopped. My God! He gets away. Der Weie Engel is here! Szell. Stop him! Oh, please help me. He's a beast. He's a murderer. You must stop him. Oh, my God, there he goes! He's getting away!...Der Weie Engel is here! Stop him! Stop him! I will stop him! I will stop him! The beast! The beast!") - as she ran after him into the street, she was struck by a taxi, but continued to cry out, as he ducked away in the crowd
however, the shop-owner had been following and tapped Szell on his shoulder: ("I know who you are, you murderer. I know who you are!"); he was swiftly slashed across the throat by Szell, who then fled in a taxi from the scene
the final scene - Babe's confrontation with Szell in NYC's Central Park, when he told the ex-Nazi diamond hunter that he could keep whatever diamonds he could swallow from his briefcase: ("You can keep as many as you can swallow...Yeah, swallow, eat. Essen...I'm not joking. Essen!"); when Szell taunted and accused Babe of being weak: ("You'll have to shoot me. Come on. Shoot. You won't. You can't. You're too weak. Your father was weak in his way, your brother in his, now you in yours. You are all so predictable"), they fought and Szell fatally fell down a circular metal staircase onto his own knife blade as he went to retrieve the diamonds, and then tumbled into the water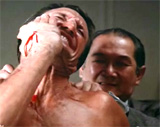 Garrotting of "Doc" Levy in Paris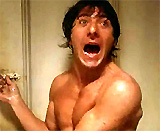 Abduction of "Doc's" Brother "Babe" in NYC



Death of "Doc's" Double-Agent Boss Peter Janeway
(William Devane)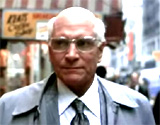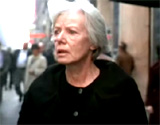 Dr. Szell Recognized on NY Street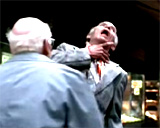 Szell's Slashing of Shop-Owner's Throat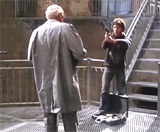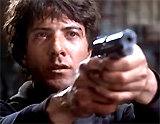 Final Scene: "Babe" vs. Dr. Szell in Central Park