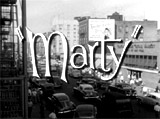 In director Delbert Mann's Best Picture-winning heartwarming romance drama:
the scenes of overweight butcher Marty's (Ernest Borgnine) recurring conversations with friend Angie (Joe Mantell): Angie: "What do you feel like doing tonight?" Marty: "I don't know, Ange. What do you feel like doing?"
the scene of Marty's classic phone conversation with a potential date: ("Oh, hello there. Is this Mary Feeney? Hello, there. This is Marty Pilletti. I-I wonder if you recall me. Well, I'm kind of a stocky guy. The last time we met was in the RKO Chester. You was with a friend of yours, and I-I was with a friend of mine, name of Angie. This was about a month ago") - but then realizing that he was receiving the typical brush-off, he gave up: ("Why, I know it's a little late to call for a date, but I didn't know myself till - yeah, I know. Yeah, well, what about - well, how about next Saturday night? Are - are you free next Saturday night? Well, what about the Saturday after that? Yeah. Yeah, I know. Well, I mean, I understand that. Yeah. Yeah")
Marty's frustrating confession to his widowed Italian Catholic mother, Mrs. Theresa Piletti (Esther Minciotti), who kept pressuring him to get married: ("Ma, sooner or later, there comes a point in a man's life when he's gotta face some facts. And one fact I gotta face is that, whatever it is that women like, I ain't got it. I chased after enough girls in my life. I-I went to enough dances. I got hurt enough. I don't wanna get hurt no more. I just called up a girl this afternoon, and I got a real brush-off, boy! I figured I was past the point of being hurt, but that hurt. Some stupid woman who I didn't even want to call up. She gave me the brush. No, Ma, I don't wanna go to Stardust Ballroom because all that ever happened to me there was girls made me feel like I was a-a-a bug. I got feelings, you know. I-I had enough pain. No thanks, Ma!...Blue suit, gray suit, I'm just a fat, little man. A fat ugly man...Ma, leave me alone. Ma, whaddaya want from me? Whaddaya want from me? I'm miserable enough as it is"), but then he relented: ("All right, so I'll go to the Stardust Ballroom. I'll put on a blue suit, and I'll go. And you know what I'm gonna get for my trouble? Heartache. A big night of heartache")
the realistic depiction of the developing relationship between Marty and wallflower Clara (Betsy Blair) at the Stardust Ballroom, where she had been abandoned by her own date
Marty's empathic reactions to like-minded Clara, including admitting that he cried all the time: ("I cry a lot too. I'm a big crier...I cry all the time. Any little thing. All my brothers, my brothers-in-law - they're - they're always telling me what a good-hearted guy I am. You don't get to be good-hearted by accident. You get kicked around long enough, you get to be a - a real professor of pain. I know exactly how you feel. And I also want you to know that I'm having a very good time with you right now and really enjoyin' myself. You see, you're not such a dog as you think you are"), and then he repeated his assertion about her, and referred to his own rejections and ugliness: ("Dogs like us, we ain't such dogs as we think we are")
| | | |
| --- | --- | --- |
| | | |
| With Clara at Stardust Ballroom: "Dogs like us, we ain't such dogs as we think we are" | Late Night Conversation About Marty's Butchering Profession | Clara's Rejection of Marty's Good-night Kiss |
the painful sequence of Clara's rejection of Marty's good-night kiss after their evening together, and his response to her: ("All right, all right, I'll take ya home. All I wanted was a lousy kiss"), but then she smoothed his feelings by admitting that she liked him: ("I'd like to see you again - very much. The reason I didn't let you kiss me was because I just didn't know how to handle the situation. You're the kindest man I ever met. The reason I tell you this is because I want to see you again - very much. I know that when you take me home I'm just going to lie on my bed and think about you. I want very much to see you again")
the concluding sequence of Marty's courageous and defiant defense of his love for Clara to his friends: ("You don't like her. My mother don't like her. She's a dog. And I'm a fat, ugly man. Well, all I know is I had a good time last night. I'm gonna have a good time tonight. If we have enough good times together, I'm gonna get down on my knees. I'm gonna beg that girl to marry me. If we make a party on New Year's, I got a date for that party. You don't like her? That's too bad")
and his promised phone call to Clara for another date, in a phone booth, as he shut the door on his friend Angie as the film ended: ("Hello...Hello, Clara?")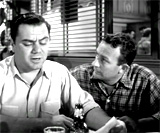 Marty With Angie: "What do you feel like doing tonight?"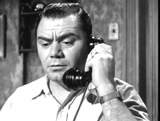 Marty Phoning Mary Feeney For a Date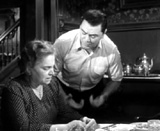 Marty's Mother Mrs. Piletti - "A big night of heartache"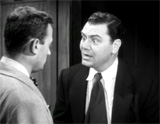 Marty's Defense of Clara to Angie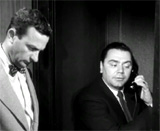 Ending Sequence: Marty: "Hello...Hello Clara?"