Mary Poppins (1964)
In Disney's fantasy adaptation of the beloved P. L. Travers children's books with an Oscar for Best Original Score, with an amazing blending of live action with animated cartoon characters - and audio animatronics (the robin) - winning a Special Effects Academy Award:
the title sequence in which Mary Poppins (Oscar-winner Julie Andrews in her film debut) sat on a cloud over London with her talking parrot-headed umbrella while applying makeup, and then was summoned to the Banks household after the children wrote their own advertisement for a kind and sweet nanny: ("Wanted, a nanny for two adorable children...(sung) If you want this choice position, have a cheery disposition...Rosy cheeks, no warts, play games, all sort. You must be kind, you must be witty, very sweet and fairly pretty, take us on outings, give us treats, sing songs, bring sweets...")
Poppins dropped down to 17 Cherry Tree Lane to be the new Banks family nanny, by entering in at the window (the children exclaimed: "It's her. It's the person. She's answered our advertisement. Rosy cheeks and everything") - about 20 minutes into the film
the character of Mary's love interest - the carefree Cockney sidewalk street artist (screever) Bert (Dick Van Dyke)
the jump into a chalk sketch on the pavement that took Mary, Bert and the Banks children into a cartoon world, where they sang the catchy classic tune about a nonsense word: "Super-califragilistic-expialidocious"
the poignant singing of "Feed the Birds" (pigeons) by Mary - with Jane Darwell (in her final screen appearance) as the old bird woman at St. Paul's Cathedral
the manic, fireworks-filled rooftops dance "Step In Time" by Bert and his fellow chimney-sweeps - a huge Irish jig dance number on rooftops while dodging fireworks and cannon-blasts
the scene in which stodgy father Mr. George W. Banks (David Tomlinson) told off his bank founder boss, the ancient Mr. Dawes, Sr. (also Van Dyke): "Go fly a kite!"
the other memorable songs including "Chim-Chim-Cher-ee" (which won the Best Song Oscar), "A Spoonful of Sugar" and the triumphant finale: "Let's Go Fly a Kite"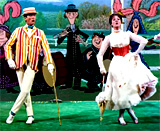 "Super-califragilistic-expialidocious"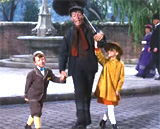 "Chim Chim Cheree"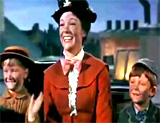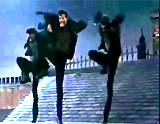 "Step in Time"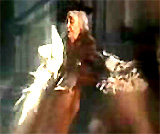 "Feed the Birds"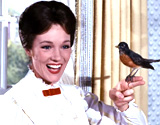 "A Spoonful of Sugar" (With Anamatronic Robin)