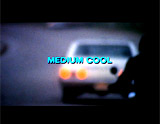 Medium Cool (1969)
In Haskell Wexler's debut film (controversially rated X), an independently-made documentary about the 1968 Chicago Democratic convention and its major police riots:
the early foreshadowing scene of a group of journalists and cameramen discussing their dangerous profession and various ethical issues: ("I've made films on all kinds of social problems, and the big bombs were the ones where we went into detail and showed why something happened. Nobody wants to take the time. They'd rather see 30 seconds of somebody getting his skull cracked. Turn off the TV set, and say, 'Wasn't that bad?'"), ("Our position is one to, to, uh, to record"), ("... the dynamics that are happening in society. We don't, we don't deal with the static things. We deal with the things that are happening. We deal with the violence. We deal with the - who wants to see somebody sitting? Who wants to see somebody lying down? Who wants to see somebody talking peace, unless they're talking loud"), ("I think the cameraman makes the choice himself and he's out there to get the blood and guts. Oh yes, I believe that"), and ("I've got a job to do and I'm interested in it, and if this is it, but the point that I resent very much is the fact that wherever I go, I'm beat up")
the experiences of jaded, Chicago-TV freelance cameraman John Cassellis (Robert Forster) with his sound man Gus (Peter Bonerz), who worked against the backdrop of the actual 1968 Democratic Convention in Chicago
the realistic, documentary footage of the convention's protests and riots (demonstrators battling police) blended together with a fictional story - signaled by a crew member's shout: "This is real, Haskell"
in a frequently-noted frenzied scene with very brief full-frontal nudity, John romped and ran nude (as sexual foreplay) around an apartment with sultry nurse and girlfriend Ruth (Marianna Hill) - it marked the first mainstream American feature film to show full male and female nudity
Controversial Sequence
the last scene, in the middle of a real riot and protest (heard on the soundtrack), (mirroring the car crash at the start of the film), of John Cassellis accidentally crashing his car into a tree, killing widowed mother Eileen (Verna Bloom) from Appalachia (who lost her husband in the Vietnam War, and had a runaway son named Harold (Harold Blankenship)), his love-interest, and severely injuring himself; witnesses in a passing car snapped shots of the gruesome crash
the closing view of an ubiquitous camera recording events as the camera zoomed into the blackness of its lens, while protestors chanted: "The Whole World is Watching!"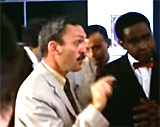 Journalists in Discussion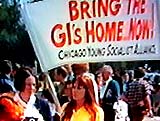 Chicago Democratic Convention Protestors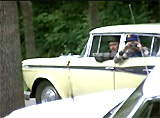 Cameraman John's Car Crash - Witnessed by Passers-By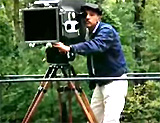 "The Whole World is Watching"