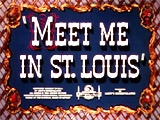 In Vincente Minnelli's gorgeous musical, his third feature film and his first in Technicolor, about the romantic yearnings and tribulations within a single family, the Smiths, who lived in 1903 St. Louis:
the structure of the film: four seasonal vignettes, beginning with the summer of 1903, in turn of the century St. Louis
the character of the second eldest Smith family daughter, 17 year-old Esther Smith (Judy Garland), and her rendition of the romantically expressive falling-in-love song "The Boy Next Door" as she fell for the literal shy neighbor boy John Truett (Tom Drake)
the dinner scene of the Smith family awkwardly having to eavesdrop on a phone call between eldest Smith family sister Rose (Lucille Bremer) from her beau Warren Sheffield (Robert Sully), when she was expecting him to propose
the sequence of Esther with her precocious younger sister - a night-gowned 'Tootie' Smith (Margaret O'Brien) performing a spontaneous, delightful little song "Under the Bamboo Tree" and cakewalk complete with straw hats and canes in a home-style minstrel shuffle
the scene, after a going-away party at her house, when Esther asked the last-leaving guest, John, to accompany her throughout the house to turn off the gas lights - a beautifully-executed scene in which the camera moved non-stop from light to light; as the lights were extinguished in the parlor, the dining room and the landing, she shyly courted the boy next door in the darkness - hoping (in vain) to be offered a goodnight kiss; as she gazed at him with undisguised love, he complimented her: "You don't need any beauty sleep"; she rendered a sweet old song to him: "Over the Bannister"; at its conclusion, he shook her hand goodbye one more time, awkwardly complimenting her a second time: "You've got a mighty strong grip for a girl"
the scene of Esther's singing of the joyful "The Trolley Song" ("Ding, ding, ding went the trolley!") as she rode to the fairgrounds
Tootie's Halloween adventure, dressed up as a ghost with an oversized coat, bowler hat, and long rat's nose; she bravely volunteered to execute a trick-or-treat prank (the 'killing' of hated neighbor Mr. Braukoff by throwing flour into his face at his front door); her stealthy walk to the victim's house was filmed in one long traveling shot in front of her; with the camera at a slightly-upward angle to approximate her own view, she flung flour into his glowering face, shouted "I hate you, Mr. Braukoff," shrieked, and then scampered off; accepted and lauded as brave by other older children ("she's the bravest of them all"), she congratulated herself: "I'm the most horrible. I'm the most horrible"; but then, she returned home cut and bruised, frightened and injured
because Tootie falsely blamed her injury on Esther's boyfriend John Truett, Esther marched over to John's house and punched him ("What do you mean hitting a five-year-old child?") - the real truth - Tootie had stuffed an old dress to look like a body, and laid it on the trolley tracks to sabotage the trolley car; John had fought with her only to hide her from police - that was the reason for her injury; Esther was enraged at 'Tootie' for fooling her, and not confessing to her own prank gone wrong; during an apology speech given to John, Esther received her first kiss from him - and she retorted to him: "You've got a mighty strong grip for a boy"
the scene of Esther's heartbreaking singing of "Have Yourself a Merry Little Christmas" at a wintry window - lovingly and tenderly sung to her distressed sister 'Tootie' who didn't want to move from St. Louis
| | |
| --- | --- |
| | |
| "Have Yourself a Merry Little Christmas" | Tootie's Destruction of Snow People in Backyard |
the scene of Tootie's angry destruction of the snow people she had created in her backyard, to express her upset at the news of the family's impending move to New York, due to father Alonzo "Lon" Smith's (Leon Ames) promotion and business transfer
the final concluding scene at the 1904 St. Louis World's Fair itself with Esther hand-in-hand with her boyfriend: ("I can't believe it, right here where we live! Right here in St. Louis!")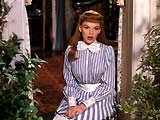 "The Boy Next Door"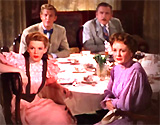 Smith Family Eavesdropping on Phone Call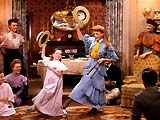 "Under the Bamboo Tree"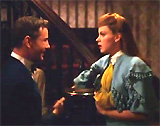 John: "You've got a mighty strong grip for a girl"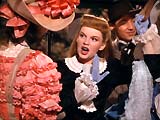 "The Trolley Song"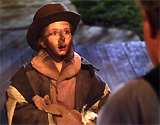 Tootie's Halloween Prank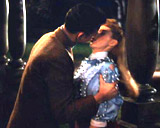 Esther's First Kiss with John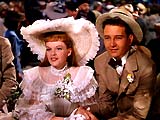 Off to the Fair