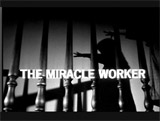 The Miracle Worker (1962)
In Arthur Penn's biographical drama about Helen Keller and her tutor Annie Sullivan:
the opening scene - and the disturbing moment when Kate Keller (Inga Swenson) realized that her baby daughter Helen was both deaf and blind after a severe case of scarlet fever, and she screamed out in horror for her husband Captain Arthur Keller (Victor Jory): ("Cap'n! Cap'n! Will you come?...Look! She can't see. Look at her eyes. She can't see...Or hear. When I screamed, she didn't blink. Not an eyelash!...She can't hear you!")
the sequence of Kate Keller's worry about how to teach young Helen to act and communicate: ("How can I make you understand?...How can I get it into your head, my darling?...How can you discipline an afflicted child? Is it her fault?...I don't know what to do. How can I teach her? Beat her till she's black and blue?...She wants to talk like, be like you and me. Every day she slips further away. I don't know how to call her back"), and the parents' decision to contact the Perkins School for the Blind in Boston for assistance
the famous scene of the start of both a physical and mental battle of wills between partially-blind teacher Annie Sullivan (Oscar-winning Anne Bancroft) and pupil Helen Keller (Oscar-winning Patty Duke) during her first lesson, when Helen was taught how to use sign language and spell C-A-K-E, and D-O-L-L: ("C-A-K-E. Yes. You do as my fingers do. Never mind what it means. Now, D-O-L-L. Think it over. L. Imitate now. Understand later. End of the first lesson") - and afterwards, Helen hit Annie with her doll and locked her in the room
the sequence of an insistent Annie teaching table manners to the spoiled girl Helen during a particularly severe temper tantrum, and refusing to have Helen help herself from her plate: ("I'm not accustomed to it"); Annie told everyone: ("I know a tantrum when I see one and a badly spoiled child....The whole house turns on her whims. Is there anything she wants she doesn't get?...I can't unteach her six years of pity if you can't stand up to one tantrum")
Tutor Annie Sullivan with Helen - The Teaching of Sign Language
"The name stands for the thing"
Annie's demand that she have full control of Helen, in order to properly train her: ("I want complete charge of her....I mean day and night. She has to be dependent on me (for) everything. The food she eats, the clothes she wears, fresh air. Yes, the air she breathes. Whatever her body needs is a primer to teach her out of. It's the only way. The one who lets her have it should be her teacher, not anyone who loves her...I'll have to live with her somewhere else....until she learns to listen to and depend on me...It's the one way I can get back in touch with Helen. And I don't see how I can be rude to you if you're not around to interfere with me") - the alternative was having Helen committed to an asylum - gruesomely described by Annie: ("I grew up in such an asylum. The state almshouse...Why, my brother Jimmy and I used to play with the rats because we didn't have toys. Maybe you'd like to know what Helen will find there not on visiting days?...")
the scene of Annie teaching Helen that things have names, such as an egg hatching a chick, and her lesson about Helen breaking through her shell: ("Egg. It has a name. The name stands for the thing. Oh, it's so simple. Simple as birth to explain. Helen. Helen, the chick has to come out of its shell sometime. (gasps) You come out too")
the climactic moment of triumph in the water-pump scene in which blind and deaf Helen Keller learned to use sign language (and that the name of a thing could be spoken), and when she first spoke "wah - wah" with the assistance of her teacher Annie Sullivan, associating sounds with objects: (Annie: "All right. Pump. No, she's not here. Pump. W-A-T-E-R. Water. It has a name. W-A-T..." Helen: "Wah... wah. Wah... wah." Annie: "Yes. Yes. Yes. Oh, my dear. Ground. Yes! Pump. Yes. Tree. Step. Mrs. Keller. Mrs. Keller! Bell. Mrs. Keller! Mrs. Keller. Mrs. Keller. Mother. Papa. She knows! Teacher. Teacher. Teacher") - and Helen was embraced by her jubilant parents
the concluding scene of Helen giving her 'teacher' Annie a very gentle goodnight kiss, and Annie's response by speaking and signing: "I love Helen" - and rocking her back and forth to the lullaby tune "Hush, Little Baby"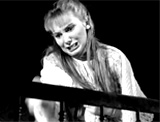 Mother Kate Keller: "She can't see...or hear!"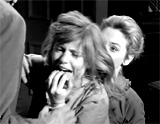 Young and Afflicted Helen Keller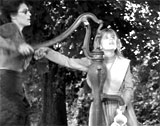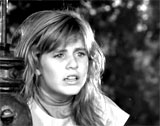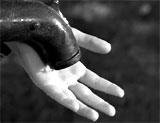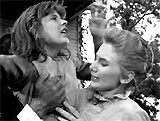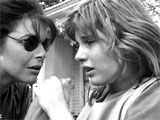 The Climactic Water-Pump Scene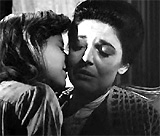 Helen's Gentle Goodnight Kiss