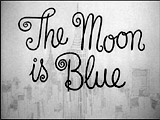 The Moon is Blue (1953)
In Otto Preminger's daring, dated romantic sex comedy about seduction and chastity that was also condemned by the Catholic Legion of Decency - and was the first studio-produced film from Hollywood that was released without the seal, deliberately:
the film's philosophical theme - the prospect of remaining a virgin, in order to remain respectable, and the efforts of two aging playboys attempting to score in a love triangle with an attractive young virgin - the wholesome (or virtuous) and chatty 22 year-old heroine and struggling beer-commercial actress Patty O'Neill (Maggie McNamara in her film debut)
the two lotharios in the film were: successful 30 year-old architect and wolfish bachelor Donald Gresham (William Holden), and Donald's upstairs neighbor - 41 year-old divorced, martini-drinking, debauched yet charming playboy David Slater (David Niven) - the father of Cynthia Slater (Dawn Addams), Donald's ex-fiancee
the scene of Donald following after Patty to meet her up on the observation tower at the top of the Empire State Building, and then persuasively convincing her to follow him (after-hours) to his office in the building (to sew a button on his suit jacket); when she bragged that she was "really affectionate," he dared her ("Show me") - and then impulsively kissed her
soon after, they shared a taxi ride to dinner at the Stork Club - but his intentions were to first take her to his Madison Avenue apartment for drinks; he asked: "You won't mind coming up, will you?"; she warily responded: "I'm not so sure. Would you try to seduce me?"; when he vowed that he wouldn't ("I won't make a single pass at you. Do you believe me?"), but confessed that he might kiss her, she responded: "Kissing's fine. I have no objection to that"; she then added: "Look, let's face it. Going to a man's apartment almost always ends in one of two ways. Either the girl is willing to lose her virtue or she fights for it. Well, I don't want to lose mine, and I think it's vulgar to fight for it, so I always put my cards on the table. Don't you think that's sensible?"; they shook hands when she agreed with him on how to appropriately behave: "Affection but no passion. You could run for President on that"; when they arrived at his place, she gratefully claimed: "I'm so glad you don't mind...Oh, men are usually so bored with virgins. I'm so glad you're not"
Taxi-Cab Ride - "Would you try to Seduce Me?"
when the elevator doors opened in his apartment lobby, Donald's miffed ex-fiancee Cynthia Slater (Dawn Addams) was exiting - she was startled to see him escorting the younger woman upstairs; in his apartment, Don suspected that Cynthia had written "STINKER" in lipstick on his mirror after their recent break-up
Donald also noted that Patty was very inquisitive about his personal life, about Cynthia (and whether she was his mistress or not), and she also seemed very preoccupied with sex: (Donald: "Why are you so pre-occupied with sex?...You are always asking if people plan seduction or if they're bored with virgins or if they have a mistress"); she replied: "You may be right. But don't you think it's better for a girl to be preoccupied with sex than occupied?"
in the meantime, Donald's ex-fiancee Cynthia was fuming over recently being dumped by him (because he DIDN'T seduce her), and she had also called Patty a "professional virgin" (a female who flaunted her virginity to get something); competing with Don for Patty's affection, her father David spoke about maintaining one's virginity, stating to Patty: "Suspicion, my child, suspicion. The lurking doubt. Is she or isn't she? Does she or doesn't she? Will she or won't she? Suspicion, the most powerful aphrodisiac in the world"
David Slater to Patty:
"Is she or isn't she?"

Ending: Donald's Proposal at Top of Empire State Building
the no-strings-attached offering of $600 by David to Patty - a bet that she would have to wait 15 weeks before seeing another man; the bet was soon aborted, however, and eventually after all of the misunderstandings between the characters were cleared up, Donald truly fell in love with Patty and proposed (with an old-fashioned offer including the word 'love') - at the top of the Empire State Building where they first met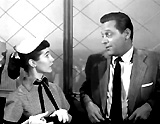 Virtuous Patty O'Neill (Maggie McNamara) Meeting and Flirting with Donald Gresham (William Holden) on Empire State Building Observation Deck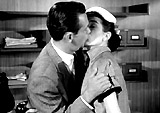 Impulsive Kiss with Donald in His Empire State Building Office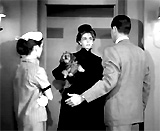 Cynthia Slater (Dawn Addams) - Donald's Ex-Fiancee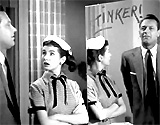 "STINKER"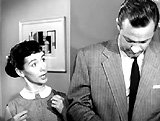 In His Apartment - Patty: "But don't you think it's better for a girl to be pre-occupied with sex than occupied?"