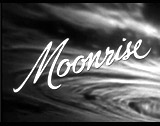 Moonrise (1948)
In Frank Borzage's film-noirish crime melodrama set in the small Virginia town of Woodville:
the film's brilliant opening montage was a perfect example of wordless visual story-telling - the expressionistic march to the gallows and the public hanging of the accused Virginia killer, Jeb Hawkins - convicted of murder (for shooting and killing an incompetent doctor who had indirectly caused his wife to die by not making a house call but offering only a bottle of pills - the wrong tablets actually); the image was paired with the view of their crying baby in a crib - the man's child had the shadow of a dangling playdoll cast onto its blanket (a transposed duplicate of the hanging man); the montage conveyed the belief that "bad blood" was transmitted from one generation to the next
the montage continued with the sad and mistreated childhood of outcast Danny Hawkins (Johnny Calkins as 13 year old), who often fought on the school playground against his teasing, taunting and tormenting schoolmate Jerry Sykes (Michael Dill as 13 year old), who chanted with others their prejudiced view of Danny because of his father: "Danny Hawkins' dad was hanged!"
the sequence of an altercation outside a dance hall, where adult Danny Hawkins (Dane Clark as adult) argued with rich banker's son Jerry Sykes (Lloyd Bridges as adult), his lifelong tormentor, over their mutual love of warm-hearted local schoolteacher Gilly Johnson (Gail Russell); unbeknownst to Danny, she was the fiancee of the teasing, arrogant, and bullying Sykes
near a swamp called Brother's Pond during their vicious fist-fight, in a drunken rage, Hawkins grabbed a rock that Sykes had picked up and repeatedly smashed his skull with it - murdering him in self-defense; he would soon suffer the same fate as his father - pursued for a crime; he left an important clue behind - his pocket-knife dangling in a tree; an investigation followed with a frenzied manhunt for the killer
after the murder, Danny danced with Gilly (she asked: "What's come over you?...I'm a schoolteacher, I can't afford to fight with you in front of other people"), and then during a night drive with her from the dance, Danny experienced a near-fatal car crash when he had a vision of Sykes fighting with him
after developing a strange friendship between each other, within a ruined Southern mansion (Blackwater Mansion), Hawkins surreptitiously met Gilly, and in the midst of their burgeoning love affair, Gilly imagined that they were attending a romanticized Civil War era ball in the house when she adopted an exaggerated Southern accent as the plantation's owner Mrs. Blackwater - they waltzed together and spoke of their mutual love before they kissed (Danny: "I've never seen you like this before, Gilly" Gilly: "I've never been like this before") - the film faded to black
the ferris wheel scene at the county fair when panicking Danny, fearing being caught while sharing the ride with the town's Sheriff Clem Otis (Allyn Joslyn), caused him to jump
| | | |
| --- | --- | --- |
| Ferris Wheel Scene - Danny Jumped | Billy Unable to Fit Footprint into Cement | Danny's Near Strangulation of Billy |
the scene of harmless, mentally-handicapped mute Billy Scripture (Harry Morgan) attempting to fit his feet into footprints made years earlier in wet cement on a sidewalk - and his profound realization that he could never return to what he once was; and Danny's near strangulation of Billy who had found his pocket-knife
during pursuit by the Sheriff (and his dogs), Danny ventured into the swamp to the backwoods home of his wise Grandma (Ethel Barrymore); she helped him to reflect on his past when she told him that his father's act of murder was uncharacteristic of him; Danny realized that he should control his fate and turn himself in for manslaughter - to free himself from guilt and his past and his feelings about having "bad blood"; he stood at his father's grave, reflected about his past, and spoke to him: "I ain't proud of what ya done, Pa. All the same, I didn't mean what I said last night. You did the best you could to even things up. That's what I'm doin' now. Maybe we'll both have some peace"
| | |
| --- | --- |
| Danny's Realization of Manslaughter Guilt | Danny Visiting His Father's Grave |
in the optimistic final scene, he approached the Sheriff to peacefully surrender. He reunited with Gilly and hugged her as she assured him: "It's wonderful to see your face, Daniel. To really see it." The scene was flooded with bright light as Danny freed himself of his guilt and self-hatred. The Sheriff refused to have Danny handcuffed: "Let him walk back like a man" as they returned to town.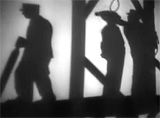 Silhouetted March to Gallows Hanging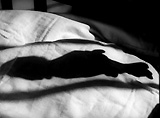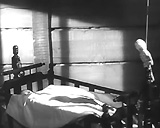 Shadow of Playdoll Cast Onto Blanket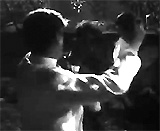 Danny's Accidental Murder of Sykes in Woods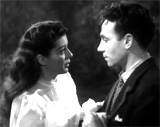 Gilly With Danny Hawkins at Dance Hall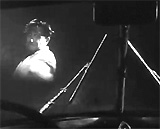 Vision of Sykes Through Danny's Windshield - Causing Car Crash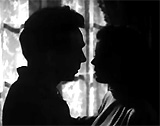 Danny Waltzing with Gilly in Mansion