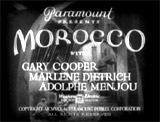 Morocco (1930)
In Josef von Sternberg's melodramatic, exotic romance with a love triangle - his US debut film - adapted by Jules Furthman from the play "Amy Jolly" by Benno Vigny, about a love affair in the exotic French protectorate of Morocco in W. Africa:
in the introduction, a sultry, independent-minded, world-weary ship passenger Mademoiselle Amy Jolly (Marlene Dietrich in her American film debut) was bound for Morocco - she was thought to be a vaudeville actress by the ship's deck officer; the officer was asked about her identity: "Do you know who that woman is?" by interested wealthy painter Monsieur Kennington La Bessiere (Adolphe Menjou); the answer foreshadowed her character as doomed: "We carry them everyday. We call them suicide passengers. One way tickets. They never return"
the bewitching, headlining androgynous seductress-singer Amy Jolly - newly hired as a chanteuse in Lo Tinto's Moroccan cabaret during the Second Moroccan War in the 1920s (in the coastal town of Mogador, now known as Essaouira), was first booed by the audience for appearing in a gender-challenging, tuxedo-clad, cigarette-smoking cabaret act; the bisexual chanteuse was encouraged to proceed by admiring, womanizing French Foreign Legionnaire Pvt. Tom Brown (a young Gary Cooper) clapping in the audience
Amy sang "Quand L'amour Est Mort" ("When Love Dies") with smoky, world-weary eroticism; after the song, she longingly looked at a young lady named Anna Dolores (Juliette Compton) in the audience, and she took a flower from her hair (after asking: "May I have this?"); she inhaled it suggestively, and then stole a kiss from the woman that was full on the mouth - one of the earliest (if not the first) female-to-female kisses on screen; the woman blushed behind her hand-held fan, as Amy tipped her hat; after wild applause, the bisexual chanteuse playfully tossed the flower away into the hands of Pvt. Brown, who had stood up to applaud her
in a slightly later second performance, the seductive Amy reappeared wearing a skimpy black dress and with a feathery boa draped over her shoulders and carrying a basket of apples; her second number was: "What Am I Bid for My Apple?": ("What am I bid for my apple? The fruit that made Adam so wise; On the historic night when he took a bite, he discovered a new paradise; An apple they say, keeps the doctor away, while his pretty young wife has the time of her life, with the butcher, the baker, the candlestick maker, Oh what am I bid for my apple?"); the first gesture of Tom was to put the flower behind his ear; she sold one of her expensive apples to Tom (after at first offering it for free: "You can have it for nothing, if you like" but he refused), and he briefly coaxed her to sit in his lap as he bit into the apple (filmed in closeup during his lusty third bite); she discreetly passed him her room key when she gave him change
2nd Stage Performance: "What Am I Bid For My Apple?"

Singing and Offering Apples for Sale

Briefly Sitting in Tom's Lap

Tom's Lusty Third Bite Into Purchased Apple
afterwards, during their later "hot" rendezvous after Tom let himself into her apartment, she appeared from behind a beaded bedroom curtain and asked: "Oh, who are you?"; they were both obviously bitter, "tired of life," and melancholy: (he warned that he couldn't help cure her feelings about men: "Not me. You've got the wrong man for that. Anybody who has faith in me is a sucker"); she demurely told him: "You'd better go now, I'm beginning to like you" - to which he cooly responded: "I've told women about everything a man can say. I'm gonna tell you something I've never told a woman before: I wish I'd met you ten years ago"; he handed back her key and departed
Tom with Amy in Her Apartment
on his way back to the barracks, he saw that his Adjutant Caesar's (Ullrich Haupt) cheating wife Mme. Caesar (Eve Southern) had followed him and was standing in the shadows - (the Adjutant was Pvt. Brown's commanding officer); the Adjutant had good reason to suspect his wife of infidelity with Brown
at the same time, La Bessiere was able to convince his friend, the Adjutant, to reassign Pvt. Brown to depart in his company's detachment the next morning (for a suicidal march through the Amalfa-Pass and into the Sahara)
a complex love triangle developed between Amy, Tom, Monsieur La Bessiere, and Mme. Caesar; La Bessiere offered an expensive bracelet and marriage to Amy: ("I'd like to take you away from here...My offer is highly respectable: marriage") but she initially was put off and politely declined: "You're a strange man...I don't think I care to take advantage of your tempting offer" - La Bessiere suspected that she loved the Foreign Legion Private instead
before leaving, Pvt. Brown visited Amy's nightclub dressing room, and was initially intent on telling her that he was thinking of deserting and running away with her; she knew of his imminent departure, kissed him, and whispered in his ear: "Don't go!"; he speculated that he could desert the Legion and board a freighter for Europe to escape with her that evening; when he stated: "I would in a minute if you'd go with me" - she replied that she would join him
but then, while she was performing, and he learned of La Bessiere's marriage proposal and her bracelet gift, he wrote on her dressing room mirror: "I changed my mind. Good luck!" (he believed she would be better off with a rich man such as Bessiere)
before the return of Tom's detachment from a deadly desert mission, Amy was bitter, disconsolate and drinking heavily - and decided to accept Bessiere's insistent proposal to be engaged to marry; during an elegant engagement dinner party, she learned about Tom's company's return, and expectantly rushed out from the party to greet Tom in the street; not finding him, she returned to the party and announced: "I must go to him. They left him at Amalfa ...I'm going now" - believing that he had been injured
in the conclusion, Amy found out that Tom had actually faked an injury to avoid further combat, and was in a canteen at Amalfa; the heartbroken Tom first thought she didn't care for him anymore; Tom challenged Amy in the canteen where she had found him - he asked if she wanted to be with him rather than marry La Bessiere: ("Aren't you gonna marry that rich friend of yours?"); when she said she would: ("Of course"), he asked again: "Are you sure?" and she affirmed: "I don't change my mind"; he then dismissed her: ("Well then, I wish you all the luck in the world, Mademoiselle") - although he invited her to see him off for his departure - " a thirsty march" with his column that was now leaving at dawn: ("We leave at dawn. Come and see us off, will you?")
after he left, she realized that he had drawn a heart with her name - carved with his knife into a wooden table; he had also admitted to one of the native Moroccan women that he loved Amy very much
in the concluding send-off scene the next morning, Amy decided to remove her high-heeled shoes and run after him (joining other ragged Moroccan prostitutes and native women with heavily-laden donkeys who would be following their men) across the windblown desert sands through many hardships to uncertainty and possible death
Amy Expectantly Awaiting Tom's Return From Deployment

Amy's Discovery of an Uninjured Tom in a Canteen

Tom's Carving of Amy's Name in Wooden Table

Amy Running After Tom Barefoot in the Sand

Amy Watching Tom's Second Disembarkment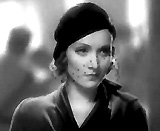 Amy Jolly On Board Ship to Morocco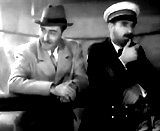 Ship's Deck Officer: "One way tickets - they never return"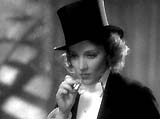 Amy Jolly's Androgynous Cabaret Act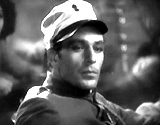 Pvt. Tom Brown in Audience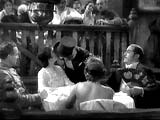 Jolly's Lesbian Kiss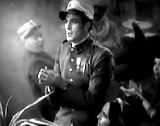 Admiring French Pvt. Tom Brown Applauding and Receiving Amy's Tossed Flower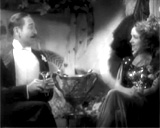 La Bessiere's Rejected Proposal of Marriage to Amy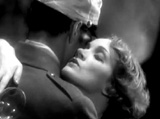 Amy to Tom: "Don't go!"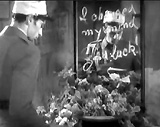 Tom to Amy: "I changed my mind. Good luck!"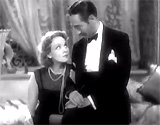 Amy with Bessiere During Tom's Absence